Officina Naturae delicate solid face cleanser CO.SO. 50 g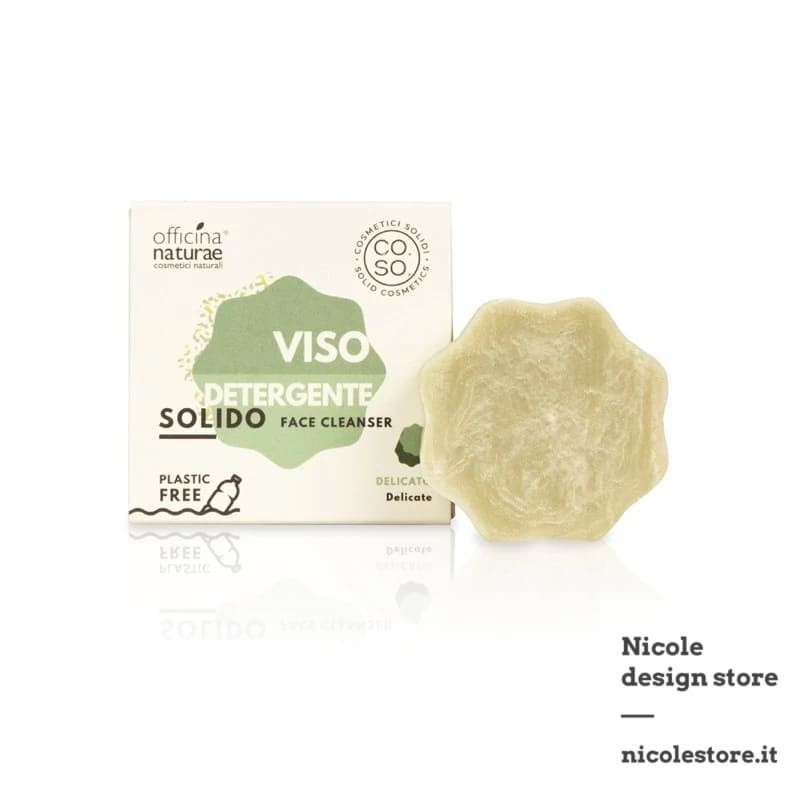  
Officina Naturae delicate solid face cleanser CO.SO. 50 g
gentle solid facial cleanser Officina Naturae | solid cosmetic line CO.SO. | purified and velvety skin | horehound and sweet clover
CO.SO. delicate solid facial cleanser, with horehound and sweet clover extracts for a velvety skin that is delicately purified in depth.
The experience with the delicate solid face cleanser will reveal itself in the newfound purity of the skin. A refined cosmetic, enriched with horehound and sweet clover extracts, ideal for a gentle, daily cleansing ritual.
gentle solid facial cleanser Officina Naturae CO.SO., in short:
purifying and velvety effect, ideal for sensitive and thin skin, suitable for all skin types
also suitable as a shaving soap
Ph delicate
nickel-tested
content: 50 g and
paper packaging
phone and whatsapp
we prefer a personal contact and a sartorial experience at +393495631907
fast and tracked shipments
for smooth fully traced 24 / 72 h deliveries (EU)
flexible return policy
possibility of return with quick refund, goods exchange or replacement
privacy, SSL and encryption
personal data and transaction security with state of the art standards
local shop in Forlì (Italy)
the guarantee of a physical store and the convenience of home delivery
Original and Official
we are official resellers of each brand offered with only original products
The gentle solid face cleanser CO.SO. by Officina Naturae
The results of the delicate solid face cleanser are surprising, transmitting a feeling of general purity and velvetiness to the face. The delicacy of its soft foam, created with skill, frees the skin from traces of impurities and dullness, leaving it radiant.
Featuring a bio-solid formulation, the delicate solid face cleanser stands out as an alternative to traditional soap. Its enveloping foam not only meets your cleaning requirements, but also offers you an excellent shaving experience, keeping your facial skin soft and smooth.
The absence of a plastic container is evidence of the general commitment of the CO.SO collection. towards the environment and sustainability. This choice embodies the essence of an authentic solid cosmetic product.
Exploring the technical aspects, the delicate solid face cleanser is enriched with the organic horehound and sweet clover extracts, known for their astringent and soothing properties. This solid bio product can become the ideal companion in the daily routine, giving a feeling of freshness and well-being both in the morning and in the evening.
Its characteristics differentiate Officina Naturae's delicate solid face cleanser from typical cleansing solutions such as cleansing milk or traditional soap. Its unique formulation, conceived with a delicate pH to respect the skin of the face, avoids the unwanted dryness effect. By using this facial cleanser daily, you can get results comparable to a decongestant facial mask.
CO.SO. solid cosmetics they are produced through artisanal and authentic methods. Small variations such as irregular dimensions or slight cracks are hallmarks of this handmade product. Any color changes derive from the use of natural dyes.
How to use the gentle solid facial cleanser
To get the most out of Officina Naturae Delicate Solid Facial Cleanser, moisten it slightly by rubbing it between your hands. Then apply the delicate foam on the face, massaging gently, finally rinse: pollution, dirt and impurities will be effectively removed.
For a cleansing solution for the whole body, it is possible to evaluate the solid velvety shower foam, a solid cosmetic based on organic extracts of Blackcurrant and Red Vine.
Active ingredients present in the recipe of the Officina Naturae solid face cleanser
- organic horehound extract: with astringent and capillary protective properties
- organic sweet clover extract: offers calming and soothing benefits
Through the conscious use of the Gentle Solid Facial Cleanser, you can experience the beauty and delicacy of your skin, revealing a new level of cleansing and care.
Ingredients and formulation
Sodium Cocoyl Isethionate, Zea Mays Starch, Disodium Lauryl Sulfosuccinate, Cetearyl Alcohol, Aqua, Glycerin, Parfum, Marrubium Vulgare Extract*, Melilotus Officinalis Extract*, Spinacia Oleracea Leaf Powder, Cocamidopropyl Betaine, Tetrasodium Glutamate Diacetate, Limonene, Linalool, Citronellol, Citric Acid.
*From organic farming.
Customers who bought this product also bought:
16 other products in the same category: