announcement punto vendita e spedizioni operativi ed efficienti headset_mic ordini telefonici e servizio clienti tel./whp. al +39 349 56 31 907 local_shipping spedizione gratuita a partire da 49€ e consegna in 1 giorno storenegozio fisico con vetrine a Forlì announcement punto vendita e spedizioni operativi ed efficienti headset_mic ordini telefonici e servizio clienti tel./whp. al +39 349 56 31 907 local_shipping spedizione gratuita a partire da 49€ e consegna in 1 giorno storenegozio fisico con vetrine a Forlì announcement punto vendita e spedizioni operativi ed efficienti headset_mic ordini telefonici e servizio clienti tel./whp. al +39 349 56 31 907 local_shipping spedizione gratuita a partire da 49€ e consegna in 1 giorno storenegozio fisico con vetrine a Forlì announcement punto vendita e spedizioni operativi ed efficienti headset_mic ordini telefonici e servizio clienti tel./whp. al +39 349 56 31 907 local_shipping spedizione gratuita a partire da 49€ e consegna in 1 giorno storenegozio fisico con vetrine a Forlì announcement punto vendita e spedizioni operativi ed efficienti headset_mic ordini telefonici e servizio clienti tel./whp. al +39 349 56 31 907 local_shipping spedizione gratuita a partire da 49€ e consegna in 1 giorno storenegozio fisico con vetrine a Forlì
interchangeable natural fiber dishwashing laundry hand brush or spare for handle selezione Nicole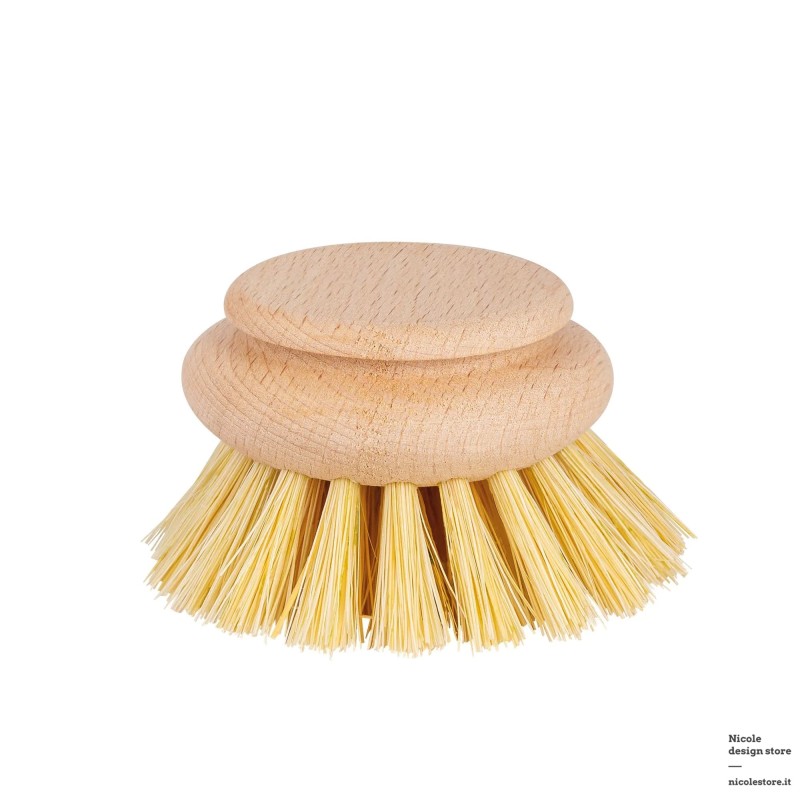  
interchangeable natural fiber dishwashing laundry hand brush or spare for handle selezione Nicole
3 or 4 installment payment available with PayPal, Oney or splittypay
interchangeable natural fiber dishwashing laundry hand brush or spare for handle selezione nicole
Made according to the traditional brush making method, with sustainable processes and raw materials, the selezione nicole natural brush is delicate enough to be used on dishes and fabrics, but adequately effective to be suitable for cleaning even the most encrusted cookware.
Handy, practical, and naturally ergonomic, it was created to be used as a spare brush to replace the one already included in our brush and handle kit available HERE, but it can also be used as a hand brush, above all to better clean stubborn stains from clothes and fabrics.
Plastic free, sustainable and vegan dish and laundry brush.
nicole selection dish brush in brief
materials: sisal for the bristles, beech for the base of the brush
brush diameter: 7/8 cm
phone and whatsapp
we prefer a personal contact and a sartorial experience at +393495631907
fast and tracked shipments
for smooth fully traced 24 / 72 h deliveries (EU)
flexible return policy
possibility of return with quick refund, goods exchange or replacement
privacy, SSL and encryption
personal data and transaction security with state of the art standards
local shop in Forlì (Italy)
the guarantee of a physical store and the convenience of home delivery
Original and Official
we are official resellers of each brand offered with only original products
natural vegetable dish brush ecological sustainable selezione nicole
The nicole selection products are chosen and guaranteed by nicole - nicolestore.it and are part of a line indigenous to our reality and which includes a wide selection of home cleaning accessories from the best artisan and industrial laboratories in Europe, such as the brush vegetable fiber dishes, made entirely with sustainable raw materials, rechargeable only with the brush and easily recyclable at the end of use.
vegetable brush effective delicate stain remover for laundry
Thanks to medium vegetable fibers, this brush can also be used in the laundry and will prove to be an irreplaceable ally for removing the most stubborn stains.
The product is delivered with the indication "selezione nicole" engraved on the wooden surface. The photographs are of the product and represent it without this indication.
Customers who bought this product also bought:
16 other products in the same category: