announcement punto vendita e spedizioni operativi ed efficienti headset_mic ordini telefonici e servizio clienti tel./whp. al +39 349 56 31 907 local_shipping spedizione gratuita a partire da 49€ e consegna in 1 giorno storenegozio fisico con vetrine a Forlì announcement punto vendita e spedizioni operativi ed efficienti headset_mic ordini telefonici e servizio clienti tel./whp. al +39 349 56 31 907 local_shipping spedizione gratuita a partire da 49€ e consegna in 1 giorno storenegozio fisico con vetrine a Forlì announcement punto vendita e spedizioni operativi ed efficienti headset_mic ordini telefonici e servizio clienti tel./whp. al +39 349 56 31 907 local_shipping spedizione gratuita a partire da 49€ e consegna in 1 giorno storenegozio fisico con vetrine a Forlì announcement punto vendita e spedizioni operativi ed efficienti headset_mic ordini telefonici e servizio clienti tel./whp. al +39 349 56 31 907 local_shipping spedizione gratuita a partire da 49€ e consegna in 1 giorno storenegozio fisico con vetrine a Forlì announcement punto vendita e spedizioni operativi ed efficienti headset_mic ordini telefonici e servizio clienti tel./whp. al +39 349 56 31 907 local_shipping spedizione gratuita a partire da 49€ e consegna in 1 giorno storenegozio fisico con vetrine a Forlì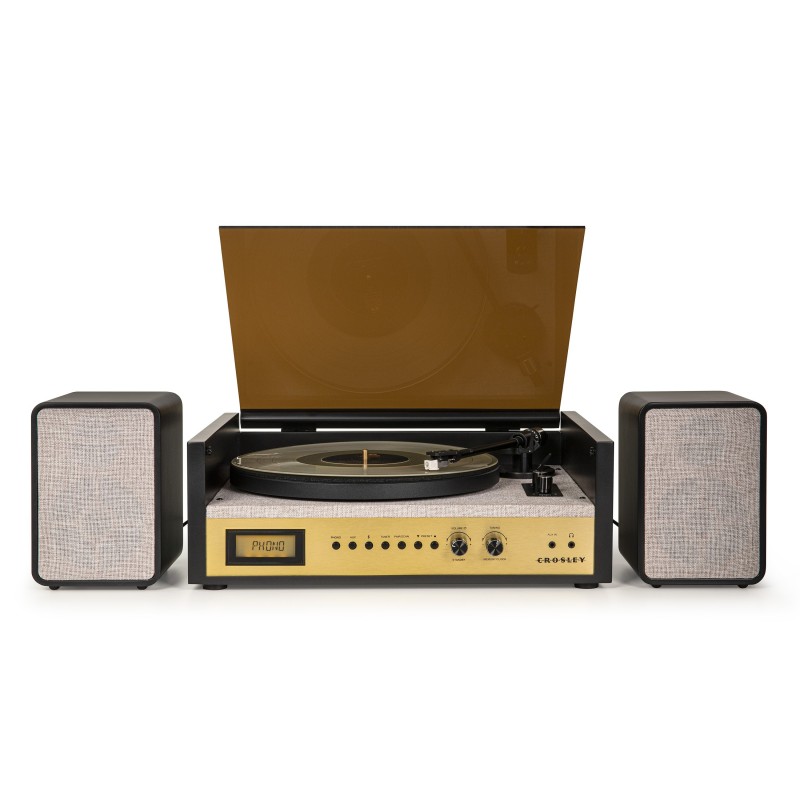  
Crosley Coda Black
3 or 4 installment payment available with PayPal, Oney or splittypay
Crosley Coda Black is a hi-fi system complete with turntable, FM radio and Bluetooth. Crosley Coda implements the formidable qualities of Crosley's high-end cymbals by including an integrated 40W stereo amplifier, two high definition 2.1 speakers (speaker + tweeter for each channel) and Bluetooth input. Synchronous motor, diamond stylus, aluminum mono-shell platter, arm with adjustable counterweight, radio functionality with knob tuner and digital display, wireless and AUX IN input and pre-amplified RCA Line and AUX OUT outputs are the key features of a complete product like Crosley Coda Black, united in an aesthetically satisfying object with a mid 70's taste made with attention to detail with quality materials such as wood, fabric, polycarbonate and metal.
CROSLEY Coda Black, in the package resold here, INCLUDES THE TWO SPEAKERS
Choose now to buy your Crosley Coda Black and obtain exclusive advantages:
Official Crosley European Guarantee (24 months) or Limited 1 year Guarantee (for U.S.) offered just by a Crosley Authorized Dealer.
Best Price Guaranteedon each turntable available at out shop.
Free Installation Assistance via Telephone, WhatsApp or Skype with a 7/7 weekly service.
EU and UK psu and plug
manufactured by Crosley following our production specification for full compatibility
advantageous price on spare parts and consumables
pins, belts and spare parts, at cost price
ready to use
plug-and-play: listen to your favourite tune right out the box
phone and whatsapp
we prefer a personal contact and a sartorial experience at +393495631907
fast and tracked shipments
for smooth fully traced 24 / 72 h deliveries (EU)
flexible return policy
possibility of return with quick refund, goods exchange or replacement
privacy, SSL and encryption
personal data and transaction security with state of the art standards
local shop in Forlì (Italy)
the guarantee of a physical store and the convenience of home delivery
Original and Official
we are official resellers of each brand offered with only original products

Crosley Coda Black
Finishes and structural elements in quality materials welcome a highly respectable functional set-up for a product in the Crosley Coda price range - also known as Crosley Koda. Made in the "matt black" version, it contains the essentials for a complete audio experience: turntable with semi-professional quality, analog inputs and outputs, radio and Bluetooth input.
Crosley Coda: the classic mid-70's aesthetic
Crosley Coda is a compact object made essentially of audio grade wood, elegantly embellished with a matte black finish and elements in fabric and metal.
Crosley Coda's front mask and knobs are made of aluminum with screen-printed indicators. It can be conveniently inserted in the context of a library deep enough to be able to support it or on a specific console for turntables. The cable for connecting each speaker is sufficiently extended to allow the speakers to be positioned at an adequate distance, even in the case of a large room, to enjoy good stereo.
The front opening allows easy access to the functions of the turntable even with the lid half open and does not affect the protection from bumps or dust in any case guaranteed by the rigid side wooden walls, integral with the base.
The combination of the various aesthetic elements allows Crosley Coda Black to fit perfectly into the trend-trend of aesthetics belonging to the first half of the 70s, with clear contaminations from the previous decade highlighted by the use of thick fiber tweed fabric for the grids of the diffusers and the horizontal surface below the plate.
Crosley Coda: the functions of a complete hi-fi
The full size platter obtained from a single aluminum mold painted with a uniform layer of matte black paint can be operated with three speeds of 45 and 33 rpm and 1/3 and 78 rpm, and also includes the adapter for single discs (45 rpm). The Crosley Coda arm, made of metal, is of the semi-automatic type, with adjustable precision counterweight, lever lifting and AUTO STOP function and equipped with a magnetic movement cartridge and a professional audio-technical diamond needle calibrated by us. act of shipment, but allows, thanks to the presence of standard tracks, the installation of even more performing points.
The range of functions is completed by the possibility of connecting smartphones, tablets or any device equipped to transmit audio via Bluetooth to take advantage of the Crosley Coda amplifier and speakers as a stereo hi-fi speaker and the FM radio function with digital clock. The control of the stations is guaranteed by a digital knob with feedback, for a more precise regulation of the frequency, and a backlit interactive display (when in use).
The high-performance external speakers included in Crosley Coda
The two units powered by Crosley Coda's 40W amplifier are organized in a 2.1 system with 3 "mid-range 15W 4 Ω speakers and 1" 5W 8Ω tweeter for each channel. Each speaker is connected and powered by the central unit by means of a single cable with jack termination.
A complete, low-cost turntable system with what it takes for high fidelity.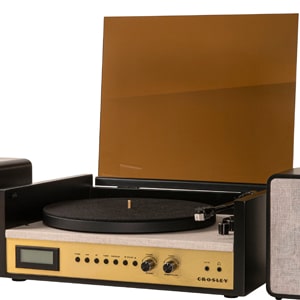 3-speed turntable with functional aluminum components.
Capable of playing records at 33 and 1/3, 45 and 78 rpm, it is the ideal console to play any collection of records.
Integrated Bluetooth receiver
On a break from the analog experience? Crosley Coda has your back, thanks to the integrated bluetooth reception function, you can transmit your playlists digitally and listen to it amplified through its speakers.
FM Radio and Digital Clock
Activate the FM Radio function and listen to your favorite radio broadcasts.
2.1 speakers matched in aesthetics.
This elegant hi-fi system was designed with the early seventies of the last century as an aesthetic reference.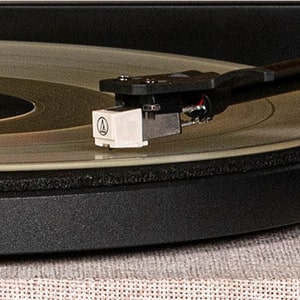 Magnetic moving needle in Audio Technica Diamond
The Audio Technica AT-3600 diamond magnetic motion stylus is installed and aligned directly at the production site on your Crosley Coda, but uses a standard 1/2 inch mount so you can allow for future stylus and tonearm replacements.
Turntable dust cover for optimal protection and an unmistakable design touch 
Protection, but best in class accessibility always guaranteed, for a playback in complete safety and style.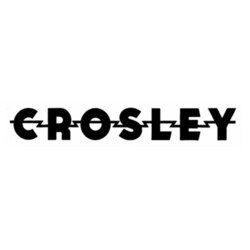 Data sheet
Guarantee

24 Month - Italy & EU

Plug

EU & UK

Needle

Professional (Diamond - Audio Technica NP5)

Audio

Stereo 2.1

Amplifier

40W

Weight

9.1 Kg (turntable) - 0.5 Kg (speaker)

Weight (boxed)

15.6 Kg

Sizes

44 x 34 x 16 cm (turntable) - 13 x 14 x 18.5 cm (speaker)

Sizes (boxed)

50 x 42 x 20 cm

Audio In

Turntable, Mini Jack (3.5mm - 1/8 inch), Bluetooth, Radio

Audio Out

RCA line, RCA phono, amplified audio clamps (2x channel)

Transmission

Belt-Driven

RPM

33 1/3, 45, 78 RPM (electronic selector)

Pitch-Control

YES

Auto Stop

YES
Customers who bought this product also bought:
16 other products in the same category: