Aleppo Black Soap with Eucalyptus 1 Kg Najel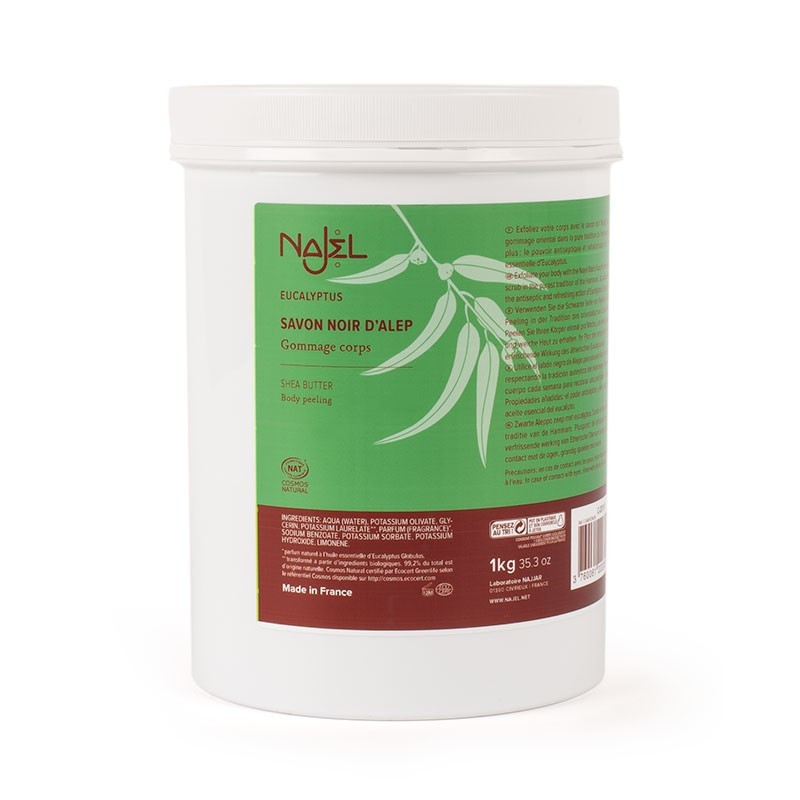  
Aleppo Black Soap with Eucalyptus 1 Kg Najel
Black aleppo soap with eucalyptus toffee, ideal for scrubs, scrubs and hammams, natural certified "Cosmos Natural Ecocert".
Eucalyptus.
Face and Body Exfoliating.
Najel Aleppo black soap is completely natural, manufactured in the Najjar soap factory from the noble oils of organic virgin olive and bay berries, ingredients of the original Aleppo soap.
With antiseptic and refreshing qualities, with Eucalyptus essential oil, the Najel Aleppo  black soap is a purifying and invigorating soap for the weekly care of face and body skin.
Content: 1 Kg
Made in France
phone and whatsapp
we prefer a personal contact and a sartorial experience at +393495631907
fast and tracked shipments
for smooth fully traced 24 / 72 h deliveries (EU)
flexible return policy
possibility of return with quick refund, goods exchange or replacement
privacy, SSL and encryption
personal data and transaction security with state of the art standards
local shop in Forlì (Italy)
the guarantee of a physical store and the convenience of home delivery
Original and Official
we are official resellers of each brand offered with only original products
Aleppo black soap with Eucalyptus essential oil with olive oil and laurel berry oil - Savon noir d'Alep - Najel SAS NAJJAR
With antiseptic and refreshing qualities, a natural fragrance from Eucalyptus Globulus essential oil is combined by Najel with a black Aleppo soap mousse based on Olive Oil and Laurel Berries to create a moment of purifying relaxation.
Gently exfoliate your face and body with this complete soap-treatment to regain healthly, soft, purified skin by adopting Aleppo black soap in your weekly routine.
nformation, advice on use and application of Aleppo Black Soap with Eucalyptus - Savon d'Alep liquide Najel
The black aleppo soap in paste or mousse can be applied to the body with a glove or a loofah sponge, rubbing into the skin with circular movements for an exfoliating massage.
On the face, it can be applied by massaging by hand or with a soft sponge (for example a natural sponge from the north sea).
Although both the role of a scrub and an exfoliant is to remove dead skin cells from the epidermis to stimulate cell renewal, there is a distinct difference that makes these two products complementary during a treatment.
It is preferable to start with a scrub that will clean the outer layers of the epidermis to prepare the skin for the subsequent exfoliation, which cleanses it deeply by removing excess sebum from the pores and refining the skin texture.
Najel aleppo black soap is an exfoliating product, but, thanks to its viscous consistency, especially on all young and on not exposed to the elements, both dry or well hydrated mature skin, it can independently make up for the weekly application of scrub and exfoliating product. Since it does not act by abrasion (there are no elements such as salts or crushed hazels typical in scrubs), compared to a scrub, it is particularly suitable for sensitive skin.
Ideal purifying and healing product for skin imperfections (acne, blackheads ...).
Packaged in a brown PP jar, it is effectively protected from UV rays and opening, even when wet, is facilitated by a matte texture.
Ingredients and composition of Black Aleppo Soap with Eucalyptus Essential Oils, with Olive Oil and Bayberry Oil Najel
INCI: AQUA (WATER), POTASSIUM OLIVATE, GLYCERIN, POTASSIUM LAURELATE **, PARFUM (FRAGRANCE) *, SODIUM BENZOATE, POTASSIUM SORBATE, POTASSIUM HYDROXIDE, LIMONENE.
* ingredients from organic farming. 99.2% of the total is of natural origin. Natural Cosmos NAT Certificate by Ecocert Greenlife according to the Cosmos Eco-Cert standard.
All Aleppo Najel liquid soap products are made with organic olive oil and laurel oil in the NAJJAR laboratory in France starting from Aleppo soap sticks handcrafted in Syria at the family soap factory.
Made in France
History of
Najel 

Aleppo Black Soap

Made for the first time in the south-east of Morocco, black soap has been used for centuries throughout the Mediterranean and is an integral part of the Middle Eastern tradition, especially for the Hammam ritual.

The Najel Cosmos Natural certified Aleppo black soap with eucalyptus is manufactured in the NAJJAR soap factory with the utmost care for the ingredients and traditional soapmaking methods.

It combines the emollient, nourishing and soothing virtues of organic olive and laurel oils with the refreshing and purifying properties of eucalyptus essential oil. This creamy soap paste is a direct derivative of Aleppo soap, the world's first soap.

A result of a traditional processing of vegetable oils, the black soap offers a gentle and effective natural exfoliation.
Customers who bought this product also bought:
3 other products in the same category: