announcement punto vendita e spedizioni operativi ed efficienti headset_mic ordini telefonici e servizio clienti tel./whp. al +39 349 56 31 907 local_shipping spedizione gratuita a partire da 49€ e consegna in 1 giorno storenegozio fisico con vetrine a Forlì announcement punto vendita e spedizioni operativi ed efficienti headset_mic ordini telefonici e servizio clienti tel./whp. al +39 349 56 31 907 local_shipping spedizione gratuita a partire da 49€ e consegna in 1 giorno storenegozio fisico con vetrine a Forlì announcement punto vendita e spedizioni operativi ed efficienti headset_mic ordini telefonici e servizio clienti tel./whp. al +39 349 56 31 907 local_shipping spedizione gratuita a partire da 49€ e consegna in 1 giorno storenegozio fisico con vetrine a Forlì announcement punto vendita e spedizioni operativi ed efficienti headset_mic ordini telefonici e servizio clienti tel./whp. al +39 349 56 31 907 local_shipping spedizione gratuita a partire da 49€ e consegna in 1 giorno storenegozio fisico con vetrine a Forlì announcement punto vendita e spedizioni operativi ed efficienti headset_mic ordini telefonici e servizio clienti tel./whp. al +39 349 56 31 907 local_shipping spedizione gratuita a partire da 49€ e consegna in 1 giorno storenegozio fisico con vetrine a Forlì
Hammam Olive Oil Black Soap (Savon Noir Marocain) for body 5KG - Les Milles et un Bains by Marius Fabre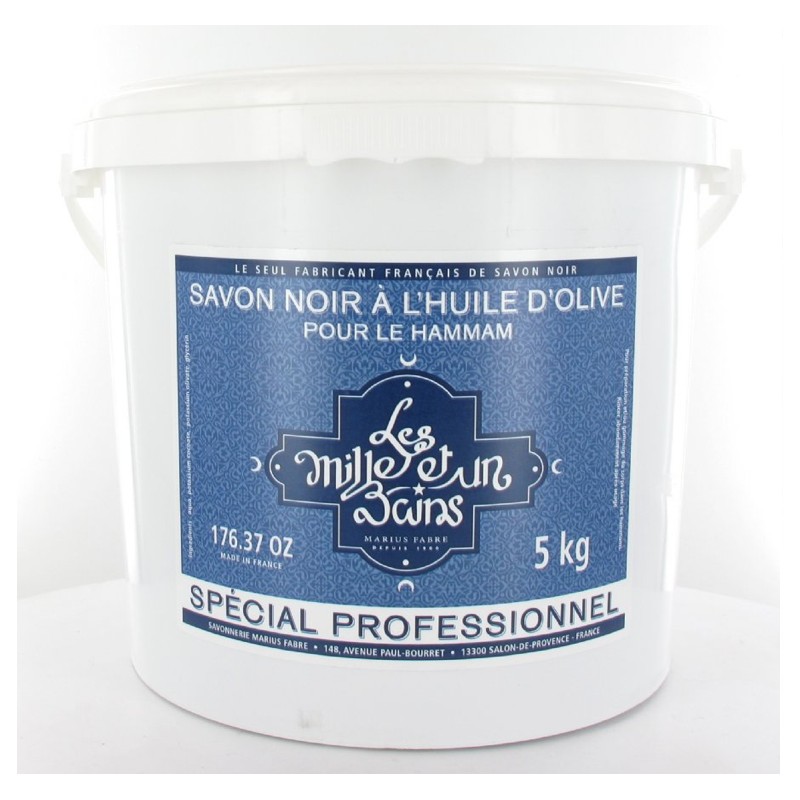  
Hammam Olive Oil Black Soap (Savon Noir Marocain) for body 5KG - Les Milles et un Bains by Marius Fabre
Tax included
3 or 4 installment payment available with PayPal, Oney or splittypay
Soft olive oil black soap is made at the Marius Fabre soap factory using the traditional soap-making process, heated in a cauldron.
It is a natural emollient and when used with an exfoliating glove, it gets rid of dead skin cells and refines skin texture. It also prolongs a sun tan.
It leaves your skin velvety soft.
Excellent after shaving or waxing. Also ideal for men for a close but gentle shave.
Content: 5kg
Made in France
Savon de Marseille
officially UPSM recognized
Eco Certification
indipendent entity issued
without palm oil
only olive, sunflower and coconut oils
Made in France
guarantee of origin seal
Cruelty Free
not tested on animals
Dye Free
without additive dyes
phone and whatsapp
we prefer a personal contact and a sartorial experience at +393495631907
fast and tracked shipments
for smooth fully traced 24 / 72 h deliveries (EU)
flexible return policy
possibility of return with quick refund, goods exchange or replacement
privacy, SSL and encryption
personal data and transaction security with state of the art standards
local shop in Forlì (Italy)
the guarantee of a physical store and the convenience of home delivery
Original and Official
we are official resellers of each brand offered with only original products
Our soap-making adventure first began in 1900. Many a mile has been travelled since then, with many a wonderful encounter all around the Mediterranean. The secrets of the Orient and its fragrances are one of those enchantments. Marius Fabre, the only maker of olive oil black soap in France, has concocted this line of well-being from a savant blend of traditional skills and oriental refinement. So let yourself unwind in a world of spas and hammams with 1001 Bains...
Marius Fabre 1001 Bains range quality charter
- 100% vegetable oils
- Animal fat-free
- No colouring
- No synthetic surface-active agents and no sodium laureth sulfate
- No paraben, no tetrasodium EDTA (chemical preservative)
- Cruelty free – no testing on animals
- Recyclable packaging
- Biodegradable products
Ingredients
- 100% vegetable oils (olive oil)
- Glycerine
- No added fragrance
Ingredients (INCI): Potassium olivate, Aqua, Potassium palmate, Potassium cocoate, Olea Europaea oil, Potassium carbonate, Glycerin.
Instructions for a correct use
ody scrub
- Shower or relax in a hot bath for at least 10 minutes to prepare your skin for the scrub.
- Cover your body with black soap and lather with your hands.
- Rub energetically with a Hammam Exfoliating Glove to remove all impurities. Insist on areas like knees and elbows, where the skin is thicker. Rinse thoroughly.
- Finish off with Marius Fabre 1001 Bains Argan Oil Dry Oil.
Marius Fabre black soap has potent natural exfoliating properties. It is ideal for men who like a very close but gentle shave.
Customers who bought this product also bought:
3 other products in the same category: