Aleppo liquid soap with 20% prickly pear oil 500 ml Najel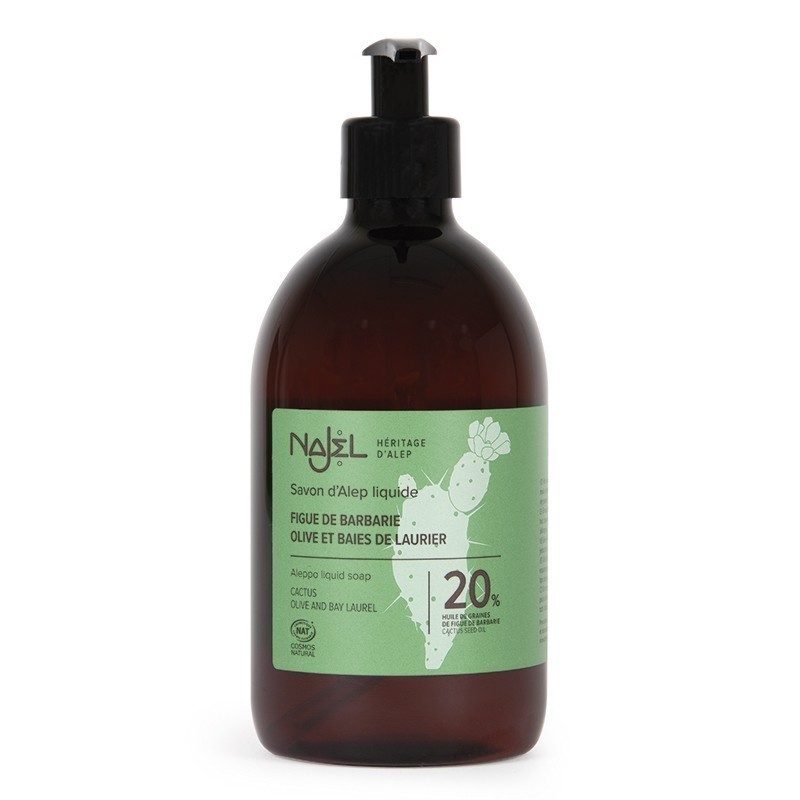  
Aleppo liquid soap with 20% prickly pear oil 500 ml Najel
Aleppo liquid soap with 20% prickly pear seed oil certified "Cosmos Natural Ecocert".
20% Prickly Pear Oil.
Face, Body and Hair.
Discover the original Aleppo liquid soap, handcrafted respecting the centuries-old tradition of the Al Najjar soap factory, formulated from on Olive Oil and Laurel Berries.
This Najel Aleppo liquid soap contains 20% prickly pear seed oil, cleanses the skin, moisturizing it, and it's rejuvenated with vitamin E and essential fatty acids, for a daily regenerating routine.
Content: 500 ml e
Made in France
phone and whatsapp
we prefer a personal contact and a sartorial experience at +393495631907
fast and tracked shipments
for smooth fully traced 24 / 72 h deliveries (EU)
flexible return policy
possibility of return with quick refund, goods exchange or replacement
privacy, SSL and encryption
personal data and transaction security with state of the art standards
local shop in Forlì (Italy)
the guarantee of a physical store and the convenience of home delivery
Original and Official
we are official resellers of each brand offered with only original products
Aleppo soap with 20% prickly pear oil, with olive oil and laurel berry oil - liquid Savon d'Alep - Najel SAS NAJJAR
The use of noble oils with nourishing and soothing properties gives the Nejel Al Najjar Aleppo liquid soap the healing qualities of the traditional recipe in an ideal liquid format for the daily hygiene of all skin types, particularly for the sensitive ones and for the whole family.
Enriched with 20% prickly pear seed oil, this liquid aleppo soap cleanses and hydrates the skin. Prickly pear seed oil, characterized by a good concentration of E vitamin and essential fatty acids, performs a regenerating action that protects the skin and restores softness and elasticity. Thanks to the soothing virtues of laurel oil, the skin regains its softness, remaining protected from irritation.
Information, advice on use and application of Aleppo Liquid Soap with 20% Prickly Pear Oil - Savon d'Alep liquid Najel
It is formulated for the daily use in caring for the face, hands, body and hair.
Aleppo soap is produced exclusively with vegetable oils, it does little foam as no synthetic foaming agent is added in its production process. As with the shampoos manufactured by Najel, which release very little foam, it is not at all an indication of a lack of detergency.
Daily use for washing face, hands, body and hair. Apply by massaging on wet skin or hair, then rinse.
Packaged in an amber colored PET bottle, it is effectively protected from UV rays and the presence of a pump disponser facilitates its use.
Ingredients and composition of Aleppo Soap with Olive Oil and 20% of Najel Organic Bay Berry Oil
INCI: AQUA (WATER), POTASSIUM OLIVATE *, POTASSIUM CACTUSATE, GLYCERIN, POTASSIUM LAURELATE *, SODIUM BENZOATE, POTASSIUM SORBATE, POTASSIUM HYDROXIDE.
* ingredients from organic farming. 99.2% of the total is of natural origin. Natural Cosmos NAT Certificate by Ecocert Greenlife according to the Cosmos Eco-Cert standard.
All Aleppo Najel liquid soap products are made with organic olive oil and laurel oil in the NAJJAR laboratory in France starting from Aleppo soap sticks handcrafted in Syria at the family soap factory.
Made in France
History of Najel Liquid Aleppo Soap
Aleppo Najel liquid soaps are made with organic olive oil and bay leaf oil in the Al Najjar laboratory in France.
The original formula for this Aleppo liquid soap was invented in 1964 by the grandfather of the current CEO, Mr. Najjar. Najel Aleppo liquid soap is obtained by hot saponification of the two vegetable oils that make up the authentic Aleppo soap according to its traditional recipe: olive oil and bay leaf oil. You will find all the virtues of real Aleppo soap bar in Najel Aleppo liquid soaps.
Formulated by Najel by adding prickly pear seed oil to the basic formula, a virtuous oil extracted from a first cold pressing, this liquid aleppo soap acquires its nourishing and regenerating properties. The oil comes from the pressing of the seeds of the cactus fruit, called Prickly Pear, quite widespread on the Mediterranean coasts.
Customers who bought this product also bought:
16 other products in the same category: