Aleppo soap shampoo 2 in 1 with fig and avocado 1 L for dry hair Najel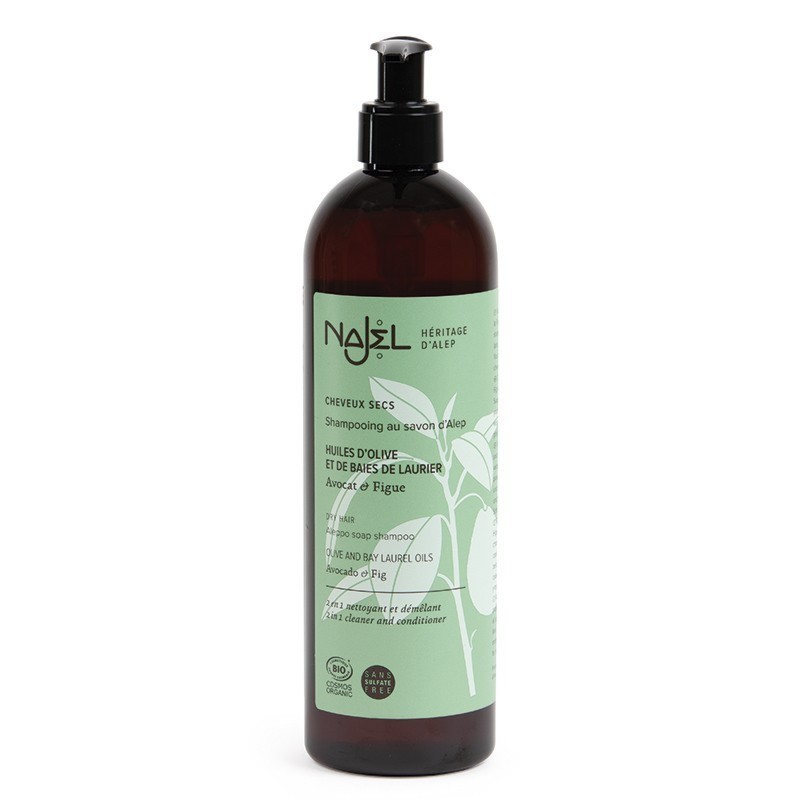  
Aleppo soap shampoo 2 in 1 with fig and avocado 1 L for dry hair Najel
Certified Organic Aleppo Soap Shampoo "Cosmos Organic Ecocert"
Dry Hair.
Updated formula - now sulfate free.
Najel Aleppo soap based dry hair care shampoo is formulated without sulphates, ideal for all ages, thanks to fig and avocado extract, it nourishes, moisturizes, revitaminizes hair and dermis, including, in its ingredients, the only certified organic EcoCert conditioner, Chamomile hydrosol. Natural solution to conditions of dry, dull hair, difficult to comb and tending to break.
Content: 1000 ml e
Made in France
phone and whatsapp
we prefer a personal contact and a sartorial experience at +393495631907
fast and tracked shipments
for smooth fully traced 24 / 72 h deliveries (EU)
flexible return policy
possibility of return with quick refund, goods exchange or replacement
privacy, SSL and encryption
personal data and transaction security with state of the art standards
local shop in Forlì (Italy)
the guarantee of a physical store and the convenience of home delivery
Original and Official
we are official resellers of each brand offered with only original products
Aleppo Soap Shampoo with fig and avocado - Shampooing au savon d'Alep - Najel SAS NAJJAR
A shampoo based on the real Aleppo soap in liquid receipt, combined with the soothing and nourishing virtues of plant extracts, formulated specifically for dry hair. Specifically to give shine and softness to the hair with a simple daily gesture.
Avocado is rich in vitamins, has humectant qualities and keeps hair nourished and hydrated.
Fig is an emollient that softens and soothes the scalp.

Fenugreek seeds (Trigonella foenum-graecum) helps with the fall, by softening and strengthening them, of dry and brittle hair. Fenugreek is used in the Middle East for the treatment of head lice.

Lime, enriched with vitamin C, is an anti-inflammatory, a powerful bactericide and antiseptic.
Chamomile water (hydrosol) has anti-inflammatory and relaxing properties. Makes hair easy to comb, softening it like a conditioner.
An amber bottle protects against excessive exposure to light. It is equipped with a pump for optimal dosage.
Information, advice on use and application of the 2 in 1 Aleppo soap shampoo for dry hair- Shampooing au savon d'Alep Najel
Formulated for oily hair but suitable for every daily use. Apply a small amount to wet hair, massage the scalp then rinse thoroughly.
Ingredients and composition of the Aleppo Soap moisturizing shampoo with avocado, fig, fenugreek, lime and Chamomile
INCI: AQUA (WATER), CHAMOMILLA RECUTITA (MATRICARIA) FLOWER WATER *, LAURYL GLUCOSIDE, SODIUM LAUROYL GLUTAMATE, DECYL GLUCOSIDE, GLYCERIN, POLYGLYCERYL-2 LAURATE, SODIUM CHLORIDE, SODORATE OLIVE, POTELUS CAPLUS ** AURANTIFOLIA (LIME) FRUIT EXTRACT *, PERSEA GRATISSIMA (AVOCADO) FRUIT EXTRACT *, FICUS CARICA (FIG) FRUIT EXTRACT *, TRIGONELLA FOENUM-GRAECUM SEED EXTRACT *, SODIUM DEHYDROACETATE, GUAR HYDROXTRYPROACETATE, CITAN HYDROXTRYPROEDI ACID, SODIUM BENZOATE, POTASSIUM SORBATE, POTASSIUM HYDROXIDE.
* ingredients from organic farming. ** made from organic ingredients. 99% of the total is of natural origin. 10% of the total comes from organic farming. Cosmos Organic certified by Ecocert Greenlife according to the Cosmos Eco-Cert standard.
Each Najel Aleppo liquid soap based product is made with organic olive oil and laurel oil in the NAJJAR laboratory in France starting from Aleppo soap sticks handcrafted in Syria at the family soap factory.
Made in France
History of Aleppo Najel Shampoo
Theoriginal Aleppo liquid soap formula was invented in 1964 by the grandfather of the current CEO, Mr. Najjar. Najel Aleppo liquid soap is obtained from the hot saponification of the two vegetable oils that make up the authentic Aleppo soap according to its traditional recipe: olive oil and laurel berry oil. In the Shampoo and in all Najeò liquid soaps all the virtues of the real Aleppo soap in a stick are found.

The Najel shampoo presented here combines the virtues of Aleppo soap with those of organic chamomile floral water for the best daily care of your hair.
For a more specific daily care of dry hair, Najel has added a complex of organic plant extracts (avocado, fenugreek, fig, lime and organic chamomile) to restore natural vitality to dull hair.
Customers who bought this product also bought:
16 other products in the same category: