announcement punto vendita e spedizioni operativi ed efficienti headset_mic ordini telefonici e servizio clienti tel./whp. al +39 349 56 31 907 local_shipping spedizione gratuita a partire da 49€ e consegna in 1 giorno storenegozio fisico con vetrine a Forlì announcement punto vendita e spedizioni operativi ed efficienti headset_mic ordini telefonici e servizio clienti tel./whp. al +39 349 56 31 907 local_shipping spedizione gratuita a partire da 49€ e consegna in 1 giorno storenegozio fisico con vetrine a Forlì announcement punto vendita e spedizioni operativi ed efficienti headset_mic ordini telefonici e servizio clienti tel./whp. al +39 349 56 31 907 local_shipping spedizione gratuita a partire da 49€ e consegna in 1 giorno storenegozio fisico con vetrine a Forlì announcement punto vendita e spedizioni operativi ed efficienti headset_mic ordini telefonici e servizio clienti tel./whp. al +39 349 56 31 907 local_shipping spedizione gratuita a partire da 49€ e consegna in 1 giorno storenegozio fisico con vetrine a Forlì announcement punto vendita e spedizioni operativi ed efficienti headset_mic ordini telefonici e servizio clienti tel./whp. al +39 349 56 31 907 local_shipping spedizione gratuita a partire da 49€ e consegna in 1 giorno storenegozio fisico con vetrine a Forlì
Crosley Mercury Forest Green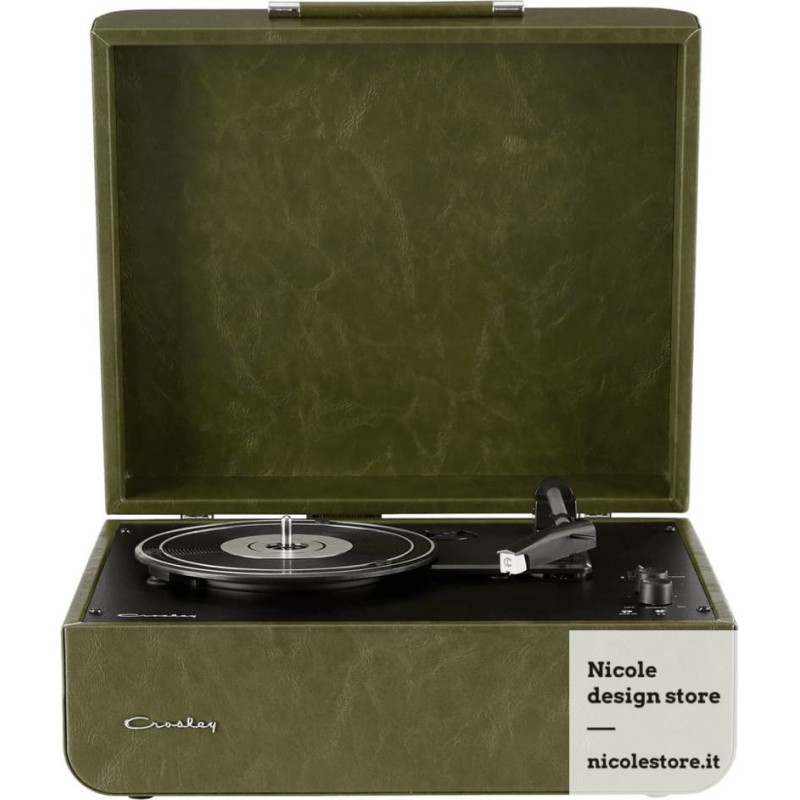  
Crosley Mercury Forest Green
3 or 4 installment payment available with PayPal, Oney or splittypay
Crosley Mercury Forest Green 2-way bluetooth record player
spekars included
3 speed turntable
bluetooth in and out
professional diamond needle (exclusive)
ITA+EU+UK plug (exclusive)
official guarantee
Enriched with a new professional diamond needle, Crosley Mercury is the new flagship of compact case turntables. With handcrafted luxury finishes and sinuous and elegant shapes, Crosley Mercury Forest Green is a perfect furnishing accessory functional to a satisfying vinyls and digital tracks listening audio experience.
Crosley Mercury suitcase turntable with in and out wireless audio connection (bluetooth 5.1), in (aux-in) and out (aux-out, RCA) wired audio connections, integrated stereo speakers (12 W), Forest Green marmorized effect faux leather, new revision, 2022 edition.
Exclusive Crosley x nicolestore.it edition includes a professional diamond needle, for defined tracks and richer bass, a power supply with Italian, UK and EU plug, for ready use without the need for adapters, integrated device for vibration absorption, for an unwanted scratches protected playback, functional test and calibration of the turntable at the date of shipment by qualified personnel, telephone, via chat or video call assistance for initial setup, access to consumables at a discounted price and 24 months Guarantee.
EU and UK psu and plug
manufactured by Crosley following our production specification for full compatibility
advantageous price on spare parts and consumables
pins, belts and spare parts, at cost price
ready to use
plug-and-play: listen to your favourite tune right out the box
phone and whatsapp
we prefer a personal contact and a sartorial experience at +393495631907
fast and tracked shipments
for smooth fully traced 24 / 72 h deliveries (EU)
flexible return policy
possibility of return with quick refund, goods exchange or replacement
privacy, SSL and encryption
personal data and transaction security with state of the art standards
local shop in Forlì (Italy)
the guarantee of a physical store and the convenience of home delivery
Original and Official
we are official resellers of each brand offered with only original products
Mercury Forest Green CR6255A-FG4
Crosley's new Mercury turntable adds earthy and natural tones and finishes to the historic American brand collection of turntable suitcases.
Its sinuous and rounded shape offers a seductive invitation to enjoy your vinyl record collection.
Crosley designers have provided the Mercury briefcase turntable a mid-century luxury look by combining a textured three-dimensional fabric with polished metal trims and hinges.
Mercury is a compact turntable with a briefcase design including a professional stylus with NP-15 bayonet cartridge, 2-way Bluetooth wireless technology and stereo speakers integrated into the base.
Caratteristiche
- 3 speed turntable 33 1/3, 45, 78 r/min.
- 7", 10" o 12" vinyls compatible
- 2 integrated speakers - 4Ω
- 12 W amplifier
- compatible with included Crosley NP-15
- belt driven (for a smoother ride with less vibrations)
- pitch control (for a better speed fluctuation control)
- Bluetooth receiver (audio in)
- Bluetooth transmitter (audio out)
- bluetooth 5.1
- auxiliary input (AUX-IN mini-jack 3.5mm)
- auxiliary output (AUX-OUT mini-jack 3.5mm pre-amplified for headphones and external speakers)
- RCA output (RCA-OUT pre-amplified for headphones and external speakers)
- corded CA power supply
- auto stop ( calibration for 7" or 10" or default 12")
- handmade  (tagli del materiale di finitura a vivo, elementi decorativi applicati a mano, ogni oggetto è unico)
Dimensioni
- 38,7 cm (l) 34,2 cm (l) 17 cm (h)
Peso
- 4,6 kg
Materiali
- tessuto sintetico (eco-pelle)
- MDF
- ABS
- metallo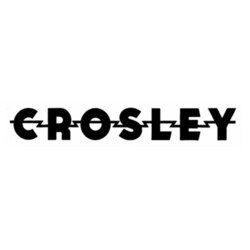 Data sheet
Guarantee

24 Month - Italy & EU

Plug

EU & UK

Needle

Professional (Diamond NP15)

Audio

Stereo 2.0

Amplifier

12 W

Weight

4,6 Kg

Weight (boxed)

10,2 Kg

Sizes

38,7 cm (l) 34,2 cm (l) 17 cm (h)

Sizes (boxed)

47 cm (l) 38,1 cm (l) 22,2 (h)

Audio In

Turntable, Mini Jack (3.5mm - 1/8 inch), Bluetooth

Audio Out

aux-out mini jack (3.5mm - 1/8 inch), RCA line (pre-amplified), Bluetooth

Transmission

Belt-Driven

RPM

33 1/3, 45, 78 RPM (electronic selector)

Pitch-Control

YES

Auto Stop

YES
16 other products in the same category: