announcement punto vendita e spedizioni operativi ed efficienti headset_mic ordini telefonici e servizio clienti tel./whp. al +39 349 56 31 907 local_shipping spedizione gratuita a partire da 49€ e consegna in 1 giorno storenegozio fisico con vetrine a Forlì announcement punto vendita e spedizioni operativi ed efficienti headset_mic ordini telefonici e servizio clienti tel./whp. al +39 349 56 31 907 local_shipping spedizione gratuita a partire da 49€ e consegna in 1 giorno storenegozio fisico con vetrine a Forlì announcement punto vendita e spedizioni operativi ed efficienti headset_mic ordini telefonici e servizio clienti tel./whp. al +39 349 56 31 907 local_shipping spedizione gratuita a partire da 49€ e consegna in 1 giorno storenegozio fisico con vetrine a Forlì announcement punto vendita e spedizioni operativi ed efficienti headset_mic ordini telefonici e servizio clienti tel./whp. al +39 349 56 31 907 local_shipping spedizione gratuita a partire da 49€ e consegna in 1 giorno storenegozio fisico con vetrine a Forlì announcement punto vendita e spedizioni operativi ed efficienti headset_mic ordini telefonici e servizio clienti tel./whp. al +39 349 56 31 907 local_shipping spedizione gratuita a partire da 49€ e consegna in 1 giorno storenegozio fisico con vetrine a Forlì
Wouf Sahara Laptop Sleeve 15" and 16" inches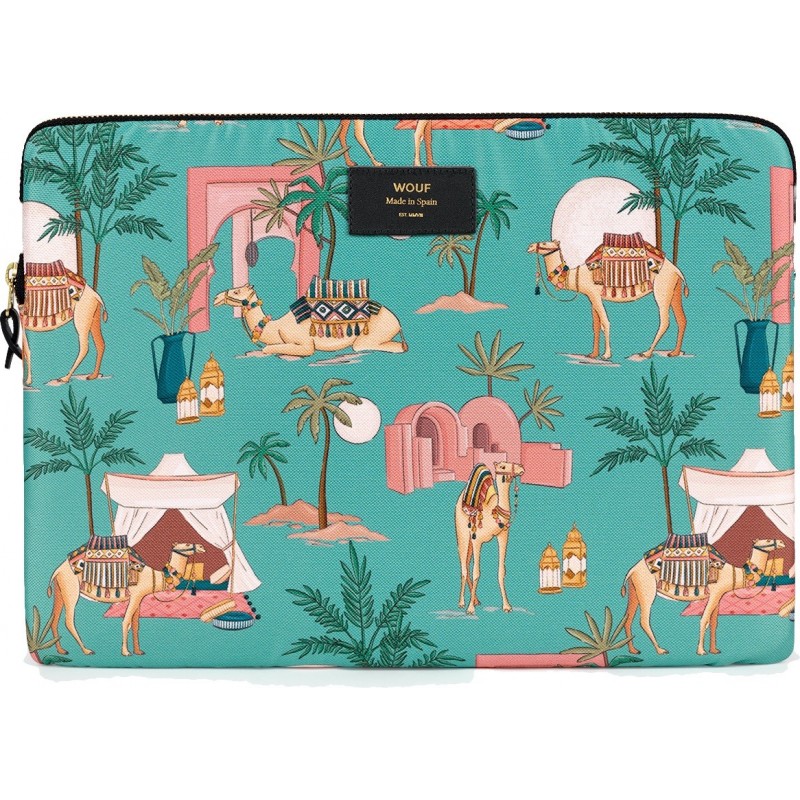  
Wouf Sahara Laptop Sleeve 15" and 16" inches
3 or 4 installment payment available with PayPal, Oney or splittypay
WOUF laptop sleeves are the perfect combination of style, finishes, eco-sustainability and protection.
Completely made in Spain, in Barcelona, in water-repellent, tear-resistant technical canvas and printed with ecological inks, WOUF Sahara Laptop Sleeve 15 "can take care of notebook PC and Mac laptops up to 16 inches, thanks to the internal dimensions of 35.8 x 24.6 x 1.65 cm.
This version we marketed of the Sahara 15 "case is compatible with both 15" (2016-2019) and 16 "MacBook Pro models from (2019 -...) as well as all models of other brands that respect the dimensions above.
Protection is guaranteed by a YKK sheathed zip closure, 5mm foam on each side and two internal retention bands.
phone and whatsapp
we prefer a personal contact and a sartorial experience at +393495631907
fast and tracked shipments
for smooth fully traced 24 / 72 h deliveries (EU)
flexible return policy
possibility of return with quick refund, goods exchange or replacement
privacy, SSL and encryption
personal data and transaction security with state of the art standards
local shop in Forlì (Italy)
the guarantee of a physical store and the convenience of home delivery
Original and Official
we are official resellers of each brand offered with only original products
WOUF Sahara Laptop Sleeve 15" e 16" Sizes
WOUF Sahara 15 "Laptop SLeeve, case for notebook, laptop, MacBook, MacBook Air and MacBook Pro, is compatible with devices up to 35.8 x 24.6 x 1.65 cm.
Sahara 15" e 16" di WOUF protection and composition
Protection:
· 5mm thick foam on each side of the case.
· Two safety bands for a perfect grip.
Composition
· Water repellent technical canvas (the case is not airtight).
· Printed with eco-friendly inks.
· YKK sheathed metal zipper (zipper does not come into contact with the device).
· Gold logo on recycled leather patch.
· Recycled leather zipper pull tab.
* Note that the placement of the print may differ from what is shown due to the manufacturing process.
100% Made in Spain

Data sheet
Sizes

36 x 25 x 2 cm

Composition

water repellent technical fabric, ecological inks, metal, recycled leather.

Made for

PC and Mac withing 35,8 x 24,6 x 1,65 cm, MacBook Pro 15 (2016 and later) and MacBook Pro 16" (2019 and later)
14 other products in the same category: