announcement punto vendita e spedizioni operativi ed efficienti headset_mic ordini telefonici e servizio clienti tel./whp. al +39 349 56 31 907 local_shipping spedizione gratuita a partire da 49€ e consegna in 1 giorno storenegozio fisico con vetrine a Forlì announcement punto vendita e spedizioni operativi ed efficienti headset_mic ordini telefonici e servizio clienti tel./whp. al +39 349 56 31 907 local_shipping spedizione gratuita a partire da 49€ e consegna in 1 giorno storenegozio fisico con vetrine a Forlì announcement punto vendita e spedizioni operativi ed efficienti headset_mic ordini telefonici e servizio clienti tel./whp. al +39 349 56 31 907 local_shipping spedizione gratuita a partire da 49€ e consegna in 1 giorno storenegozio fisico con vetrine a Forlì announcement punto vendita e spedizioni operativi ed efficienti headset_mic ordini telefonici e servizio clienti tel./whp. al +39 349 56 31 907 local_shipping spedizione gratuita a partire da 49€ e consegna in 1 giorno storenegozio fisico con vetrine a Forlì announcement punto vendita e spedizioni operativi ed efficienti headset_mic ordini telefonici e servizio clienti tel./whp. al +39 349 56 31 907 local_shipping spedizione gratuita a partire da 49€ e consegna in 1 giorno storenegozio fisico con vetrine a Forlì
Kreafunk aGo Care mini wireless speaker with microphone by Kreafunk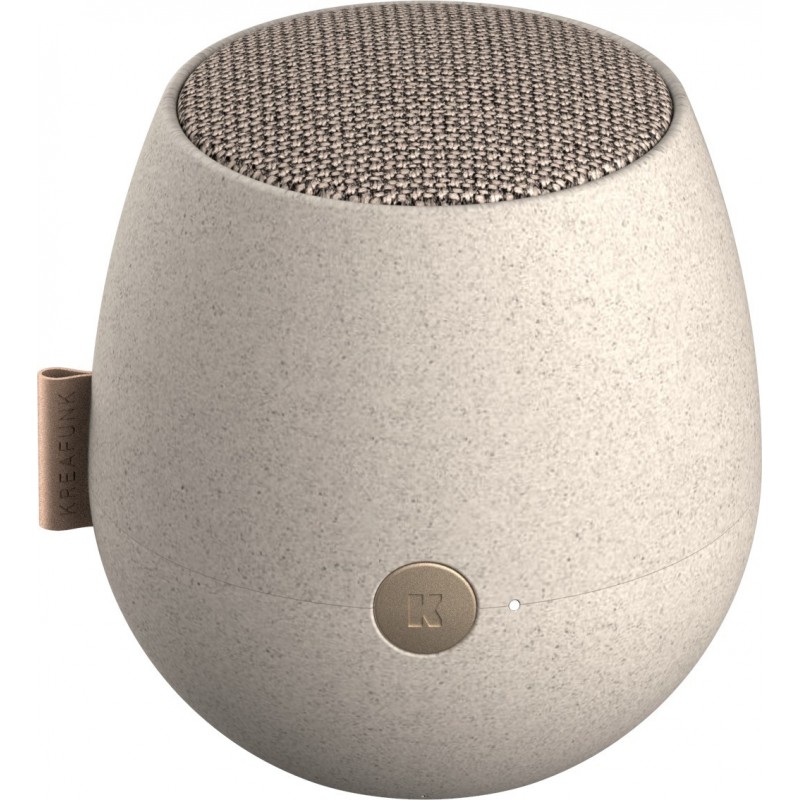  
Kreafunk aGo Care mini wireless speaker with microphone by Kreafunk
3 or 4 installment payment available with PayPal, Oney or splittypay
Kreafunk aJazz Care is the wireless speaker with integrated microphone of the Danish brand Kreafunk in an elegant ecological material, part of the CARE collection, in which 35% of the plastic material is replaced by wheat fibers, the diffusion grids are composed of fabric in recycled polyester and the production is managed in a renewable and sustainable way.
Discreet in size, however easily transportable, it combines optimized electronics for better autonomy and a closed design for better uniformity between low, medium and high.
Kreafunk aJazzo with OFFICIAL GUARANTEE.
Wireless for bluetooth connection with your smartphone, tablet or PC and an autonomy of up to 15 hours of listening at moderate volume, leather eyelet, resistant diffusion grid, Kreafunk aJazz is the perfect balance between size, autonomy and quality of playback, ideal for enjoying good sound even in stereo mode, thanks to the integrated TWS technology, which allows the connection of two aJazz units.
Kreafunk aJazz Care is compatible with Bluetooth standard, certified resistant to dust and water according to IP55 standard, USB C charging port and 6W digital amplifier.
USB A - USB C charging cable included.
phone and whatsapp
we prefer a personal contact and a sartorial experience at +393495631907
fast and tracked shipments
for smooth fully traced 24 / 72 h deliveries (EU)
flexible return policy
possibility of return with quick refund, goods exchange or replacement
privacy, SSL and encryption
personal data and transaction security with state of the art standards
local shop in Forlì (Italy)
the guarantee of a physical store and the convenience of home delivery
Original and Official
we are official resellers of each brand offered with only original products
Kreafunk aJazz Care Wireless Speaker
Ecological edition of the ultra-portable speaker from the Danish brand Kreafunk, the daily partner for listening to songs and podcasts and for quality conversations with uniform audio diffusion in a compact design.
Audio quality and autonomy wireless speaker aJazz Care by Kreafunk
Kreafunk portable speakers are known to be equipped with premium quality, durable and reliable audio components, which allows each product to be perfected to the most faithful audio reproduction possible within that price range and size, leaving as much as possible unchanged the ratio between low, medium and high, usually contaminated by the manufacturers of headphones towards the former, of the audio track reproduced.
Thanks to an independent digital amplifier, which amplifies and reconstructs the compressed digital signal originating from bluetooth reception, Kreafunk aJazz is a balanced portable speaker with loudspeaker functionality that can be combined, thanks to TWS technology, to another similar one for a stereo experience. complete and wireless.
The built-in microphone guarantees both speaker and listener flawless communication.
The optimized electronics of Kreafunk aJazz allow an autonomy of up to 15 hours at 50% of the volume
Ergonomics, functionality and water and dust protection from Kreafunk aJazz Care
Thanks to a monolithic structure and silicone volume control elements integrated into the design, Krefunk aJazz is certified resistant to splashes of water and dust according to the IP55 standard.
Ergonomic and compact design, 10 x 10 x 11 cm, Kreafunk aJazz includes a power button, with on / off / pause / play / answer call / end call / reject call or activate voice assistant, volume control buttons " + "and" - "able, respectively, to increase the volume or go to the next song and reduce the volume and go to the previous song, and a USB C port with silicone plug for recharging.
A colored LED indicator provides information on the charging cycle and battery status.
Sustainability by Kreafunk aJazz
All packaging of the Danish brand Kreafunk is sustainable and made with recycled, recyclable and natural resources:
- the external shipping packaging is made of recycled cardboard and is completely recyclable;
- the packaging of the products is made of FSC certified wood of sustainable origin;
- the protection and packaging films are made of biodegradable and / or completely recyclable plastics;
- at the end of their life, the products can be disposed of easily thanks to the modular design that favors the separation of materials.
Kreafunk CARE collection
KREAFUNK CARE, for a more environmentally friendly approach.
With the CARE collection, Kreafunk has reduced the use of plastic in each product by at least 35%, replacing it with wheat straw fibers, which are obtained from renewable resources. Furthermore, thanks to a collaboration with the Danish textile company Gabriel®, all speaker and headphone grilles are made with recycled polyester fabric.
16 other products in the same category: