announcement punto vendita e spedizioni operativi ed efficienti headset_mic ordini telefonici e servizio clienti tel./whp. al +39 349 56 31 907 local_shipping spedizione gratuita a partire da 49€ e consegna in 1 giorno storenegozio fisico con vetrine a Forlì announcement punto vendita e spedizioni operativi ed efficienti headset_mic ordini telefonici e servizio clienti tel./whp. al +39 349 56 31 907 local_shipping spedizione gratuita a partire da 49€ e consegna in 1 giorno storenegozio fisico con vetrine a Forlì announcement punto vendita e spedizioni operativi ed efficienti headset_mic ordini telefonici e servizio clienti tel./whp. al +39 349 56 31 907 local_shipping spedizione gratuita a partire da 49€ e consegna in 1 giorno storenegozio fisico con vetrine a Forlì announcement punto vendita e spedizioni operativi ed efficienti headset_mic ordini telefonici e servizio clienti tel./whp. al +39 349 56 31 907 local_shipping spedizione gratuita a partire da 49€ e consegna in 1 giorno storenegozio fisico con vetrine a Forlì announcement punto vendita e spedizioni operativi ed efficienti headset_mic ordini telefonici e servizio clienti tel./whp. al +39 349 56 31 907 local_shipping spedizione gratuita a partire da 49€ e consegna in 1 giorno storenegozio fisico con vetrine a Forlì
Tivoli Model One + Black limited edition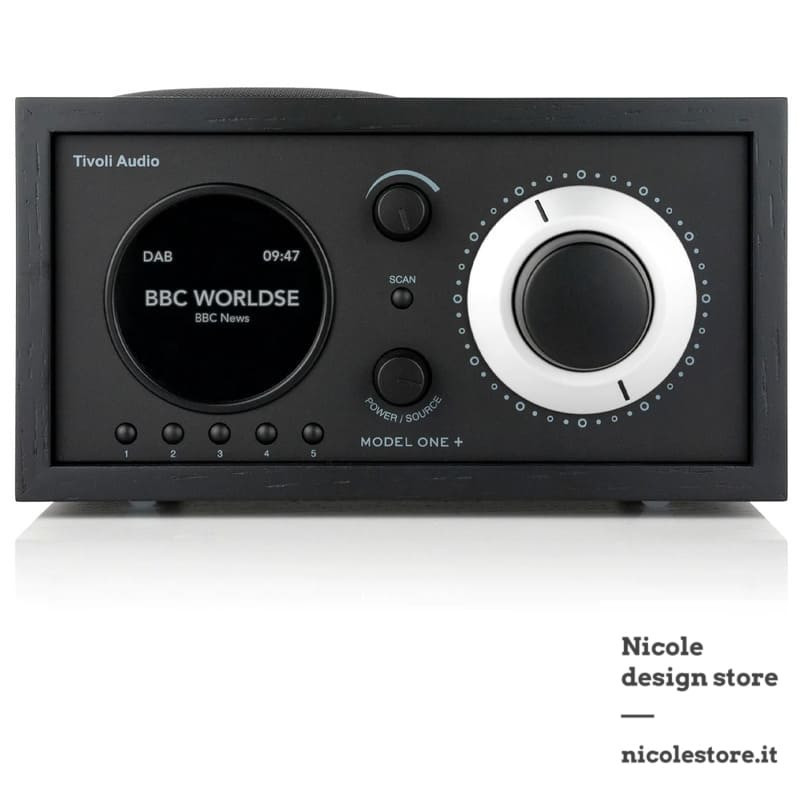  
Tivoli Model One + Black limited edition
3 or 4 installment payment available with PayPal, Oney or splittypay
Tivoli Model One + Black limited edition | Model One Plus | DAB DAB+ DMB FM AUX Bluetooth | wooden cabinet | high fidelity audio | wireless streaming digital radio alarm clock
The timeless design of Tivoli Model One , presented in the Black limited edition finish, revised and updated in the + / Plus edition with wireless Bluetooth wireless connection, digital DAB and DAB + radio and alarm clock functionality in Model One Plus.
Tivoli Model One + Black limited edition offers a digital and analog radio experience with wireless streaming capabilities via Bluetooth, with a non-invasive approach to the aesthetic revision necessary to integrate, in the classic design of Tivoli Model One, a high definition display and new control elements for alarm clock, digital scan and preset buttons for favorite stations.
The iconic Model One aesthetic originated from the pencil of Henry Kloss , in a new revision that respects the original concept, presented here in the Black limited edition edition, is a digital DAB, DAB+ and analog FM radio controlled by the usual Tivoli 5:1 tuner, recognized for its unparalleled precision, and a Bluetooth speaker, making the warm sound of an original Tivoli Radio, built inside a wooden cabinet, accessible to the new listening and consumption habits of audio and video content.
Tivoli Model One + Black limited edition in brief
analog FM radio
DAB, DAB+ and DMB digital radio
radio and speaker alarm functionality
5 analog memories and 5 digital memories
precision tuner
Bluetooth IN
AUX IN
AUX OUT
remote control included
telescopic antenna included
12 x 21.17 x 15 cm
1.5 Kg
Tivoli Audio Authorized Dealer
Nicole is an official Tivoli Audio partner
24 month guarantee
2 years official Tivoli Audio guarantee
EU and UK psu and plug
pan-european plugs kit included free of charge
suitable also for professional use
documented hôtellerie, foundations, museums, cinematografic and tv supplies
tailor made quotations and discounts
get your special quote for bulk orders, specific and personalized projects
phone and whatsapp
we prefer a personal contact and a sartorial experience at +393495631907
fast and tracked shipments
for smooth fully traced 24 / 72 h deliveries (EU)
flexible return policy
possibility of return with quick refund, goods exchange or replacement
privacy, SSL and encryption
personal data and transaction security with state of the art standards
local shop in Forlì (Italy)
the guarantee of a physical store and the convenience of home delivery
Original and Official
we are official resellers of each brand offered with only original products
Tivoli Model One +
Tivoli Model One + / Plus is the acclaimed design of the most iconic contemporary radio, already presented in the collections of the MoMa in New York, revised to accommodate the latest updates of DAB DAB+ digital radio tuning and Bluetooth wireless connection. Preserved the origins, in Model One there is still the capability of FM tuning and wired AUX IN input, in addition to the iconic and unrivaled knob tuner.
Tivoli Model One +, a hi-fi digital radio with a contemporary design
A timeless style, born from the hand of Henry Kloss, an all-wood construction and the most precise compact tuner now serving both FM analog radio and DAB DAB+ and DMB digital radio, make Tivoli Model One + the perfect digital radio for listening to your favorite radio broadcasts in high definition HD audio, amplified by a 360-degree speaker system, enclosed in a real wood cabinet elegantly built with artisanal methods, combined with the both minimal yet vintage aesthetic of the control panel.
The linear presence of Tivoli Model One + is due to the careful conservative approach put into practice while moving the speaker to the top in order accomodate the large display in the front of that same design originated from a perfected study of the proportions between the wooden frame, the diameter of the tuner, of the display circular dial and the knobs. Tivoli Model One Plus enjoys an exclusive and refined balanced aesthetic that does not add unnecessary clatter and background noise to a familiar listening experience.
The sound quality of Tivoli Model One available as a Bluetooth wireless speaker and digital radio alarm clock
Thanks to a completely wooden structure, an ideal inert acoustic housing, the sound reproduced by the single mono speaker of Tivoli Model One + is natural and analog, warm and close to the listener.
The heavy magnet driver is controlled by an optimized frequency selection circuit that efficiently and losslessly adjusts the audio output in half octave increments, resulting in a musically accurate overall tonal balance and excellent performance. compared to the size, of the low frequencies.
Peculiarities of Tivoli Model One normally reserved for listening to FM or wired radio, in the new Model One + edition they are also extended to devices capable of lossless streaming via Bluetooth, such as all smartphones and tablets, many TVs, media players and PCs and listening to digital radio according to the first generation DAB standard, next generation DAB + and DMB.
Model One + saves your favorite stations
In FM analog radio mode, you can use the mechanical knob tuner traditionally found on the right side of Model One, or scan for available stations thanks to the automatic digital controls, the sensitivity of which can be adjusted in the settings. There are 5 preset buttons to save as many favorite frequencies.
When active as a digital radio, Tivoli Model One +, after a first automatic scan of all available stations and their saving in memory, not to be repeated at each start-up, it is possible to scroll between being directly from the analog tuner now made digital and save up to 5 as a favorite in as many preset buttons.
Tivoli Model One + Digital radio alarm clock speaker 
The large display of Tivoli Model One Plus allows you to enrich the radio object with new functions, which becomes more and more integrated in everyday life. A recurring alarm or a one-time alarm can be set with digital audio playback, analog audio playback or Bluetooth speaker functionality.
All Tivoli Model One + connections
Tivoli Model One + has multiple connections available in addition to FM analog radio and DAB and DAB + digital radio capabilities:
Bluetooth input
compatible with all devices capable of transmitting via Bluetooth
auxiliary input AUX IN
compatible with 3.5 mm stereo jack
auxiliary output AUX OUT
headphone output, pre-amplified output for headphones and auxiliary speakers which excludes the speaker integrated in Tivoli Model One, thanks to the pass-through function, it is possible to use this output to pass the Bluetooth or radio input signal to an amplifier that does not be fitted, effectively making Tivoli Model One + a perfect high-fidelity Bluetooth receiver or high-fidelity radio tuner. The volume adjustment of this output is given by the knob on Tivoli Model One.
16 other products in the same category: