Officina Naturae Deo CO.SO. neutro neutral 50 ml solid deodorant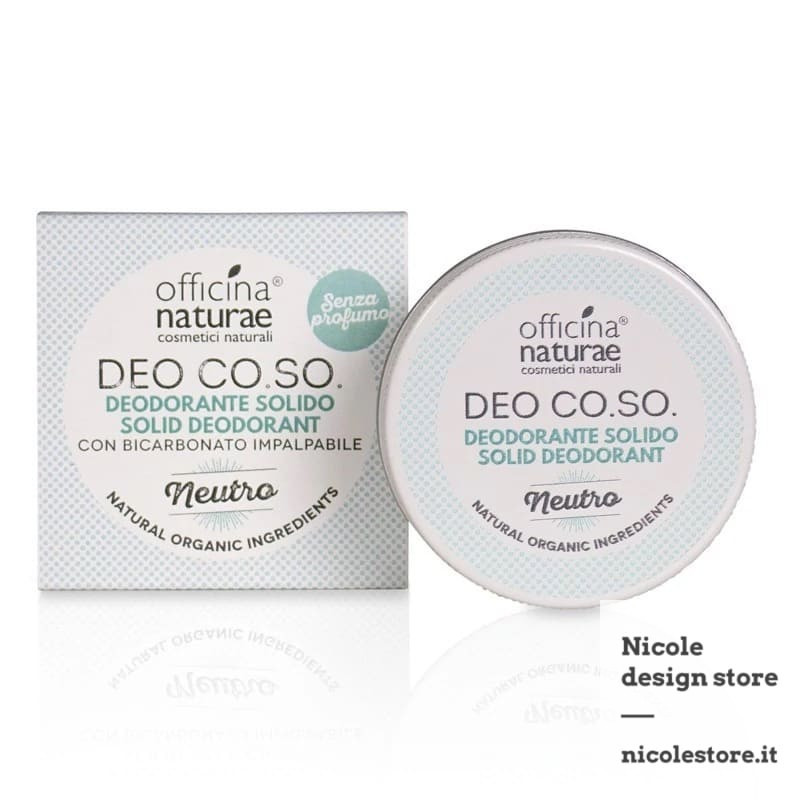  
Officina Naturae Deo CO.SO. neutro neutral 50 ml solid deodorant
Deo CO.SO. neutro officina naturae | solid deodorant natural organic vegan fragrance-free with impalpable bicarbonate | ultra delicate
Neutro is the most delicate solid deodorant by Officina Naturae part of the made in Italy certified organic, vegan, plastic-free and bio-sustainable line of CO.SO solid cosmetics.
Deo CO.SO. neutro is a vegan deodorant composed exclusively of natural organic ingredients, safe and active throughout the day, thanks to the exclusive impalpable bicarbonate and Hammamelis root, delicately astringent.
Neutro is an organic deodorant free of any perfuming agent, neutral, odorless and particularly suitable for very sensitive skin: it neutralizes odors with maximum effectiveness without adding perfumed notes and maintains maximum skin perspiration.
The 50 ml Deo CO.SO. solid deodorants replace 200 ml of traditional deodorant in terms of volume and duration, and are the most sustainable solution for daily deodorizing and include a practical recycled aluminum case with screw cap and reusable for other solid cosmetics or recyclable.
Deo CO.SO. neutro, at a glance:
fragrance-free, odorless, neutral, delicate and highly breathable
exclusive formula with impalpable bicarbonate
with Hammamelis root as an astringent
certified Vegan, Organic, Plastic Free
tested Nickel < 1ppm
50ml 1.76 fl oz e
phone and whatsapp
we prefer a personal contact and a sartorial experience at +393495631907
fast and tracked shipments
for smooth fully traced 24 / 72 h deliveries (EU)
flexible return policy
possibility of return with quick refund, goods exchange or replacement
privacy, SSL and encryption
personal data and transaction security with state of the art standards
local shop in Forlì (Italy)
the guarantee of a physical store and the convenience of home delivery
Original and Official
we are official resellers of each brand offered with only original products
Exclusive processing by Deo CO.SO. Officina Naturae: solid deodorants without rubbing sensation
Thanks to independent development and exclusive manufacturing, Officina Naturae has eliminated the annoying rubbing effect typical of solid deodorants formulated with bicarbonate. Deo CO.SO. it is among the few solid deodorants also suitable for delicate skin. 100% without aluminum salts, alcohol, preservatives, dyes and synthetic perfumes, it is suitable for a conscious and sustainable lifestyle, respects perspiration and does not dry the skin.
Sustainable, recycled, recyclable and plastic-free packaging of the Neutro odorless solid deodorant by Officina Naturae
The solid deodorant is also concrete in the packaging, offering a valid alternative to commonly consumed products for a choice of plastic-free products: the recycled and 100% recyclable aluminum pot, manufactured in Italy, is 100% plastic free and single material.
Ingredients of Deo CO.SO. neutro by Officina Naturae
INCI: Caprylic/Capric Triglyceride, Sodium Bicarbonate, Butyrospermum Parkii Butter, Hydrogenated vegetable oil, Hydrogenated Olive Oil Stearyl Esters, Triethyl Citrate, Helianthus Annuus Seed Oil*, Cocos Nucifera Oil*, Chamomilla Recutita Flower Extract*, Hamamelis virginiana leaf extract, Tocopherol.
*from organic farming
Active ingredients of the solid vegan deodorant by officina naturae Deo CO.SO. neutro
Impalpable sodium bicarbonate: regulates the pH and blocks the proliferation of bacteria that cause bad smell.
Hamamelis extract: slightly astringent, it naturally regulates sweating, without blocking it.
Triethyl citrate: limits the formation of bad odor by bacteria.
Organic Coconut Oil: "suffocates" the bacteria by wrapping them.
Chamomile extract: emollient and soothing.
How to use the solid deodorant Deo CO.SO. neutro by Officina Naturae
Start with a small amount of deodorant to apply on the armpits, distributing it by massaging, trying it for a few days. Adjust the quantity according to your needs.
Keep in a cool place and make sure that the case is closed correctly, in order to avoid product leakage. From opening, consume within 6 months: in this time window there may be slight variations in the color of the product, a sign of the completely natural origin of the perfume. It is absolutely natural and should not cause concern, because this variation does not change the efficacy or safety of the product.
8 other products in the same category: