announcement punto vendita e spedizioni operativi ed efficienti headset_mic ordini telefonici e servizio clienti tel./whp. al +39 349 56 31 907 local_shipping spedizione gratuita a partire da 49€ e consegna in 1 giorno storenegozio fisico con vetrine a Forlì announcement punto vendita e spedizioni operativi ed efficienti headset_mic ordini telefonici e servizio clienti tel./whp. al +39 349 56 31 907 local_shipping spedizione gratuita a partire da 49€ e consegna in 1 giorno storenegozio fisico con vetrine a Forlì announcement punto vendita e spedizioni operativi ed efficienti headset_mic ordini telefonici e servizio clienti tel./whp. al +39 349 56 31 907 local_shipping spedizione gratuita a partire da 49€ e consegna in 1 giorno storenegozio fisico con vetrine a Forlì announcement punto vendita e spedizioni operativi ed efficienti headset_mic ordini telefonici e servizio clienti tel./whp. al +39 349 56 31 907 local_shipping spedizione gratuita a partire da 49€ e consegna in 1 giorno storenegozio fisico con vetrine a Forlì announcement punto vendita e spedizioni operativi ed efficienti headset_mic ordini telefonici e servizio clienti tel./whp. al +39 349 56 31 907 local_shipping spedizione gratuita a partire da 49€ e consegna in 1 giorno storenegozio fisico con vetrine a Forlì
Pure Marseille soap in flakes 750 gr Nature by Marius Fabre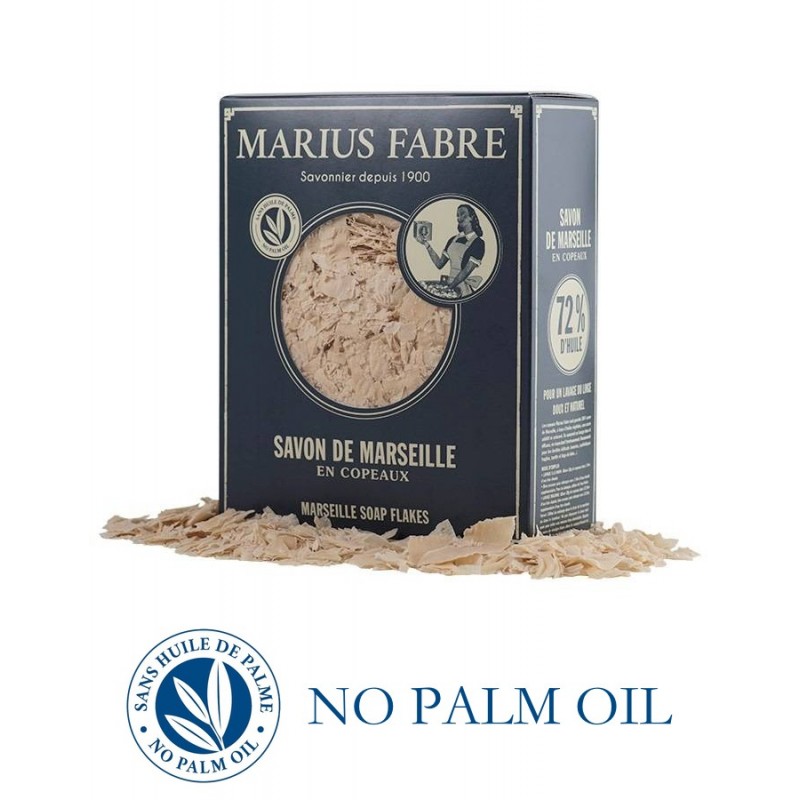  
Pure Marseille soap in flakes 750 gr Nature by Marius Fabre
3 or 4 installment payment available with PayPal, Oney or splittypay
The Marseille soap flakes from the Marius Fabre soap factory is the only and original made with the traditional Marseille method, cooked in a cauldron by generations of master soapmakers since 1902.
Effective in a wide range of uses, pure Marseille flake soap in  flakes, proposed here in the 750 g boxed format, is the ideal ally for  the daily care of all types of fabric, even the most delicate ones, both washing by hand or in the washing machine. Respectful of the skin, it is a natural, vegetable and biodegradable product, also recommended for babies clothes and underwear.
Naturally WITHOUT DYES, WITHOUT ADDITIVES, WITHOUT PERFUMES, WITHOUT SYNTHESIS PRODUCTS.
New 2020 recipe: Marius Fabre Marseille Soap flakes are now WITHOUT PALM OIL, replaced by an equally effective Oleic Sunflower Oil with a high oleic acid content, which, similarly to Olive Oil, favors a lower tendency to oxidation, a lower environmental impact in the soap cooking phases and a longer duration of the product qualities over time but, at the same time, maintaining the particular cleaning qualities, especially on white garments, of palm oil based soap.
INCI: Sodium Sunflowerseedate, Sodium Cocoate, Aqua, Glycerin, Sodium chloride, Sodium hydroxide.
CONTENT: 0.750 Kg e (+/- 8%) - 200/250 machine washes or 30/50 by hand.
Savon de Marseille
officially UPSM recognized
Eco Certification
indipendent entity issued
without palm oil
only olive, sunflower and coconut oils
Made in France
guarantee of origin seal
Cruelty Free
not tested on animals
Dye Free
without additive dyes
phone and whatsapp
we prefer a personal contact and a sartorial experience at +393495631907
fast and tracked shipments
for smooth fully traced 24 / 72 h deliveries (EU)
flexible return policy
possibility of return with quick refund, goods exchange or replacement
privacy, SSL and encryption
personal data and transaction security with state of the art standards
local shop in Forlì (Italy)
the guarantee of a physical store and the convenience of home delivery
Original and Official
we are official resellers of each brand offered with only original products
    CONTENT: 0.75 Kg and - 200/250 machine washes or 30/50 by hand.
  MANUAL ALWAYS INCLUDED:
For each order, Nicole design store includes printed guides with application suggestions and dosages related to the product purchased.
| | | |
| --- | --- | --- |
|  100% Made in France | Marseille Soap | Without Palm Oil |
| | | |
| --- | --- | --- |
| Origin Guaranteed by the seal of quality. | Guaranteed by the Marseille Soap Professionals Union. | New recipe with Oleic sunflower oil |
Marseille Soap Flakes Nature by Marius Fabre - 750 grams box
Marius Fabre pure Marseille soap flakes are made from vegetable raw materials according to the traditional Marseille method according to which the soap must be cooked slowly in a cauldron.
Marius Fabre flake soap has no dyes, no perfumes or additives and this is why it is recommended for a respectful but effective washing of all fabrics, ideal, in particular, for delicate items (baby linen, wool, silk, lace) , etc ...)
Manufactured with a special and secret family recipe, Marius Fabre flakes are perfectly dried and dehydrated after manufacture, thus guaranteeing real weighing and very high yield.
Biodegradable and without phosphates, Marseille soap flakes do not pollute rivers and contribute to respect for the environment.
Weight: 750 g.
USE GUIDE AND DOSAGES OF MARSEILLE SOAP FLAKES
Hand washing
Exact dosage Included at the time of purchase (Manual written by Nicole design store and sent in paper format with each purchase) - the 750 grams of flakes contained in this package are sufficient, if diluted in water in the right proportions and in the correct ways, such as from our indications, for 30/50 Hand washes.
Washingmachine
Prepare the Marseille soap liquid detergent:
Dosage Included at the time of purchase (Manual written by Nicole design store and sent in paper format with each purchase) - the 750 grams of flakes contained in this package are more than enough, if correctly mixed in water by following the the right proportions and the correct methods, as per our instructions, to produce liquid soap for 200/250 Machine Washes.
Not tested on animals;

Without dyes, without perfume, without preservatives;

Formulation free of chemical, synthetic and non-biodegradable additives;

Manufactured from 100% vegetable oils obtained responsibly: Linoic Sunflower Oil and Coconut Oil (Sodium Cocoate) are obtained only from plantations and crops and not from deforestation in endangered ecosystems.

Ingredients (INCI): Sodium Sunflowerseedate, Sodium Cocoate), Aqua, Glycerin (normal result of saponification, not added), Sodium chloride, Sodium hydroxide.

THE "GLYCERINE": The glycerin contained in the "Marius Fabre" Marseille soaps is not indicated as a synthesized ingredient during saponification but it is the glycerin naturally contained in the vegetable oil and which is released in the saponification process. Despite the 10 days of cooking and the subsequent washing, a minimum quantity of this still remains which, for fairness towards the consumer, is mentioned as part (trace) in the INCI. Being present in quantities of 0.0001ppm, in fact, it may not even be specified in the ingredients list. IN ALL SOAPS IT IS PRESENT, EVEN IN THOSE THAT DO NOT INDICATE IT.
Customers who bought this product also bought:
6 other products in the same category: