headset_mic ordini telefonici e servizio clienti tel./whp. al +39 349 56 31 907 local_shipping spedizione gratuita a partire da 49€ e consegna in 1 giorno storenegozio fisico con vetrine a Forlì headset_mic ordini telefonici e servizio clienti tel./whp. al +39 349 56 31 907 local_shipping spedizione gratuita a partire da 49€ e consegna in 1 giorno storenegozio fisico con vetrine a Forlì headset_mic ordini telefonici e servizio clienti tel./whp. al +39 349 56 31 907 local_shipping spedizione gratuita a partire da 49€ e consegna in 1 giorno storenegozio fisico con vetrine a Forlì headset_mic ordini telefonici e servizio clienti tel./whp. al +39 349 56 31 907 local_shipping spedizione gratuita a partire da 49€ e consegna in 1 giorno storenegozio fisico con vetrine a Forlì headset_mic ordini telefonici e servizio clienti tel./whp. al +39 349 56 31 907 local_shipping spedizione gratuita a partire da 49€ e consegna in 1 giorno storenegozio fisico con vetrine a Forlì
Marius Fabre Original Natural Hand Soap in Paste Atelier 1 Kg - Savon Noir based - Olive Oil - by Marius Fabre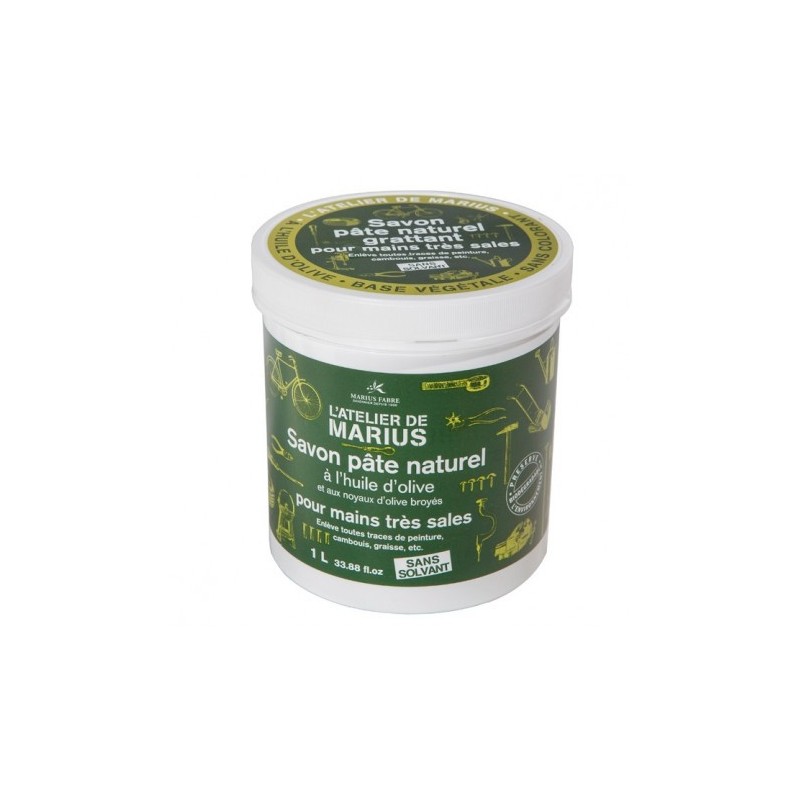  
Marius Fabre Original Natural Hand Soap in Paste Atelier 1 Kg - Savon Noir based - Olive Oil - by Marius Fabre
Based on our speciality, Marius Fabre black soap, this soap is an innovation thanks to its plant-based only ingredients; it differs from other "mechanically active" soaps, which always contain petroleum and solvent based surface-active agents.
It contains ground apricot kernels for a thoroughly cleansing hand wash without damaging the skin. Not only does it clean your hands, it also leaves leaves them nice and soft.
It is entirely biodegradable and safe for the environment.
Contents : 1 l
Savon de Marseille
officially UPSM recognized
Eco Certification
indipendent entity issued
without palm oil
only olive, sunflower and coconut oils
Made in France
guarantee of origin seal
Cruelty Free
not tested on animals
Dye Free
without additive dyes
phone and whatsapp
we prefer a personal contact and a sartorial experience at +393495631907
fast and tracked shipments
for smooth fully traced 24 / 72 h deliveries (EU)
flexible return policy
possibility of return with quick refund, goods exchange or replacement
privacy, SSL and encryption
personal data and transaction security with state of the art standards
local shop in Forlì (Italy)
the guarantee of a physical store and the convenience of home delivery
Original and Official
we are official resellers of each brand offered with only original products
Marius Fabre natural scrub soap is an excellent heavy duty cleaner for dirty hands thanks to its natural scrub particles: ground apricot kernels.
- Organic olive oil
- Ground apricot kernels
INCI: Aqua, Potassium olivate, Potassium cocoate, Caprylyl Glucoside, Prunus Armeniaca Seed powder, Glycerin.
Place a dab of soap paste in the palm of your hand and wet it. Wash your hands well, rubbing them together for as long as it takes. Rinse.
Customers who bought this product also bought:
10 other products in the same category: