Monbento MB Warmer black Onyx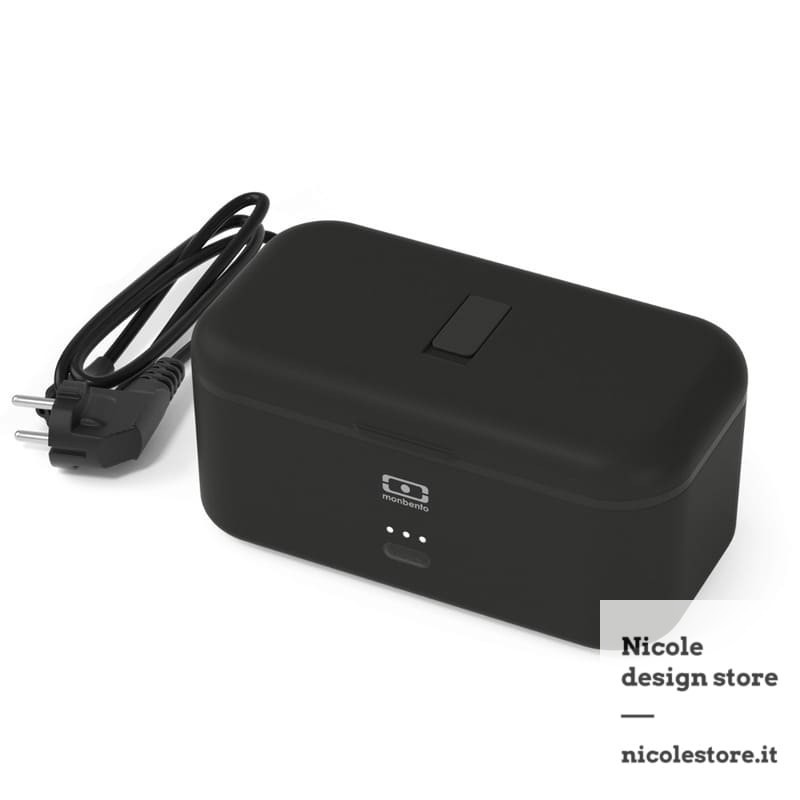  
Monbento MB Warmer black Onyx
MB Warmer black Onyx | hermetic isothermal food warmer | warming lunchbox | airtight electric lunch box | heating plate | 700 ml
The original aesthetic of the iconic Monbento airtight lunch box is reinterpreted in a technological key on MB Warmer black Onyx, the first lunch box with isothermal and heating capacities with electrical and programmable power supply.
MB Warmer is the hi-tech food heater programmable at 15, 25 and 35 minutes cycles, expertly perfected at Monbento so that stored food stored won't be recooked but simply reheated or kept warm, without reaching temperatures such as to modify the cooking level, for a perfect and healthy tasting experience.
Monbento MB Warmer black Onyx is a state of the art airtight lunch box, thanks to the valve and high-performance gaskets systems it keeps the temperature for at least an hour after the set heating cycle is over.
We are Monbento official distributors and resellers for both personal use customer and professionals, corporate or agencies.
MB Warmer black Onyx at a glance
1 airtight lid
1 gasket
1 valve
700 ml
3 heating programs
reheats without cooking
1 x 1.5m E / F cable
without microwave
1 bag
OK hand wash
phone and whatsapp
we prefer a personal contact and a sartorial experience at +393495631907
fast and tracked shipments
for smooth fully traced 24 / 72 h deliveries (EU)
flexible return policy
possibility of return with quick refund, goods exchange or replacement
privacy, SSL and encryption
personal data and transaction security with state of the art standards
local shop in Forlì (Italy)
the guarantee of a physical store and the convenience of home delivery
Original and Official
we are official resellers of each brand offered with only original products
Reheating lunch box Monbento MB Warmer black Onyx
A technologically advanced lunchbox, MB Warmer is the efficient and performing lunch box capable of heating a complete lunch in a few minutes without changing the cooking state of the food stored.
Designed for the best user experience, MB Warmer can be comfortably carried in a bag without risk of leaks, thanks to the effective gasket valve closure method shared with other Monbento performing lunch boxes.
MB Warmer is spacious but compact, ergonomic and light, thanks to the iconic design of a rounded parallelepiped inspired by the tradition of the bento of the Rising Sun, weighs less than 1 kg and holds up to 700 ml of solid, semi-solid or liquid food. Resistant to the test of time, it is made of durable ABS and aluminum.
Thanks to an additional accessory, MB Warmer can also be used in a car.
Monbento MB Warmer black Onyx available warming programs
Thanks to a digital selector, it will be possible to set the heating cycle to 15, 25 or 35 minutes and, once the heating cycle is completed, MB Warmer will be able to keep the temperature for up to one hour.
15 minutes: ideal for broths, soups and soups, which allow the heat to radiate faster.
25 minutes: optimized for more airy preparations, such as pasta-based first courses and baked puff pastry preparations.
35 minutes: needed for thick dishes, such as risotto.
Monbento MB Warmer 700 ml heating lunch box main features
BPA Free
Manufactured in ABS, PP, PA, silicone and aluminum, the MB Warmer will accompany a career made of successes and healthy lunch breaks in the name of good taste and healthy weekend trips out of town.
Resistant and simply automatic
Available rapid heating programs at 15, 25 and 35 minutes, with the option of maintaining the temperature up to one hour from the end of the cycle, MB Warmer is the choice of quality both for materials and experience of use.
Airtight
It can be transported in all lightness in the bag, thanks to a tested gasket and valve system that allows the contents of MB Warmer to remain warm even in transit between home and work or the travel destination.
Quality
First choice materials: resistant plastics and anodized aluminum make MB Warmer a small fortress for your daily delicacies, for guaranteed longevity when used with respect.
Recyclable: each component of MB Warmer can be disassembled at the end of its life and recycled in its respective waste cycle.
Sizes
Size: L 210 x P 115 x H 105 mm
Capacity: 700 ml = 0.7 L
Wight: 815 g
In the box
1 lunch warmer container (PP, ABS, PA)
1 lid (PP, ABS)
1 gasket (silicone)
1 cap (silicone)
1 tray (anodized aluminum)
1 removable power supply cable
16 other products in the same category: