Antibacterial disinfectant liquid detersive EcoDetergent 1,5 L La Corvette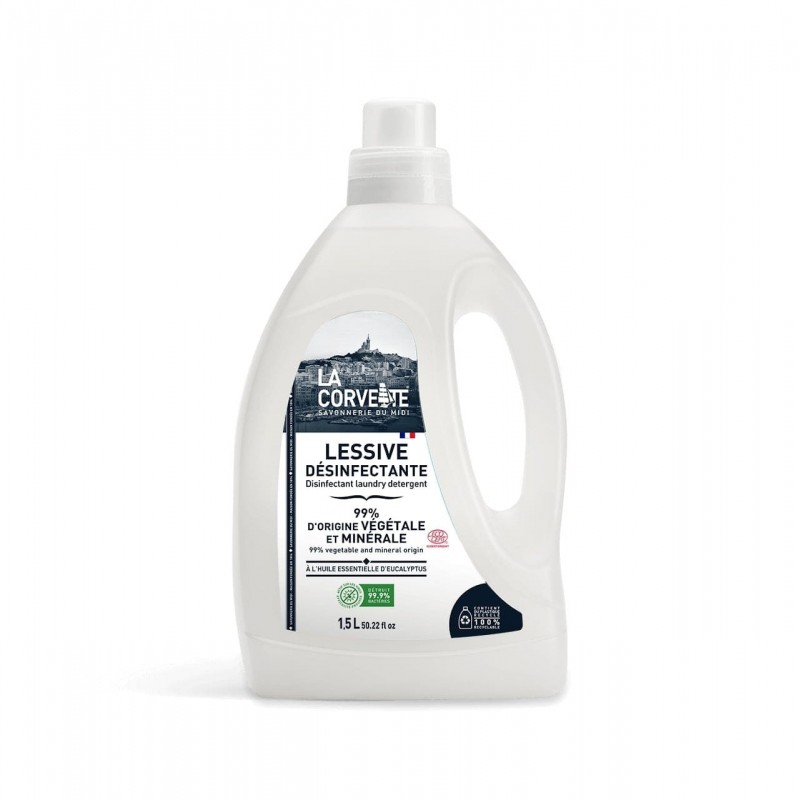  
Antibacterial disinfectant liquid detersive EcoDetergent 1,5 L La Corvette
Lessive liquide désinfectante
40° C activated disinfectant and cleaning
EcoCert certified eco-detergent
destroys 99.9% of viruses and bacteria, including coronavirus
essential oil enriched 
smell suppressing
hand and machine washing
1,5 L e
The La Corvette disinfectant liquid detergent is produced according to the Marseille method, enriched with ecological disinfectant agents and essential vegetable oils and is EcoDetergente certified by EcoCert, to guarantee total environmental sustainability of the product.
Its concentrated liquid formula is highly effective and makes it an excellent disinfectant cleaner for all daily uses. Formulated for both machine washing and hand washing, it is effective even at low temperatures and can be used for clothing, linen, cloths and delicates. Ideal on cotton, linen, gauze, less on silk and wool.
phone and whatsapp
we prefer a personal contact and a sartorial experience at +393495631907
fast and tracked shipments
for smooth fully traced 24 / 72 h deliveries (EU)
flexible return policy
possibility of return with quick refund, goods exchange or replacement
privacy, SSL and encryption
personal data and transaction security with state of the art standards
local shop in Forlì (Italy)
the guarantee of a physical store and the convenience of home delivery
Original and Official
we are official resellers of each brand offered with only original products
La Corvette Savonnerie du Midi EcoDetergent disinfectant liquid detergent
Specifically formulated to make fabrics bacterially neutral, it is a disinfectant detergent capable of eliminating 99.9% of bacteria and viruses, ideally used to clean and washing work, sports and school clothing.
This product is certified ECODETERGENT by Ecocert Greenlife according to the ECOCERT standard with 99.7% of ingredients of vegetable or mineral origin. Its concentrated formula, specific use and effectiveness activated even at low temperatures make it both an ecological and economical product.
Ingredients of the disinfectant liquid detergent with essential oils by La Corvette Savonnerie du Midi
Natural and mineral composition, ecological EcoDetergent certified by ECOCERT.
Formulated with olive oil soap, the soft black soap is certified free of solvents and dyes and is safe for the skin.
Composition: 15-30% disinfectants, such as lactic acid CAS 79-33-4, 16% (m / m) and ethyl alcohol CAS N ° 64-17-5, 9.6% (m / m), anionic surfactants. <5%, non-ionic surfactants,
perfume, limonene. Also contains: water, denaturing, thickener.
Type of preparation: Soluble concentrate (SL).
TP2 use: disinfectant not intended for direct application on humans and animals.
Instructions for use of La Corvette Mineral Vegetable Ecological Liquid Soap
To respect the environment, it is advisable to operate the washing machine only at full load, favoring low temperature washing cycles and following the dosage instructions.
Pour 50-100 ml, 1.5-3.5 caps for 6-12 kg into the drawer or directly into the washing machine drum and choose the 40 ° program. Disinfectant cycle in 30 minutes at 40 ° C for clothes in dirty conditions. Acts as a 2% bactericide according to EN 1276
Active on strains: Enterococcus faecium, Vacciniavirus, Coronavirus.
Customers who bought this product also bought:
16 other products in the same category: