Tivoli Audio Model Two Digital black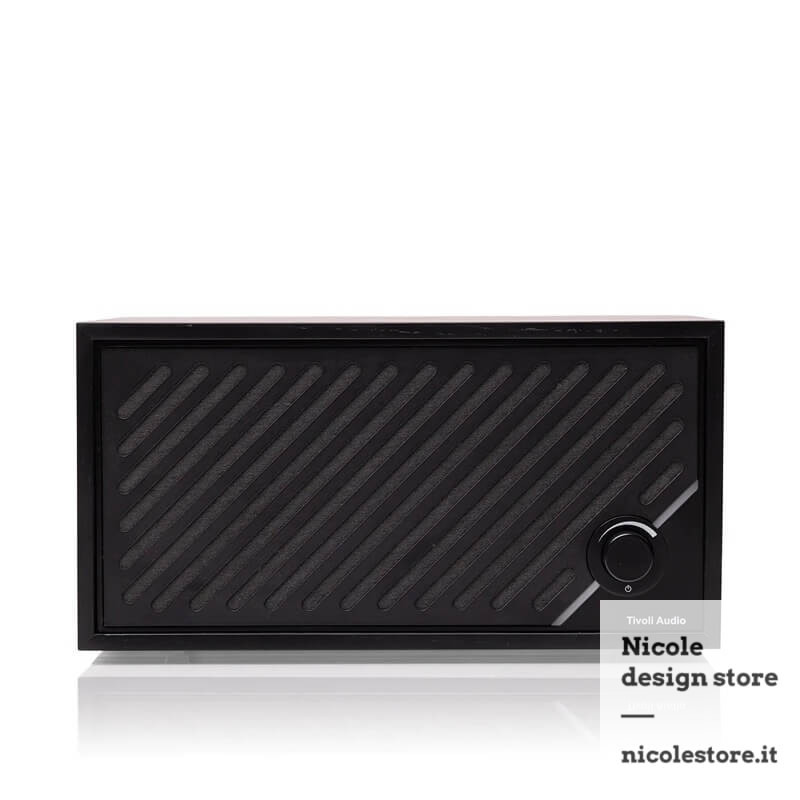  
Tivoli Audio Model Two Digital black
Tivoli Audio Model Two black
Smart Speaker Bluetooth Wi-Fi AirPlay 2 ChromeCast
High-fidelity speaker in wood and metal | AUX input | Bluetooth 5.2 input | Wi-Fi connection | 20 W amplifier | 1.1 diffusion with full-range speaker and tweeter | AirPlay 2 | ChromeCast | Direct access to streaming services including Spotify Connect, Q Play, Apple Music, Google Play, Tidal Connect, Deezer, Pandora, TuneIn (...) | 2-year official warranty from Tivoli Audio
The Tivoli Audio Model Two Digital is the new Tivoli Audio speaker entirely dedicated to digital streaming. Equipped with Wi-Fi connectivity, it can be locally connected to single or multi-room devices via AirPlay 2 and Google ChromeCast standards, also having direct access to the most popular free and subscription streaming services.
The Tivoli Audio Model Two Digital in black conceals behind an elegant matte black anodized aluminum grille and a matte piano black wood structure two large active drivers powered by a powerful 20W dedicated Class D amplifier in a completely open structure, providing the typical airiness of sound expected from a Tivoli device.
The set of features is complemented by more traditional audio inputs such as Bluetooth and a 3.5 mm AUX jack.
Tivoli Audio Model Two Digital black, at a glance:
3.5 mm AUX input and Bluetooth® 5.2
Wi-Fi
Google Chromecast and Apple Airplay 2 integrated
Audio streaming from all compatible Google ChromeCast and AirPlay 2 services and devices: Spotify Connect, Q Play, Apple Music, Google Play, Tidal Connect, Deezer, Pandora, TuneIn, and others
Connection or integration with existing multi-room systems using Google Chromecast and Airplay 2
Maximum rated audio output: 94 +/- 3 dB at 1 m
1x 88.9 mm full-range speaker and 1x 19 mm tweeter
Frequency response: 60Hz~20kHz
RMS amplifier power: 20W
Factory-installed European plug
2-year warranty from the delivery date
12.3 x 25.2 x 15.8 cm
2.2 kg
Tivoli Audio Authorized Dealer
Nicole is an official Tivoli Audio partner
24 month guarantee
2 years official Tivoli Audio guarantee
EU and UK psu and plug
pan-european plugs kit included free of charge
suitable also for professional use
documented hôtellerie, foundations, museums, cinematografic and tv supplies
tailor made quotations and discounts
get your special quote for bulk orders, specific and personalized projects
phone and whatsapp
we prefer a personal contact and a sartorial experience at +393495631907
fast and tracked shipments
for smooth fully traced 24 / 72 h deliveries (EU)
flexible return policy
possibility of return with quick refund, goods exchange or replacement
privacy, SSL and encryption
personal data and transaction security with state of the art standards
local shop in Forlì (Italy)
the guarantee of a physical store and the convenience of home delivery
Original and Official
we are official resellers of each brand offered with only original products
Model Two Digital black
 is part of the new Tivoli Audio 2024 collection
The Tivoli Audio Model Two Digital is a component of the new 2024 collection, revitalizing the home speaker and portable speaker market with high-fidelity audio speakers and radios featuring characteristics aligned with contemporary consumer habits and unique attributes. This comes after a five-year period primarily characterized by incremental updates to existing models.
16 other products in the same category: