gueule de bois extrait de parfum néo sandalwood Versatile Paris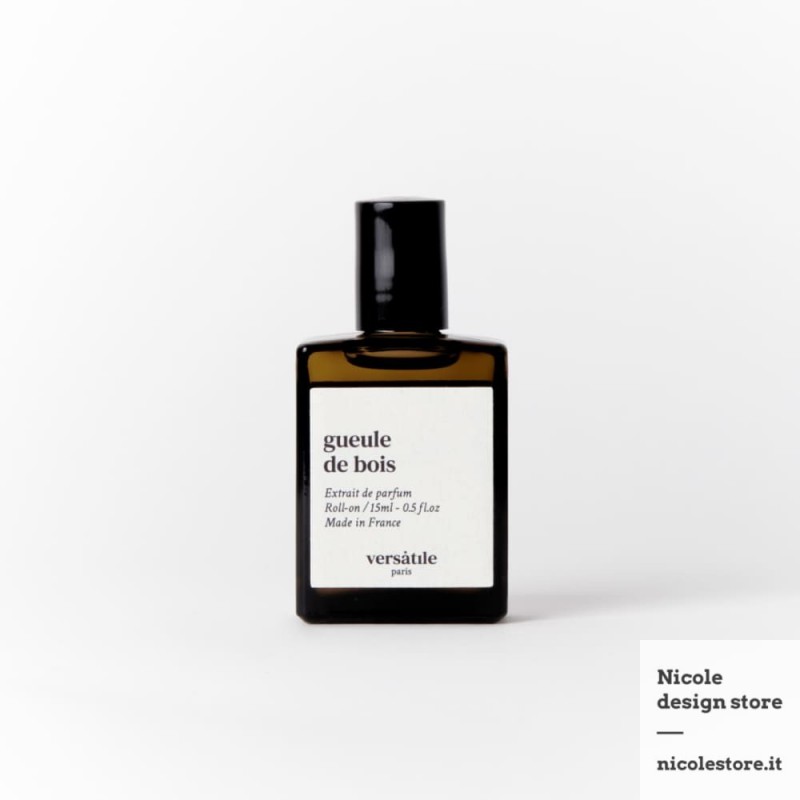  
gueule de bois extrait de parfum néo sandalwood Versatile Paris
Versatile Paris gueule de bois | extrait de parfum | néo sandalwood
Versatile Paris hangover | perfume extract | neo santal  
An intoxicating alcoholic rum vapor as interpreted by the maison de parfum Versatile Paris.
néo sandalwood - thrilling (but not heady) extrait de parfum, perfume extract, 15ml concentrated 30% roll-on without alcohol and without additives.
spicy, peppery, incense, rum, amber, syrupy, sweet, warm, woody.
gueule de bois: raw. After-party.
A perfume that smells of a hidden, private, reserved euphory, incense, genderless and vegan, sustainable for man and the environment.
phone and whatsapp
we prefer a personal contact and a sartorial experience at +393495631907
fast and tracked shipments
for smooth fully traced 24 / 72 h deliveries (EU)
flexible return policy
possibility of return with quick refund, goods exchange or replacement
privacy, SSL and encryption
personal data and transaction security with state of the art standards
local shop in Forlì (Italy)
the guarantee of a physical store and the convenience of home delivery
Original and Official
we are official resellers of each brand offered with only original products
Versatile Paris gueule de bois Rum perfume alcohol-free roll-on
A gesture of delicate sensoriality, a versatile perfume that evolves on the skin.
How to use Versatile Paris roll-on gueule de bois concentrated perfume extract
Apply to dry skin and let yourself be pervaded by a flash of heat and alcoholic vapors with scented notes of sandalwood and gueule de bois incense.
gueule de bois: a nomadic perfume ...
Ce n'est pas la taille qui compte: mini format, maxi concentré | It is not the size that matters: mini size, maximum concentration.
... that lasts over time.
From 4 to 6 months it can be used on the basis of 2 applications per day.
Perfume extracts without alcohol, additives, preservatives: the safe, vegan and sustainable fragrances of Versatile Paris
All Versatile Paris perfume extracts are free of alcohol, BHT / BHA, UV filters, dyes, CMR and additives.
gueule de bois by Versatile: an anecdotal interview with the nose for the compositional process of the fragrance
Versatile x Flair | Independent studio
Amélie Bourgeois - Co-founder and perfumer (FLAIR)
Amélie imagined a Neo Sandalwood, reworking it into a heady but not exciting Rum. Spicy notes (pepper, pink berries, cinnamon), a note of smoked incense, a huge amber rum, with facets of licorice and candied fruit. Last but not least, lots of warm and sweet woods.
Amélie's olfactory portrait:
Your personality? Introverted, calm and collected.
Favorite olfactory family? woody.
Favorite ingredient? Immortal.
Hated ingredient? Jasmine.
A smell that comforts you? The skin of my children.
A smell that makes you uncomfortable? Indole.
An original mix? Ambroxan + Thyme.
The ingredients of gueule de bois by Versatile Paris: because a perfume is not simply something that smells good.
The INCI list on the packaging of a cosmetic product is always more incomprehensible than informative. As it can reveal unclear, unknown or insufficiently detailed ingredients.
INCI: Prunus Amygdalus Dulcis Oil, Parfum (Fragrance), Triticum Vulgare Germ Oil, Tocopherol, D-Limonene, Coumarin, Alpha-isomethyl ionone, Farnesol, Benzyl benzoate, Linalool, Eugenol, Citral, Cinnamal.
Below, here is each ingredient part of the INCI of gueule de bois carefully presented:
Prunus Amygdalus Dulcis oil (origin: Spain): sweet almond vegetable oil, known for its moisturizing and soothing properties.
Perfume - Fragrance (origin: Grasse): The name that encompasses everything but which is never revealed. Rital date contains 47 ingredients between natural (🌱) and synthetic (🔬).
Top notes:
🔬 Benzoic aldehyde - Balsamic: Almond, Cherry | 🌱 Pink Berries CO2 - India - Spicy: Peppery, Terpene | 🌱 Black Pepper Essence - India - Spicy: Spicy, Fresh
Heart notes:
🌱 Cinnamon Essence - Ceylon - Spiced: Cinnamic, Balsamic | 🔬 Coumarin - Balsamic: Almond, Floral | 🔬 Damascenone - Floral Rose: Honey, Fruity | 🌱 Incense Essence - Somalia - Balsamic: Terpene, Resinous | 🌱 Rhum CO2 - Martinique - Balsamic: Yellow Fruits, Liqueur | 🔬 Stémone - Green: Fig, Menthol
Base notes:
🌱 Amyris Essence - Haiti - Woody: Sandalwood, Smoked | 🌱 Cedar Virginia Species - South America - Woody: Pencil, Spicy | 🔬 Ethyl Maltol - Fire Leather: Caramel, Toasted | 🔬 Gaiac Base - Woody: Smoke, Leather | 🌱 Immortelle Absolute - Italy - Amber: Animal, Liquorous | 🔬 Karmawood - Woody: Hay, Amber | 🔬 Musk T - Musk: Floral, Blackberry | 🔬 Rose Oxide - Floral Rose: Green, Metallic | 🔬 Sandalore - Woody: Sandalwood, Powdery | 🌱 Sandalwood Essence - Australia - Woody: Milky, Leathery | 🌱 Tabac Absolu - America - Leather Pyrogeny: Animal, Honey | 🔬 Timbersilk - Woody: Cedar, Amber | 🌱 Black Vanilla Absolute - Madagascar - Balsamic: Honeyed, Spicy | 🔬 Vanillin - Balsamic: Almond, Spicy | 🌱 Vetiver Essence - Haiti - Woody: Hazelnut, Smokys
Triticum Vulgare Germ Oil (origin: Italy): wheat germ oil, known for its nourishing and emollient properties.
Tocopherol (origin: Spain): Antioxidant derived from vitamin E which serves to prevent rancidity of the base oil.
9 allergens in small quantities (less than 0.1%). They are present in natural or used alone, as synthetic notes.
gueule de bois, Versatile Paris extrait de parfum elegantly presented in a paper and glass casket.
Recycled and Recyclable: Recycled case made with corn residue / Glass roll-on bottle and ball / PE plastic ball cap and holder / Tamper-proof plastic adhesive
Biodegradable: Recycled paper labels
6 other products in the same category: