Moccamaster KBG select black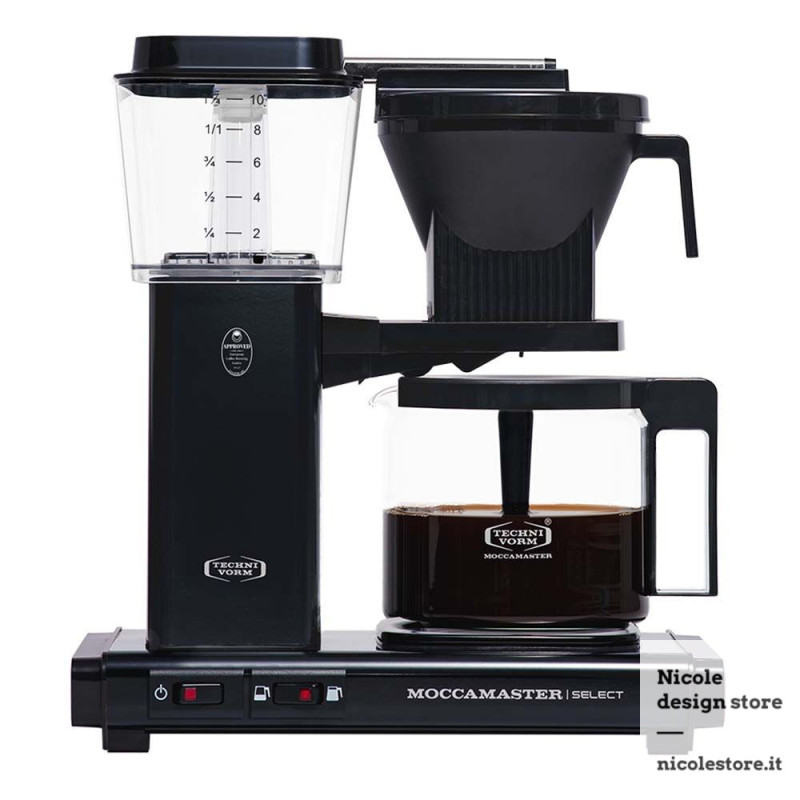  
Moccamaster KBG select black
Moccamaster KBG select black | filter coffee machine | coffee brewer | selector 4 - 10 cups | 1.25L | heated plate with timer
KBG select black is the iconic model of filtered coffee machine from the Moccamaster Techni-Vrom company presented in the black colour. Handcrafted with resistant and professional materials, a body in thick aluminum and a professional black finish, thanks to the position of official distributor in the Italian market of Nicole design store, it is finally guaranteed for 5 years also in our country.
The quality for which each Moccamaster coffee machine is recognized is due to the exclusive copper heating element, capable of bringing the water to the perfect temperature range between 92°C and 96°C, then gradually dosed and distributed evenly on the filter for optimal coffee infusion.
The new KBG select model replaces all versions of KBG-741 up to now on the market.
Moccamaster KBG select black at a glance
perfect filtered coffee brewed at 92-96°C in 6 minutes
heating plate at 80-85°C with 40 minute timer
selector 4 or 10 cups, 0.5 or 1.25 L
1520 W output power
copper heating element
power 70-90 W in heating
handmade in the Netherlands
guaranteed for 5 years
ECBC certified
SCA certified
phone and whatsapp
we prefer a personal contact and a sartorial experience at +393495631907
fast and tracked shipments
for smooth fully traced 24 / 72 h deliveries (EU)
flexible return policy
possibility of return with quick refund, goods exchange or replacement
privacy, SSL and encryption
personal data and transaction security with state of the art standards
local shop in Forlì (Italy)
the guarantee of a physical store and the convenience of home delivery
Original and Official
we are official resellers of each brand offered with only original products
technical details, features and available colors of Moccamaster KBG select:
discover Moccamaster KBG select
Each Moccamaster filtered coffee machine resold by this official Nicole design store - nicolestore.it resale is tested directly in the factory after assembly is completed in all its functions, receiving the appropriate five-year guarantee seal from the manufacturer.