announcement punto vendita e spedizioni operativi ed efficienti headset_mic ordini telefonici e servizio clienti tel./whp. al +39 349 56 31 907 local_shipping spedizione gratuita a partire da 49€ e consegna in 1 giorno storenegozio fisico con vetrine a Forlì announcement punto vendita e spedizioni operativi ed efficienti headset_mic ordini telefonici e servizio clienti tel./whp. al +39 349 56 31 907 local_shipping spedizione gratuita a partire da 49€ e consegna in 1 giorno storenegozio fisico con vetrine a Forlì announcement punto vendita e spedizioni operativi ed efficienti headset_mic ordini telefonici e servizio clienti tel./whp. al +39 349 56 31 907 local_shipping spedizione gratuita a partire da 49€ e consegna in 1 giorno storenegozio fisico con vetrine a Forlì announcement punto vendita e spedizioni operativi ed efficienti headset_mic ordini telefonici e servizio clienti tel./whp. al +39 349 56 31 907 local_shipping spedizione gratuita a partire da 49€ e consegna in 1 giorno storenegozio fisico con vetrine a Forlì announcement punto vendita e spedizioni operativi ed efficienti headset_mic ordini telefonici e servizio clienti tel./whp. al +39 349 56 31 907 local_shipping spedizione gratuita a partire da 49€ e consegna in 1 giorno storenegozio fisico con vetrine a Forlì
Olive oil liquid black soap 1 L La Corvette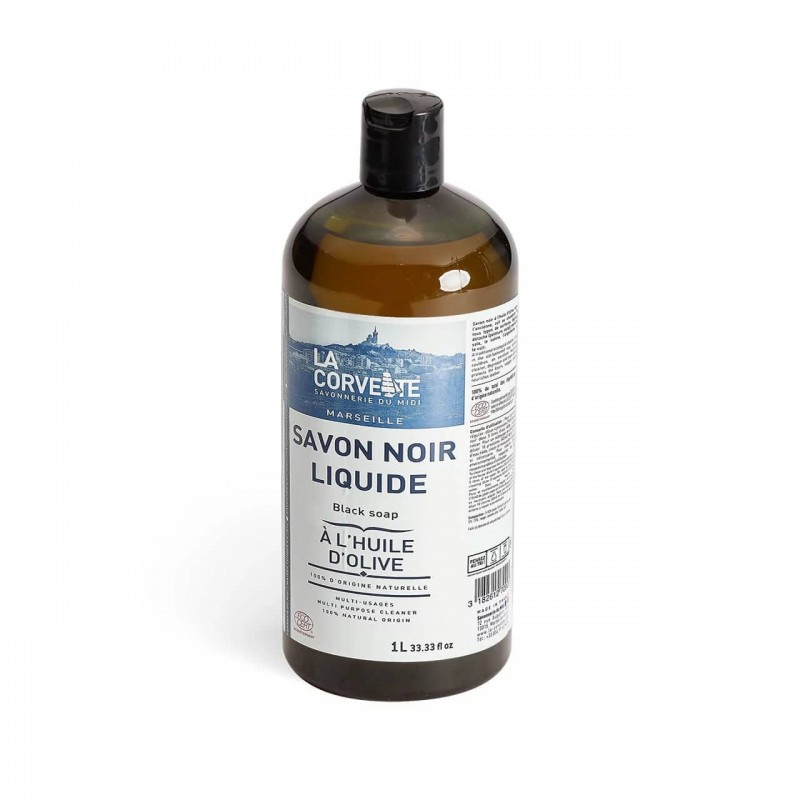  
Olive oil liquid black soap 1 L La Corvette
3 or 4 installment payment available with PayPal, Oney or splittypay
Savon noir liquide à l'huile d'Olive
without solvents and preservatives
eco-detergent certified by EcoCert
1L e
The liquid black Marseille soap with olive oil is a natural and biodegradable product with multiple uses, which can replace a large number of industrial products harmful to the environment, for the maintenance and ecological cleaning of the home.
Its concentrated liquid formula is highly effective and makes it a great inexpensive stain remover for stubborn greasy stains or as a do-it-all cleanser for home and workplace care. Certified without dyes, preservatives and solvents, it is as effective with stains as it is gentle on the skin of the user.
phone and whatsapp
we prefer a personal contact and a sartorial experience at +393495631907
fast and tracked shipments
for smooth fully traced 24 / 72 h deliveries (EU)
flexible return policy
possibility of return with quick refund, goods exchange or replacement
privacy, SSL and encryption
personal data and transaction security with state of the art standards
local shop in Forlì (Italy)
the guarantee of a physical store and the convenience of home delivery
Original and Official
we are official resellers of each brand offered with only original products
Black liquid Marseille soap with La Corvette Savonnerie du Midi olive oil
Black olive oil soap is a traditional eco-friendly cleanser. The soap is produced with the traditional Marseille method, in the old fashioned way, cooked in a cauldron, based on vegetable oil of olive pomace.
It is an excellent detergent, degreaser and multipurpose stain remover. Diluted, it is ideal for deeply nourishing and protecting all modern and ancient floors, in particular terracotta, tiled and plasticized floors, terracotta and concrete and, even more, parquet.Il sapone nero puro usato può essere utilizzato come smacchiatore per il bucato, come pre-trattante, per pulire stoviglie o superfici unte come forni e cappe.
This product is certified ECODETERGENT by Ecocert Greenlife according to the ECOCERT standard with 100% ingredients of natural origin. Its cleaning power and competitive price make it a recognized cleaning product that will perfectly replace many household products in your home or workplace care routine.
Ingredients of La Corvette Savonnerie du Midi black olive oil soap
Natural composition, certified by ECOCERT.
Formulated with olive oil soap, the soft black soap is certified solvent and dye free and is safe for the skin.
Composition: 5-15% soap. It also contains water, salts.
Instructions for use of La Corvette concentrated liquid olive oil black soap
Precautions for use: Keep out of reach of children. Avoid contact with eyes. In case of contact with eyes, rinse thoroughly with water and consult a specialist. If swallowed, seek medical attention immediately and show him the container or label.
Multi-surface: To clean and degrease the various washable surfaces of the house (worktop, sink, hood, etc.): dilute 15 ml of black soap in 3L of hot water. Do not rinse.
Floors: For cleaning floors: dilute 40 ml in 3L of hot water. It does not require rinsing.
For laundry, as a stain remover and as a pre-treatment: apply 5 ml of black soap to the stain, rub lightly and leave to act for a few minutes before putting the laundry in the washing machine. The black soap with olive oil is very concentrated, it can lightly dye the linen, especially when it is clear. We recommend that you test on a small area of the laundry to be washed.
For your pet: moisten your pet's coat or fur with warm water. Apply 40 ml of black soap on the hair, massage as if you were shampooing. Rinse thoroughly with warm, clean water. Finally, dry your pet with a soft towel.
Customers who bought this product also bought:
16 other products in the same category: