Crosley Voyager Burgundy Red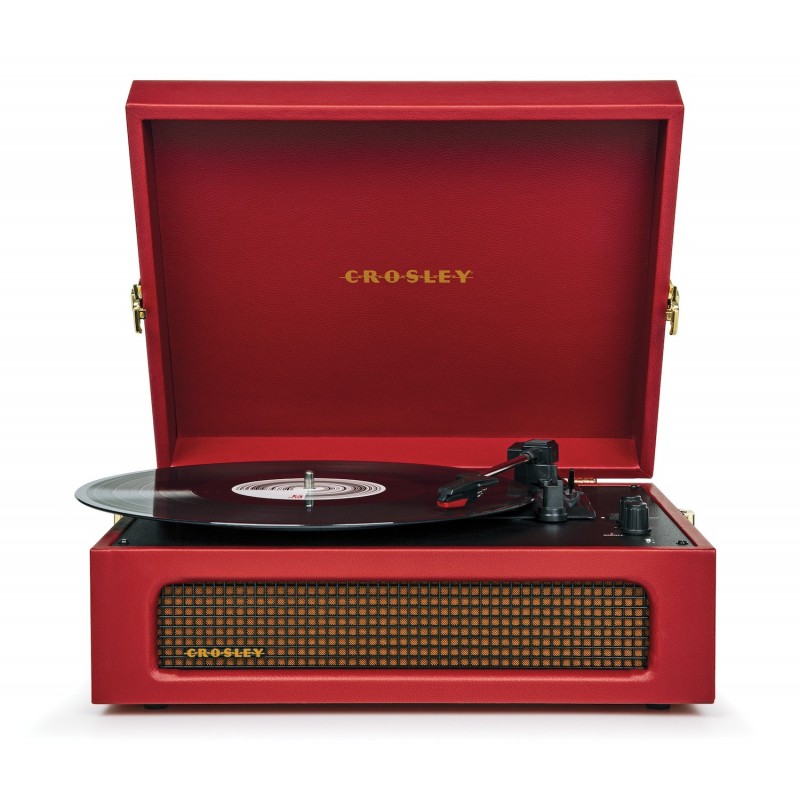  
Crosley Voyager Burgundy Red
Crosley Voyager Burgundy Red is an all-in-one wooden turntable with a modern and essential design finished in a burgundy red faux leather. Crosley Voyager integrates a professional diamond sapphire needle, powerful 2.0 stereo speakers, Bluetooth connectivity, 3.5mm Jack input and output, RCA output, pitch-control and 3-speed selector (33, 45, 78 rpm).
2021 AUTUMN/WINTER update, just launched edition, with new circuitry, more powerful amplifier, vibration deterrent device and new speakers with bass reflex membranes. In addition, our exclusive set-up: the new revision CR8017B-BUR-2WAYBL offers bluetooth connectivity, as well as incoming connection, also outgoing. The product can both receive a digital signal and amplify it by broadcasting it with its own speakers and transmit the analog signal of the turntable to external speakers without wires or cabling.

Choose to buy Crosley Voyager Dune on www.nicolestore.it and get, exclusively:
Official Crosley European Guarantee (24 months) or Limited 1 year Guarantee (for U.S.) offered by a Crosley Authorized Dealer.
Best Price Guaranteedon each turntable available at out shop.
Free RCA to jack 3.5mm included for each customer.
Free Installation Assistance via Telephone, WhatsApp or Skype with a 7/7 weekly service.
EU and UK psu and plug
manufactured by Crosley following our production specification for full compatibility
advantageous price on spare parts and consumables
pins, belts and spare parts, at cost price
ready to use
plug-and-play: listen to your favourite tune right out the box
phone and whatsapp
we prefer a personal contact and a sartorial experience at +393495631907
fast and tracked shipments
for smooth fully traced 24 / 72 h deliveries (EU)
flexible return policy
possibility of return with quick refund, goods exchange or replacement
privacy, SSL and encryption
personal data and transaction security with state of the art standards
local shop in Forlì (Italy)
the guarantee of a physical store and the convenience of home delivery
Original and Official
we are official resellers of each brand offered with only original products

Crosley Voyager Burgundy Red
Crosley Voyager Burgundy Red is a complete turntable system with all the features you need to start listening in style to your favorite vinyls in your collection. Voyager is a  3-speed console turntable with integrated stereo speaker and can reproduce all vinyl formats, from the long play LPs at 33 rpm to the most compact single 45 rpm records, also allowing the playback of older 78s.
Projected from the Crosley Cruiser Deluxe, it integrates all its functions and qualities into a new, well-finished, console design distinguished by a greater audio output. Crosley Voyager is easy to use and is a delight to listen to: it includes Bluetooth, Pitch Control and a Stereo 2.0 speaker system. It is possible to connect speakers and external amplifiers for a more powerful audio performance thanks to the RCA and Jack 3.5mm outputs, as well as using the integrated ones to listen to music from other devices.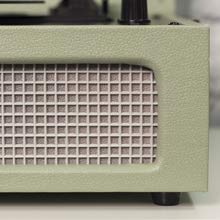 Integrated Powerful speakers

This All-In-One turntable is ready to use. Thanks to the integrated stereo amplification hidden by an elegant grid you can enrich any space with this retro-style turntable without detracting from your audio experience.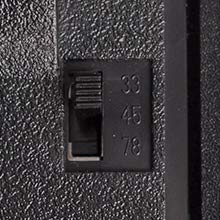 Three Speed Stereo Turntable

To ensure the best audio experience, each Crosley Voyager includes a speed selector that allows it to play all available vinyl formats, from the oldest 78 rpm to the most popular 33 and 1/3.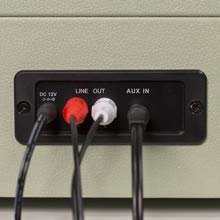 RCA and AUX IN / OUT cabled connectivity
Crosley Voyager boasts a stereo RCA output, a stereo AUX IN input and, on the upper dashboard, an AUX OUT output, both 3.5mm.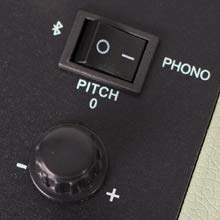 Advanced Functionalities

C

rosley Voyager dispone di tutte le necessarie funzionalità ad un giradischi che si rispetti, come Bluetooth e Pitch Control.
Technical characteristics in brief:
Belt disc rotation mechanism
Thumbtack in Diamond Sapphire (exclusive Nicole design store, better than the normally included ceramic needle)
Automatic locking arm and manual return with lever
3-speed playback: 33 1/3, 45 and 78 RPM
Dynamic Full Range Stereo Speaker
Jack-AC connector for headphone power
RCA Audio Out
AC Power Adapter (included) + International Kit (Tribute)
Pitch Control
Bluetooth
 
Puntina and Cinghia are also available as official spare parts.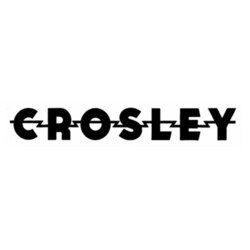 Data sheet
Guarantee

24 Month - Italy & EU

Plug

EU & UK

Needle

Better Quality (Diamond Sapphire - Crosley)

Sound channeling

Stereo 2.0

Amplifier

10 W

Weight

2.5 Kg

Weight (boxed)

3.5 Kg

Sizes

35.5 x 10.2 x 25.4 cm

Sizes (boxed)

36.4 x 15.3 x 39.5 cm

Audio sources

turntable, auxiliar input (mini jack 3.5mm - 1/8 inch), Bluetooth

Audio outputs

aux-out mini jack (3.5mm - 1/8 inch), RCA line (pre-amplified), Bluetooth

USB Digital Output

NO

Transmission

Belt-Driven

RPM

33 1/3, 45, 78 RPM (electronic selector)

Pitch-Control

YES

Auto Stop

YES
Rated
5.00
on the scale
1
-
5
based on
1
customer reviews
Bellissimo!
Splendido prodotto, ma già lo conoscevo.<br /> Non conoscevo invece lo store Nicole, che mi ha soddisfatta pienamente per trasporto, imballaggio, prezzi ed esperienza complessiva. Consiglio!
Customers who bought this product also bought:
16 other products in the same category: