announcement punto vendita e spedizioni operativi ed efficienti headset_mic ordini telefonici e servizio clienti tel./whp. al +39 349 56 31 907 local_shipping spedizione gratuita a partire da 49€ e consegna in 1 giorno storenegozio fisico con vetrine a Forlì announcement punto vendita e spedizioni operativi ed efficienti headset_mic ordini telefonici e servizio clienti tel./whp. al +39 349 56 31 907 local_shipping spedizione gratuita a partire da 49€ e consegna in 1 giorno storenegozio fisico con vetrine a Forlì announcement punto vendita e spedizioni operativi ed efficienti headset_mic ordini telefonici e servizio clienti tel./whp. al +39 349 56 31 907 local_shipping spedizione gratuita a partire da 49€ e consegna in 1 giorno storenegozio fisico con vetrine a Forlì announcement punto vendita e spedizioni operativi ed efficienti headset_mic ordini telefonici e servizio clienti tel./whp. al +39 349 56 31 907 local_shipping spedizione gratuita a partire da 49€ e consegna in 1 giorno storenegozio fisico con vetrine a Forlì announcement punto vendita e spedizioni operativi ed efficienti headset_mic ordini telefonici e servizio clienti tel./whp. al +39 349 56 31 907 local_shipping spedizione gratuita a partire da 49€ e consegna in 1 giorno storenegozio fisico con vetrine a Forlì
200gr Cubic Natural Marseille soap for laundry use by Marius Fabre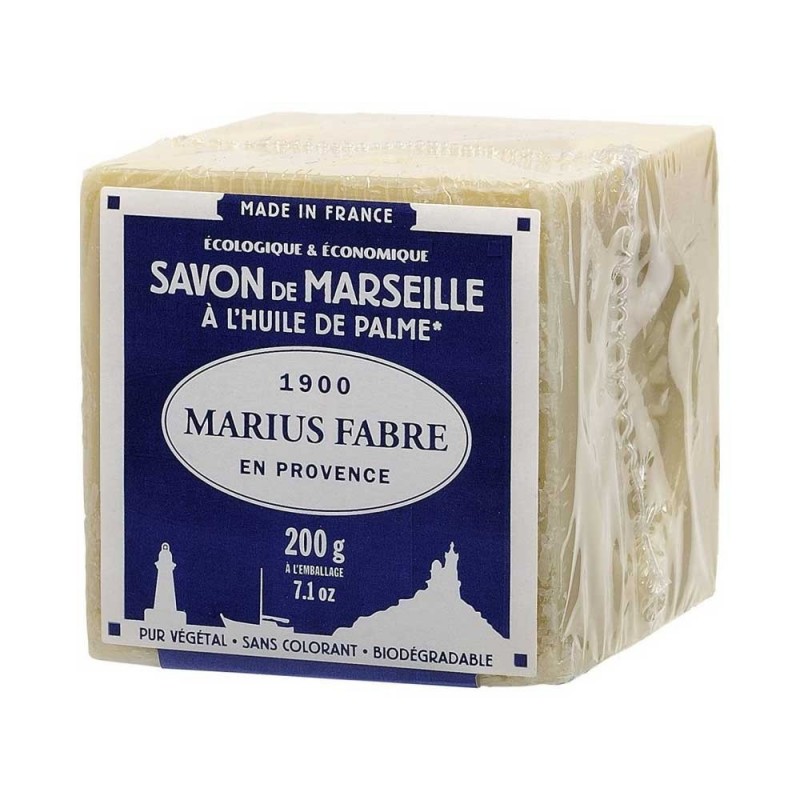  
200gr Cubic Natural Marseille soap for laundry use by Marius Fabre
3 or 4 installment payment available with PayPal, Oney or splittypay
Since 1900 and for four generations here in Salon-de-Provence, our family has been making soap that is cooked in a cauldron to traditional Marseilles soap-making methods.
 Made from vegetable oils –no colouring, no added fragrances≤ and no synthetic products– our white Marseilles soap cubes are recommended for a gentle wash on all fabrics, especially delicate ones (baby clothes, fragile fabrics...). They are also very effective on stubborn stains.
Gentle on the environment and extremely economical, they last even longer if left to dry out.
Net weight : 200 gr
Savon de Marseille
officially UPSM recognized
Eco Certification
indipendent entity issued
without palm oil
only olive, sunflower and coconut oils
Made in France
guarantee of origin seal
Cruelty Free
not tested on animals
Dye Free
without additive dyes
phone and whatsapp
we prefer a personal contact and a sartorial experience at +393495631907
fast and tracked shipments
for smooth fully traced 24 / 72 h deliveries (EU)
flexible return policy
possibility of return with quick refund, goods exchange or replacement
privacy, SSL and encryption
personal data and transaction security with state of the art standards
local shop in Forlì (Italy)
the guarantee of a physical store and the convenience of home delivery
Original and Official
we are official resellers of each brand offered with only original products
100% natural
For 110 years and four generations, our family has been making Marseilles soap exclusively from a rigorous selection of vegetable oils. It contains no colouring and no synthetic additives. It is free of petroleum-based products and animal fats, unlike most of the other soaps and shower gels on the market.
 Gentle on the skin, natural and effective
The traditional Marseilles soap manufacturing process is a guarantee of "Extra Pure" soap with no impurities. It is gentle on all types of skin, even the most sensitive ones (babies, people with allergies, etc.). Thanks to the nourishing properties of olive oil, Marius Fabre Marseilles olive oil soap helps your skin keep a more natural moisture balance*.
Both our cubes and our soap flakes are recommended in the laundry for all your delicates (baby clothes, fragile fabrics: wool, silk and lace, etc.).
* Dermatological study SVHO/99, Montpellier Faculty of Medicine, Dermatology department
 Gentle on the environment and economical
Made from vegetable oil, biodegradable, phosphate free and additive free, it doesn't pollute rivers and helps protect the environment. What's more, it requires very little packaging. It lasts a long time, especially when left to dry out. A durable, thrifty buy.
 Ingredients
-          100 % vegetable oils
-          No colouring, no added fragrances, no preservatives
-          No chemical additives
 Ingredients (INCI) : Sodium palmate, Sodium palm kernelate, Sodium cocoate, Aqua, Sodium chloride, Sodium hydroxide
 Instructions for use
-          For washing
Difficult stains:

Rub the stain with the cube of Marseilles soap before washing. Place the garment/item in the washing machine. Ideal for grease, difficult stains and shirt collars.

Hand washing:
a gentle wash whatever the fabric, especially for delicates (baby clothes, woollens, silk, lace, etc.)

Moisten the fabric. Clean with Marseilles soap. Lather. Rinse.
-          For washing hands
-          Can also be used for general skin cleansing care (face and body)
Customers who bought this product also bought:
16 other products in the same category: