announcement punto vendita e spedizioni operativi ed efficienti headset_mic ordini telefonici e servizio clienti tel./whp. al +39 349 56 31 907 local_shipping spedizione gratuita a partire da 49€ e consegna in 1 giorno storenegozio fisico con vetrine a Forlì announcement punto vendita e spedizioni operativi ed efficienti headset_mic ordini telefonici e servizio clienti tel./whp. al +39 349 56 31 907 local_shipping spedizione gratuita a partire da 49€ e consegna in 1 giorno storenegozio fisico con vetrine a Forlì announcement punto vendita e spedizioni operativi ed efficienti headset_mic ordini telefonici e servizio clienti tel./whp. al +39 349 56 31 907 local_shipping spedizione gratuita a partire da 49€ e consegna in 1 giorno storenegozio fisico con vetrine a Forlì announcement punto vendita e spedizioni operativi ed efficienti headset_mic ordini telefonici e servizio clienti tel./whp. al +39 349 56 31 907 local_shipping spedizione gratuita a partire da 49€ e consegna in 1 giorno storenegozio fisico con vetrine a Forlì announcement punto vendita e spedizioni operativi ed efficienti headset_mic ordini telefonici e servizio clienti tel./whp. al +39 349 56 31 907 local_shipping spedizione gratuita a partire da 49€ e consegna in 1 giorno storenegozio fisico con vetrine a Forlì
Rose scented Marseille liquid soap 400 ml copra oil 1900 Marius Fabre
 
Rose scented Marseille liquid soap 400 ml copra oil 1900 Marius Fabre
3 or 4 installment payment available with PayPal, Oney or splittypay
Marius Fabre rose scented liquid Marseille soap is a face and body gentle detergent in a 400 ml refillable bottled dispenser with pump. Pure and natural, it's saponified according to the traditional Marseille method with eco-responsible refined copra oil, known for its nourishing and regenerating properties, and a pinch of of eco-responsible virgin coconut oil, appreciated for its natural moisturizing properties.
100% pure vegetable liquid Marseille soap with copra oil, naturally rose perfumed and without palm oil.
For face, hands and body. For all skin types.
Soap volume: 400 ml or 0,4 L or 13,53 fl.oz
Both packaging and soap are Made in France
Savon de Marseille
officially UPSM recognized
Eco Certification
indipendent entity issued
without palm oil
only olive, sunflower and coconut oils
Made in France
guarantee of origin seal
Cruelty Free
not tested on animals
Dye Free
without additive dyes
phone and whatsapp
we prefer a personal contact and a sartorial experience at +393495631907
fast and tracked shipments
for smooth fully traced 24 / 72 h deliveries (EU)
flexible return policy
possibility of return with quick refund, goods exchange or replacement
privacy, SSL and encryption
personal data and transaction security with state of the art standards
local shop in Forlì (Italy)
the guarantee of a physical store and the convenience of home delivery
Original and Official
we are official resellers of each brand offered with only original products
Marius Fabre, following a recipe handed down for 5 generations, cyclically improved to accommodate the increased quality demanding clientele, prepares a completely vegetable and biodegradable liquid Marseille soap in a cauldron, with only vegetable ingredients, without palm oil, presented here in the 1900 line, a graphic graphical tribute to the industrious tradition of the harbor city of Marseille.
Rose scented Marius Fabre pure Marseille liquid soap with copra oil in 400ml dispenser 1900 collection
Very gentle on the skin, Marius Fabre rose liquid Marseille soap in a 400 ml or 0.4 L dispenser can be daily used  to wash face, hands and body. The foaming effectiveness of this soap is not guaranteed by chemical agents but by the presence of a pinch of eco-responsible virgin coconut oil, a natural nutrient that, saponified following the traditional "Marseille" method, allows you to save on the amount of soap needed to for a satisfying foam.
The eco responsibly refined copra oil contained in the recipe of this soap is among the best vegetable fats used for the saponification process with the Marseille method. It enriches the final product with its nourishing and regenerating qualities, and acts as a natural preservative for the product itself, to be consumed preferably within 12 months by opening.
Liquid soap with rose scent in dispenser, part of the 1900 collection by Marius Fabre
From a solid expertise in Marseille soap making, the 1900 collection pays tribute to the industrious tradition of the Salon en Provence neighbor city of Marseille.
Pure Marseille soap rose Marius Fabre, practical and compact liquid format of 400 ml
With dimensions of only 6 x 6 x 18 cm and a weight of about 450 grams at the origin, the liquid Marseille soap rose Marius Fabre is the most practical and compact in size of the popular liquid detergent soap of the Salon en Provence soap factory, and is perfect to be placed in the shower, on the perimeter of the tub or sink.
The liquid Marseille soap rose Marius Fabre, an effective soap, which guarantees a soft skin naturally.
The "Marseille" production process guarantees "Extra pure" soap, free from impurities, for all skin types care, even particularly sensitive ones (children, allergic skin ...)*.
* Dermatology Clinic SVHO / 99, Faculty of Medicine of Montpellier, Dermatology Service
Rose liquid soap in a 0.4 L dispenser, eco friendly quality for a comfortable and equally sustainable and ecological soap.
Purely vegetable, biodegradable, it does not pollute rivers and contributes to the protection of the environment. In addition, it requires very little packaging, made with paper labels applied with biodegradable adhesives and fully recyclable plastic.
The dispenser and the bottle are made to last over time, can be refilled hence reused.
Quality, in short:
- Superior quality, 100% vegetable oils: eco-responsibly refined copra oil and virgin coconut oil.
- Without dyes, without palm oil, completely biodegradable.
- Cruelty free. Product not tested on animals.
Ingredients (INCI):
aqua (water), potassium cocoate, glycerin, parfum (fragrance), hydroxyethylcellulose, decyl glucoside, cocos nucifera (coconut) oil, hexyl cinnamal, citronellol, linalool, tocopherol, tetrasodium edta, alpha-isomethyl ionone, disodium phosphate, polysorbate 60, sodium phosphate.
- The glycerin contained in the "Marius Fabre" Marseille soaps is not indicated as an ingredient synthesized during saponification but is the glycerin naturally contained in vegetable oil. Despite the 10 days of cooking and subsequent washing, there is still a minimum quantity of this which, for fairness to the consumer, although optional, is mentioned as a part (trace) in the INCI.
- Due to the possible presence of some essential oils, specifically ones of ylang ylang and nutmeg, its use is not recommended for those allergic to these substances. However, these ingredients are present in less than 0.01% of the total and do not interfere with the scent of the soap.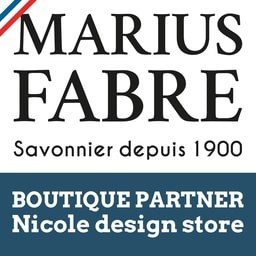 Data sheet
Sizes

6 x 6 x 18 cm

INCI

aqua (water), potassium cocoate, glycerin, parfum (fragrance), hydroxyethylcellulose, decyl glucoside, cocos nucifera (coconut) oil, hexyl cinnamal, citronellol, linalool, tocopherol, tetrasodium edta, alpha-isomethyl ionone, disodium phosphate, polysorbate 60, sodium phosphate.

Volume

400 ml
Customers who bought this product also bought:
16 other products in the same category: