Vine peach camomile orange blossom home fragrance Cirerie de Gascogne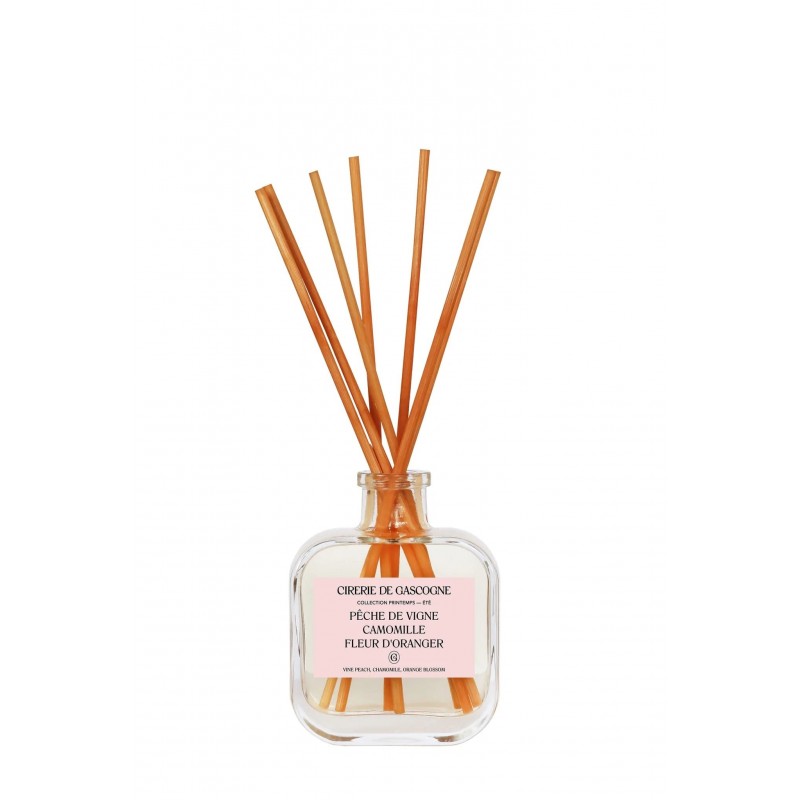  
Vine peach camomile orange blossom home fragrance Cirerie de Gascogne
Fragrance diffuser Vine peach camomile orange blossom | pêche de vigne, camomille et fleur d'oranger bâtonnet diffuseur | Cirerie de Gascogne
distillate natural notes
sustainable and rechargeable
perfumes without combustion
vegan, 100% vegetable origin from distillate
alcoholic spirit from French agriculture with low volatility
200 ml of concentrated essence
up to 6 months*
Handcrafted ambient fragrance diffuser with notes of vine peach, camomile and orange blossom concentrated and distilled with alcohol from French agriculture, packaged in refillable glass ampoules and rattan bâtonnet (sticks) by Cirerie de Gascogne.
Fruity, fresh, elegant, reassuring. A succession of peaceful but vital and stimulating sensations of a shrewd action, leaving behind the excesses of blossoming flowers and pollination of bees, aware of the awaiting ritual part of a ripe and fleshy fruit.
The formulation of the pêche de vigne, camomille et fleur d'oranger home fragrance by Cirerie de Gascogne was designed by the Maître de Chai, cellar master, for a perfect olfactory balance, and followed to the letter by the Maître distiller, master distiller.
* the duration of a room diffuser is directly conditioned by the volume, temperature and air exchange of a given room.
phone and whatsapp
we prefer a personal contact and a sartorial experience at +393495631907
fast and tracked shipments
for smooth fully traced 24 / 72 h deliveries (EU)
flexible return policy
possibility of return with quick refund, goods exchange or replacement
privacy, SSL and encryption
personal data and transaction security with state of the art standards
local shop in Forlì (Italy)
the guarantee of a physical store and the convenience of home delivery
Original and Official
we are official resellers of each brand offered with only original products
Vine peach camomile orange blossom diffuser by Cirerie de Gascogne
Home fragrance with notes of vine peach, camomile and orange blossom.
Artisan distillate, made according to the traditional method, with raw materials and methodologies set to environmental sustainability.
Cirerie di Gascogne relies, in the production of its perfumers, to Mastri di Cantina for the formulation and to Mastri Distillatori for the production. Each fragrance is conceived in the Gascony area, on the border between France and Spain, where the highest winemaking tradition of the Alps condenses.
Pêche de vigne, camomille et fleur d'oranger diffuseur Cirerie de Gascogne | the ingredients
Vineyard peach: a late peach, thirst-quenching for the winemakers of the past, with a juicy, sanguine pulp.
Chamomile: Matricaria recutita, a moist, nasal herbaceous relaxant with sedative properties.
Orange blossom: orange blossom, bergamot, calming, familiar, phytotherapeutic.
Sustainable Eco-Friendly Vegetable Vegan Fragrance Diffusers | the approach of Cirerie de Gascogne
Cirerie de Gascogne proposes an unprecedented approach to the crystallized custom of the production of fragrance diffusers for the environment. A renewed tradition, an enlightened tradition, that of Cirerie de Gascogne, which combines respect for the professionalism matured in centuries of history and family changes, which extends to the now no longer new need for environmental and social sustainability.
Each scented distillate is a completely consumable fragrance, of which only the reusable and recyclable packaging remains, which allows the total reuse of the glass vial in which it is content, and which can be refilled thanks to the availability, for all fragrances, of refills. packaged in certified recycled and recyclable aluminum canes.
16 other products in the same category: