announcement punto vendita e spedizioni operativi ed efficienti headset_mic ordini telefonici e servizio clienti tel./whp. al +39 349 56 31 907 local_shipping spedizione gratuita a partire da 49€ e consegna in 1 giorno storenegozio fisico con vetrine a Forlì announcement punto vendita e spedizioni operativi ed efficienti headset_mic ordini telefonici e servizio clienti tel./whp. al +39 349 56 31 907 local_shipping spedizione gratuita a partire da 49€ e consegna in 1 giorno storenegozio fisico con vetrine a Forlì announcement punto vendita e spedizioni operativi ed efficienti headset_mic ordini telefonici e servizio clienti tel./whp. al +39 349 56 31 907 local_shipping spedizione gratuita a partire da 49€ e consegna in 1 giorno storenegozio fisico con vetrine a Forlì announcement punto vendita e spedizioni operativi ed efficienti headset_mic ordini telefonici e servizio clienti tel./whp. al +39 349 56 31 907 local_shipping spedizione gratuita a partire da 49€ e consegna in 1 giorno storenegozio fisico con vetrine a Forlì announcement punto vendita e spedizioni operativi ed efficienti headset_mic ordini telefonici e servizio clienti tel./whp. al +39 349 56 31 907 local_shipping spedizione gratuita a partire da 49€ e consegna in 1 giorno storenegozio fisico con vetrine a Forlì
Lavender pure olive oil Marseille soap 250gr Le Bien-être by Marius Fabre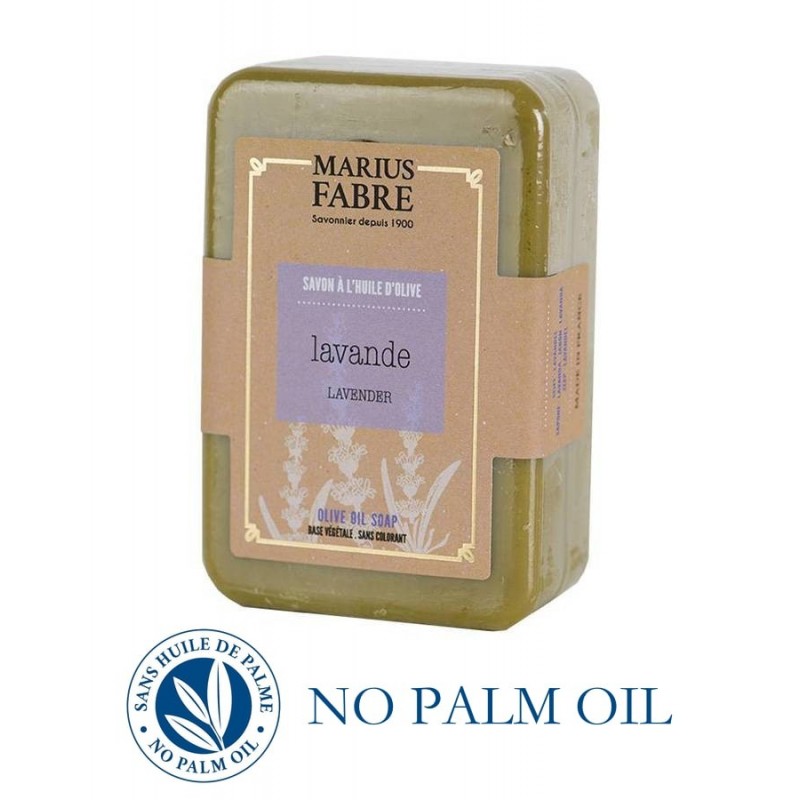  
Lavender pure olive oil Marseille soap 250gr Le Bien-être by Marius Fabre
3 or 4 installment payment available with PayPal, Oney or splittypay
Made with olive oil, known for its nourishing properties, this 250 grams loaf with Lavender scent is saponified according to the traditional method of Marseille, without dyes, preservatives and additives added, enriched by a lavender scent with only essential oil of Lavender flowers.
New collection "Le Bien-être" - The "Wellness" line of the Marius Fabre soap factory. New packaging, same product, same quality.

Marseille soap 100% PURE VEGETABLE with OLIVE oil perfumed with Lavender essential oil.
New 2020 recipe: Marius Fabre Marseille Soap Toilet Soaps are now WITHOUT PALM OIL, replaced by using exclusively Olive Oil and an equally effective Oleic Sunflower Oil with a high oleic acid content, which, similarly to Olive Oil, favors a lower tendency to oxidation, a lower environmental impact in the soap cooking phases and a longer duration of the product qualities over time but, at the same time, maintaining the particular moisturizing, antiseptic and detergent qualities of palm oil based soap.
Fully Vegetable and Biodegradable recipe, with essential oil, without preservatives and without synthetic fragrances.

Nicole design store is Officielle Marius Fabre Boutique Partner for the online market.
For this reason, our soap is always fresh from production, but above all, we guarantee to offer it to you at the best price.

PESS HERE FOR INCI
Soap Weight: 250 gr.
Box and Soap Made in France
Savon de Marseille
officially UPSM recognized
Eco Certification
indipendent entity issued
without palm oil
only olive, sunflower and coconut oils
Made in France
guarantee of origin seal
Cruelty Free
not tested on animals
Dye Free
without additive dyes
phone and whatsapp
we prefer a personal contact and a sartorial experience at +393495631907
fast and tracked shipments
for smooth fully traced 24 / 72 h deliveries (EU)
flexible return policy
possibility of return with quick refund, goods exchange or replacement
privacy, SSL and encryption
personal data and transaction security with state of the art standards
local shop in Forlì (Italy)
the guarantee of a physical store and the convenience of home delivery
Original and Official
we are official resellers of each brand offered with only original products
   

ECHANTILLON (samples) and MANUAL always included:
For each order, Nicole design store includes a selection of free samples and, above all, printed guides relating to the product purchased.
| | | |
| --- | --- | --- |
|  100% Made in France | Marseille Soap | Without Palm Oil |
| | | |
| --- | --- | --- |
| Origine Garantita dal sigillo di qualità. | Garantito dall'Unione dei Professionisti del Sapone di Marsiglia. | Nuova ricetta con Olio di girasole Oleico |
Sapone Puro di Marsiglia alla Lavanda 250gr Le Bien Etre by Marius Fabre
Molto delicato sulla pelle, può essere utilizzato quotidianamente per lavarsi mani e corpo, parti intime incluse. L'efficacia schiumogena di questo sapone è garantita non da un agente chimico esterno alla saponificazione, ma da un pizzico di olio di cocco, nutriente naturale che, se saponificato con il metodo "Marsiglia" tradizionale, permette di risparmiare sulla quantità di sapone consumato.
Da una solida competenza in fatto di Sapone di Marsiglia, la nuova linea bien-être, letteralmente "benessere", traccia un percorso per la cura del proprio corpo alternando ricette della tradizione, con panetti, saponette e saponi liquidi, a prodotti derivati e strettamente legati alle abitudini della vita moderna.
Un sapone efficace, che naturalmente rende morbida la pelle.
Il processo di produzione "di Marsiglia" garantisce sapone "Extra puro", privo di impurità, capace di prendersi cura di tutti i tipi di pelle, anche di quelle particolarmente sensibili (bambini, pelle allergica, irritata, ...). L'Olio d'oliva apporta le sue virtù nutritive: Il sapone Marius Fabre all'olio d'oliva aiuta a ridurre la tendenza a seccarsi della pelle *.
* Studio Dermatologico SVHO/99, Facoltà di Medicina di Montpellier, Servizio Dermatologia.
Competenze Uniche
La terra di Provenza è legata da molti secoli alla storia del sapone, la cui fabbricazione fu codificata dal Re Sole, Luigi XIV (Editto del Re, 1688).
Frutto di un processo di fabbricazione tradizionale, nel quale niente è lasciato al caso, il Sapone di Marsiglia Marius Fabre è da sempre cotto in paioli e lasciato asciugare al vento del Nord, il Maestrale.
Per la sua preparazione, basata esclusivamente sull'utilizzo di Oli Vegetali fra cui, a seconda delle ricette, il prezioso Olio d'Oliva, sono necessari almeno 14 Giorni.
Ancora oggi, quindici operai del saponificio operano nel rispetto delle regole di fabbricazione stabilite dal Re Luigi XIV.
Competenza, pazienza e cura sono le prime regole di un'arte che consente al saponificio Marius Fabre di offrire un sapone di Marsiglia dalla qualità ancora oggi ineguagliabile.
Nell'enorme paiolo vengono versati gli oli (o l'olio, a seconda della ricetta) e la soda. La pasta di sapone viene cotta per dieci giorni ad una temperatura di 120 gradi C. Seguono poi numerosi lavaggi in acqua salata e in acqua pura elimineranno quindi tutte le impurità e le tracce di soda. Il sapone viene poi colato ancora caldo (70 gradi C) nelle "mise", giganteschi stampi direttamente a pavimento.
Ecofriendly.
Puramente vegetale, biodegradabile, senza fosfati o prodotti di sintesi, non inquina i fiumi e contribuisce alla salvaguardia dell'ambiente. Inoltre, richiede molto poco imballaggio, realizzato con sola carta riciclata e, se non disponibile, certificata FSC. La bottiglia ed il tappo sono in plastica riciclabile al 100%. 
Qualità, in breve:
Oli vegetali al 100%: olio d'oliva, di girasole, di cocco.
Dye-free, senza profumi artificiali/di sintesi, senza conservanti;
Non ci sono additivi chimici di sintesi;

Cruelty Free, Prodotti non testati su animali;

Senza tensioattivi di sintesi, senza coloranti, senza conservanti;
Ingredienti (INCI): 

Sodium Olivate, Sodium Palmate, Sodium Palmkernelate, Acqua, Parfum, Butyrospermum parkii, Sodium Chloride, Sodium Hydroxide, palm-kernel acid, glycerin, tetrasodium etidronate (Alternativa biodegradabile e vegetale all'EDTA), hexyl cinnamal, cloumarin, linalool.
La glicerina contenuta nei saponi di Marsiglia "Marius Fabre" non è additata come ingrediente sintetizzato durante la saponificazione ma è la glicerina naturalmente contenuta nell'olio vegetale. Nonostante i 10 giorni di cottura ed i successivi lavaggi, di questa ne rimane ancora un minimo quantitativo che, per correttezza nei confronti del consumatore, viene menzionata come parte (traccia) nell'INCI.
Per la presenza di alcuni oli essenziali, nello specifico quello di ylang ylang e di noce moscata, se ne sconsiglia l'uso a chi è allergico a queste sostanze. Tali ingredienti, comunque, sono presenti in meno dello 0,01% del totale e non interferiscono con la profumazione del sapone.
Customers who bought this product also bought:
16 other products in the same category: