announcement punto vendita e spedizioni operativi ed efficienti headset_mic ordini telefonici e servizio clienti tel./whp. al +39 349 56 31 907 local_shipping spedizione gratuita a partire da 49€ e consegna in 1 giorno storenegozio fisico con vetrine a Forlì announcement punto vendita e spedizioni operativi ed efficienti headset_mic ordini telefonici e servizio clienti tel./whp. al +39 349 56 31 907 local_shipping spedizione gratuita a partire da 49€ e consegna in 1 giorno storenegozio fisico con vetrine a Forlì announcement punto vendita e spedizioni operativi ed efficienti headset_mic ordini telefonici e servizio clienti tel./whp. al +39 349 56 31 907 local_shipping spedizione gratuita a partire da 49€ e consegna in 1 giorno storenegozio fisico con vetrine a Forlì announcement punto vendita e spedizioni operativi ed efficienti headset_mic ordini telefonici e servizio clienti tel./whp. al +39 349 56 31 907 local_shipping spedizione gratuita a partire da 49€ e consegna in 1 giorno storenegozio fisico con vetrine a Forlì announcement punto vendita e spedizioni operativi ed efficienti headset_mic ordini telefonici e servizio clienti tel./whp. al +39 349 56 31 907 local_shipping spedizione gratuita a partire da 49€ e consegna in 1 giorno storenegozio fisico con vetrine a Forlì
Monbento MB Pocket black Onyx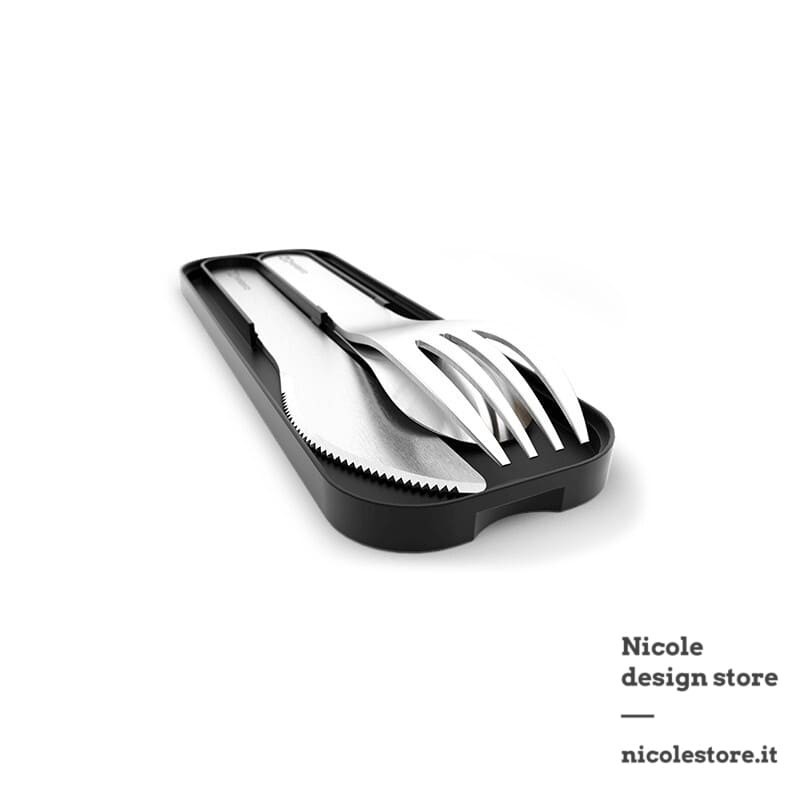  
Monbento MB Pocket black Onyx
3 or 4 installment payment available with PayPal, Oney or splittypay
MB Pocket black Onyx | nomadic cutlery | lunch box cutlery | stainless steel cutlery
A complete set of reusable nomadic cutlery, Monbento MB Pocket black Onyx is a portable stainless steel cutlery kit that includes a hard case, a fork, a knife and a spoon, compatible with the dedicated compartment present in the MB Original and MB lunch boxes Square but also ideal for independent use.
All the elements that make up MB Pocket black Onyx can be washed in the dishwasher and offer unparalleled resistance even to intense use in the professional field.
MB Pocket black Onyx at a glance
includes fork, knife, spoon
case with opaque bottom and transparent lid
18/8 stainless steel
case in PP and PC
OK dishwasher
phone and whatsapp
we prefer a personal contact and a sartorial experience at +393495631907
fast and tracked shipments
for smooth fully traced 24 / 72 h deliveries (EU)
flexible return policy
possibility of return with quick refund, goods exchange or replacement
privacy, SSL and encryption
personal data and transaction security with state of the art standards
local shop in Forlì (Italy)
the guarantee of a physical store and the convenience of home delivery
Original and Official
we are official resellers of each brand offered with only original products
MB Pocket black Onyx
MB Pocket black Onyx is the practical and resistant stainless steel cutlery kit designed specifically for your Monbento but ideal also for independent use.
It includes everything necessary to consume lunches, dinners and snacks outside the home with attention to good manners. MB Pocket black Onyx cutlery kit for lunch boxes, nomad, consists of fork, knife and spoon presented in a durable hard case. Completely BPA free, the cutlery is made from medical grade stainless steel to ensure the best food tasting experience.
Monbento MB pocket main features
MB Pocket black Onyx key characteristics
Dishwasher safe
BPA free
Certified for food
Sizes
Inside the box
1 knife (stainless steel)
1 fork (stainless steel)
1 spoon (stainless steel)
1 removable support (PP)
1 lid (PC)
Customers who bought this product also bought:
16 other products in the same category: