headset_mic ordini telefonici e servizio clienti tel./whp. al +39 349 56 31 907 local_shipping spedizione gratuita a partire da 49€ e consegna in 1 giorno storenegozio fisico con vetrine a Forlì headset_mic ordini telefonici e servizio clienti tel./whp. al +39 349 56 31 907 local_shipping spedizione gratuita a partire da 49€ e consegna in 1 giorno storenegozio fisico con vetrine a Forlì headset_mic ordini telefonici e servizio clienti tel./whp. al +39 349 56 31 907 local_shipping spedizione gratuita a partire da 49€ e consegna in 1 giorno storenegozio fisico con vetrine a Forlì headset_mic ordini telefonici e servizio clienti tel./whp. al +39 349 56 31 907 local_shipping spedizione gratuita a partire da 49€ e consegna in 1 giorno storenegozio fisico con vetrine a Forlì headset_mic ordini telefonici e servizio clienti tel./whp. al +39 349 56 31 907 local_shipping spedizione gratuita a partire da 49€ e consegna in 1 giorno storenegozio fisico con vetrine a Forlì
Lomo'Instant Automat Glass Elbrus by Lomography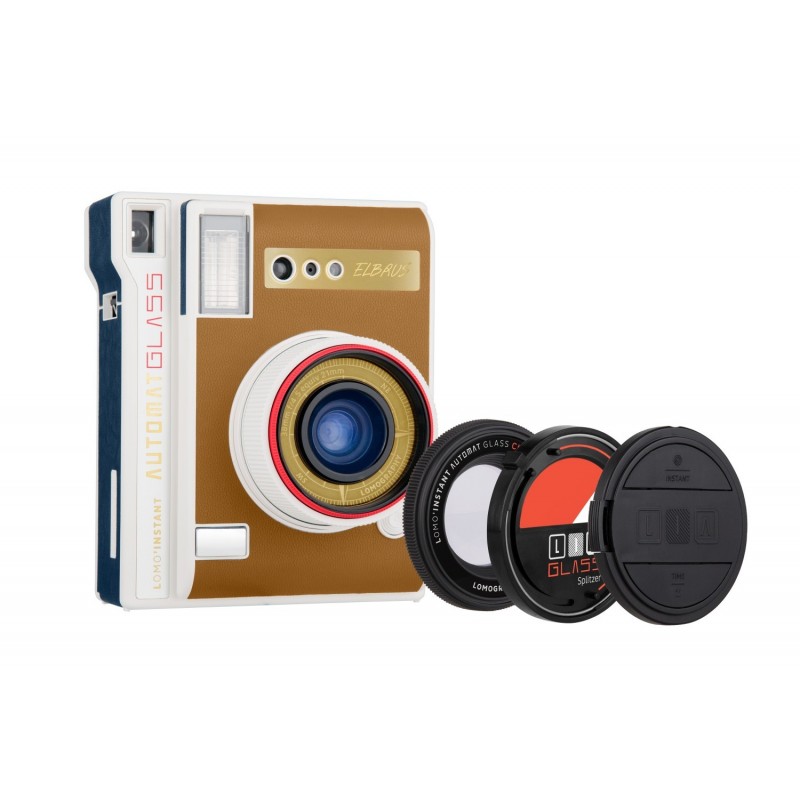  
Lomo'Instant Automat Glass Elbrus by Lomography
Tax included
or in 3 installments from 66.33€ with
The first instant camera with a wide-angle glass lens — for bolder, sharper instant masterpieces than ever before.
Choose to buy your next instant Camera from Nicole design store and obtain exclusive conditions:
Lomography Official Guarantee Certificate  released by an Authorized Dealer.
Best Price Guaranteed  on the buying of an instant camera.
Workshop at the shop or online (via Skype) for free. You will learn all the secrets from this camera!
Fixed Price for life at 19.90 euros for Fujifilm Instax Mini Double Pack (20x shoots)
Use the second selector to choose if you want to buy the lone camera or add some films for a special price (Fujifilm Instax Mini Single Pack 10 x1,x2,x4, x6, x8).
phone and whatsapp
we prefer a personal contact and a sartorial experience at +393495631907
fast and tracked shipments
for smooth fully traced 24 / 72 h deliveries (EU)
flexible return policy
possibility of return with quick refund, goods exchange or replacement
privacy, SSL and encryption
personal data and transaction security with state of the art standards
local shop in Forlì (Italy)
the guarantee of a physical store and the convenience of home delivery
Original and Official
we are official resellers of each brand offered with only original products
With a beautifully sharp, multi-coated glass lens and the widest focal length on the market, the Lomo'Instant Automat Glass has everything you need to capture the world in crystal-clear, razor-sharp definition. Multi-coated to reduce reflections, the glass lens delivers pocket-sized prints bursting with vibrant colors and beautiful, crisp detail.
And that's not all — this sleek little camera has a maximum aperture of f/4.5, which is the largest aperture of any instant camera on the market. Switch to Auto Mode and capture everything from shadowy sunsets to candlelit dinners without even using the flash. What's more, you can experiment with the Remote Control Shutter Release, Close-Up Lens Attachment, Splitzer, Bulb Mode, Multiple Exposure Mode, Color Gel flash filters and much more. The sky's the limit! 
Features
A Unique Wide-Angle Glass Lens: Multi-coated to reduce reflections, the glass lens lets you create bolder, sharper instant masterpieces than ever before. With a focal length of 38mm, you can squeeze even more crisp details into each and every shot!
Low-light Shooting Made Easy: The f/4.5 aperture is the largest of any other instant camera out there. It offers excellent low-light performance — even without the flash!
Get Up Close and Personal: Get as close as 0.3m and fill your shots with beautifully crisp details. It's perfect for portraits!
With Automatic Settings for Perfectly Exposed Shots: The Lomo'Instant Automat Glass automatically adjusts aperture, shutter speed and flash output for impeccably lit shots in any and every light situation.
Take Pictures from Afar: the lens cap of the Lomo'Instant Automat Glass doubles as a Remote Control Shutter Release so that you can join an awesome group shot or take shake-free long exposures from up to 5m away.
Packed with Extra Creative Features: Experiment with Splitzer and Close-Up Lens Attachments, Bulb Mode, Multiple Exposure Mode, Color Gel flash filters and much more. The creative possibilities are endless!
Technical Specifications
Film Format:

 Fujifilm Instax Mini Film

Exposure Area:

 62mm x 46mm

Lens Focal Length:

 38mm (21mm equivalent)

Shutter Speed:

 Bulb (maximum 30 seconds), 8s-1/250 (Auto Shooting Mode)

Exposure Compensation:

 +1/-1 Exposure Values (Ambient Exposure)

Film Ejection Mechanism:

 Motorized

Multiple Exposures:

 Unlimited

Built-in Flash Guide Number:

 9(m)

Built-in Flash:

 Automatic Flash & Flash Off Mode

Auto Exposure Type:

 Programmed Automatic

Aperture:

 f/4.5, f/22

Zone Focusing Setting:

 0.3m / 0.6m / 1m-infinite

Closest Focusing Distance:

 0.3m

Remote Control Trasmission:

 Infrared

Remote Control Sensor Range:

 1-2m in bright sunshine, up to 5m indoors

Film Counter:

 LED indication, counting down

Battery Supply:

 2 x CR2 batteries (2 x 3V)

Remote Control Battery Supply:

 1 x CR1632 batteries (3V)

Tripod mount:

 Yes

Filter Thread Diameter:

 43mm
Package Includes
Lomo'Instant Automat Glass Magellan
Lomo'Instant Automat Glass Close-Up Lens Attachment
Remote Control Lens Cap
Lomo'Instant Automat Glass Splitzer
Colored Gel Filters
Inspirational shooting tips
Magnet Stickers
Glue Dots
Photo Stands and Photo Clips
Press Quotes
"But beyond the lens, it also has the fastest aperture of the bunch coming in at f4.5." - The Phoblographer
"The 38mm lens is the widest lens available for an Instax-compatible camera and the f/4.5 aperture is the largest of any instant camera in the segment allowing for better images in low-light situations." - Acquire mag
"It's the world's first instant camera with a wide-angle glass lens." - PetaPixel
"With an optical design using six elements set in four groups, and coatings to reduce reflections, the camera also promises to be optically superior to rival devices." - Newatlas
"The word 'Glass' here represents Lomo's decision to up the ante, upgrading this version of its Automat to a multicoated, six element/four group glass lens." - Stuff.tv
Please note: Fujifilm Instax Mini and batteries are not included. You can find the Fujifilm Instax Mini in our online shop.
Additional Information
| | |
| --- | --- |
| SKU | li870b  |
| Cable Release Connection | No |
| Battery Type | 2 x CR2 batteries (2 x 3V) |
| Available Apertures | Automatic f/4.5, f/22  |
| Shutter Speeds | Bulb (max. 30 ­seconds), Auto: 8s­ - 1/250  |
| Focal Length | 38mm  |
| Film advance | Automatic |
| Flash connection | Built-in Flash |
| Focusing | Zone Focusing |
| Focusing Distance | 0.3m - infinity  |
| Frame Counter | LED indication |
| Material | Plastic |
| Tripod Mount | Yes |
| Lightmeter | Yes |
| View Finder | Direct optical viewfinder |
Customers who bought this product also bought:
3 other products in the same category: