headset_mic ordini telefonici e servizio clienti tel./whp. al +39 349 56 31 907 local_shipping spedizione gratuita a partire da 49€ e consegna in 1 giorno storenegozio fisico con vetrine a Forlì headset_mic ordini telefonici e servizio clienti tel./whp. al +39 349 56 31 907 local_shipping spedizione gratuita a partire da 49€ e consegna in 1 giorno storenegozio fisico con vetrine a Forlì headset_mic ordini telefonici e servizio clienti tel./whp. al +39 349 56 31 907 local_shipping spedizione gratuita a partire da 49€ e consegna in 1 giorno storenegozio fisico con vetrine a Forlì headset_mic ordini telefonici e servizio clienti tel./whp. al +39 349 56 31 907 local_shipping spedizione gratuita a partire da 49€ e consegna in 1 giorno storenegozio fisico con vetrine a Forlì headset_mic ordini telefonici e servizio clienti tel./whp. al +39 349 56 31 907 local_shipping spedizione gratuita a partire da 49€ e consegna in 1 giorno storenegozio fisico con vetrine a Forlì
Dead Sea Salt water 200 ml - Eau salée de la mer Morte - Najel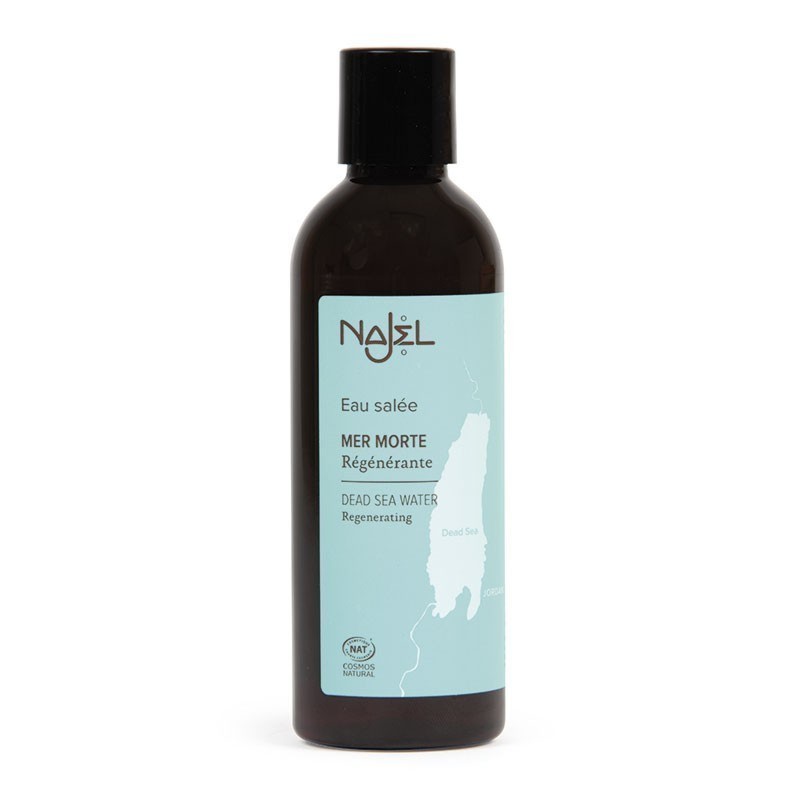  
Dead Sea Salt water 200 ml - Eau salée de la mer Morte - Najel
"Cosmos Natural Ecocert" certified salt water from the Dead Sea.
Regenerating.
Hair and Body.
Najel Dead Sea water is completely natural, composed of 21 different minerals, among which are magnesium, potassium and calcium, and is extracted in Jordan, where the percentage of elements dissolved in it reaches 25%, compared to an average of other seas and oceans of 5%.
With an oily texture, it is a regenerating, moisturizing, emollient water for hair and body, recommended also for calming muscle pain.
Content: 200 ml e
Made in Jordan
phone and whatsapp
we prefer a personal contact and a sartorial experience at +393495631907
fast and tracked shipments
for smooth fully traced 24 / 72 h deliveries (EU)
flexible return policy
possibility of return with quick refund, goods exchange or replacement
privacy, SSL and encryption
personal data and transaction security with state of the art standards
local shop in Forlì (Italy)
the guarantee of a physical store and the convenience of home delivery
Original and Official
we are official resellers of each brand offered with only original products
Salt water from the Dead Sea - Eau salée de la mer Morte - Najel SAS NAJJARR
The Dead Sea Water is composed of 21 different minerals, with a higher concentration of magnesium, potassium and calcium. This water, known for its soothing, regenerating and purifying properties, is an essential daily body care product. It also relieves the effects of skin imperfections.
The Najel Dead Sea salt water is completely natural and contains no additives.
Its oily texture is suitable for regenerating massages and to soothe muscle pain. It also helps to preserve the natural hydration of the skin.
Information, advice on use and application of Najel Dead Sea salt water
The typically concentrated water of the Dead Sea  by Najel can be used pure or diluted in the massage of the whole body and on the hair, to soothe the irritated scalp.
To rinse after each use.
Before taking a shower or bath, massage your skin with Dead Sea water, rubbing with your bare hands for 2 or 3 minutes, then rinse thoroughly with warm water.
Avoid any contact with the eyes and the most sensitive parts of the body.
On the hair, mix a few drops of concentrated water with the shampoo you usually use to treat and relieve itchy scalp. A few drops of Dead Sea water are enough for shampoo. Apply, massage and leave on for 2 to 3 minutes for optimal results. Then rinse thoroughly and perform a second shampoo to remove all the salt residues in the hair.
Dead Sea water is also used as an exfoliant for the body, vigorously massaging the skin covered with Dead Sea water using a loofah mitt or sponge. The skin will be exfoliated and remineralized in depth.
You can also use the entire 200ml bottle of concentrated Dead Sea water with bath water in a tub for a relaxing and rejuvenating bath.
Ingredients and composition of Najel Dead Sea salt water
INCI: MARIS AQUA (WATER FROM THE DEAD SEA)
100% of the total ingredients are responsibly extracted. Cosmos Natural certified by Ecocert Greenlife.
Made in Jordan
History of Najel Dead Sea salt water
Located on the border between Israel, the West Bank and Jordan, the waters of the Dead Sea contain more than 25% of salts while other seas and oceans of the globe only 5%.
The basin is located in a depression minus 400 meters from sea level, the largest hydrographic at this depth in the earth.
The high salt concentration of its water does not allow the development of any animal or plant life. However, the mineral salts it contains are an extraordinary source of benefits for the whole body. Thanks to the high content of magnesium, potassium and calcium, the water of the Dead Sea is an extraordinary source of healing, purifying and regenerating elements.
Customers who bought this product also bought:
4 other products in the same category: