Crosley Voyager Washed Blue by Crosley
Tel & WA: +39 349 5631907

Best price guaranteed! Did you find the same item at lower price elsewhere, we will match the price and add an extra 5%. Tell us at nicoledesign@me.com

We only sell original products. Every item is certified by manufacturer.
Crosley Voyager Washed Blue by Crosley
Instant Delivery
Warning: Last items in stock!
Availability date:
Checkout now and receive you order between 29/07/2021 and 30/07/2021 with Express Rapid or Express Standard carriers. Delivery on Saturday not always available
More info

Crosley Voyager Washed Blue
Crosley Voyager Washed Blue is a complete turntable system with all the features you need to start listening in style to your favorite vinyls in your collection. Voyager is a  3-speed console turntable with integrated stereo speaker and can reproduce all vinyl formats, from the long play LPs at 33 rpm to the most compact single 45 rpm records, also allowing the playback of older 78s.
Projected from the Crosley Cruiser Deluxe, it integrates all its functions and qualities into a new, well-finished, console design distinguished by a greater audio output. Crosley Voyager is easy to use and is a delight to listen to: it includes Bluetooth, Pitch Control and a Stereo 2.0 speaker system. It is possible to connect speakers and external amplifiers for a more powerful audio performance thanks to the RCA and Jack 3.5mm outputs, as well as using the integrated ones to listen to music from other devices.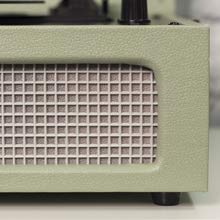 Integrated Powerful speakers

This All-In-One turntable is ready to use. Thanks to the integrated stereo amplification hidden by an elegant grid you can enrich any space with this retro-style turntable without detracting from your audio experience.
Three Speed Stereo Turntable

To ensure the best audio experience, each Crosley Voyager includes a speed selector that allows it to play all available vinyl formats, from the oldest 78 rpm to the most popular 33 and 1/3.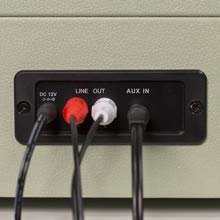 RCA and AUX IN / OUT cabled connectivity
Crosley Voyager boasts a stereo RCA output, a stereo AUX IN input and, on the upper dashboard, an AUX OUT output, both 3.5mm.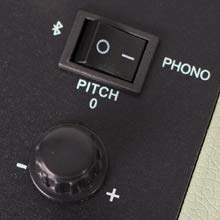 Advanced Functionalities

C

rosley Voyager dispone di tutte le necessarie funzionalità ad un giradischi che si rispetti, come Bluetooth e Pitch Control.
Technical characteristics in brief:
Belt disc rotation mechanism
Thumbtack in Diamond Sapphire (exclusive Nicole design store, better than the normally included ceramic needle)
Automatic locking arm and manual return with lever
3-speed playback: 33 1/3, 45 and 78 RPM
Dynamic Full Range Stereo Speaker
Jack-AC connector for headphone power
RCA Audio Out
AC Power Adapter (included) + International Kit (Tribute)
Pitch Control
Bluetooth
 
Puntina and Cinghia are also available as official spare parts.