Crosley T150 Black
A high-end turntable, in a compact form factor, the Crosley T150 is the only high-fidelity plug and play system ready to listen at its price range. Just take it out of its box, connect three cables, including the power supply, and start your listening experience.

Crosley T150 Black is a complete console system with turntable, amplifier (integrated) and speakers. Crosley T 150 is a 2-speed turntable with a matte black anti-fingerprint finish, a balanced forged aluminum plate, adjustable metal counterweight arm, Bluetooth, 30W integrated amplifier, RCA output and pre-amplified RCA output. The speakers of the T 150, with a tweeter and a speaker each, allowing you to create a perfect 30W Rms stereo 2.1 setup.

Among the important updates on the basis of which the T150 Black was developed from we emphasize the professional quality Audio Technica stylus, included with all purchases at this online store or at the store, the alluminium arm with adjustable counterweight and anti-slip device, the full size balanced plate (LP) in forged aluminum and a more refined design, with matt black anti-fingerprint paint.
Un sistema di giradischi completo e facile da installare.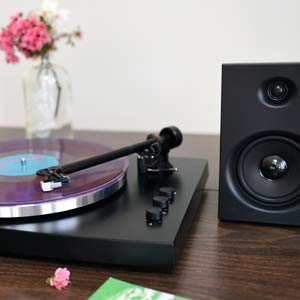 Bluetooth and 2.1 Stereo Speaker included 
Whether you're enjoying the warm vinyl sound or streaming digital music via the built-in Bluetooth receiver, the included stereo speakers offer 30 Watts Rms of crisp, loud and round sound.
The integrated switch-activated preamplifier allows you to easily connect any stereo component of your choice, from other devices with RCA connection to portable speakers and boomboxes with a 3.5mm 1/8 inch mini Jack connection.
Pitch Controle and Tone Arm with Adjustable Counterweight
Take control of your analog listening experience thanks to the pitch control knob, thanks to an aluminum arm with adjustable counterweight and thanks to a RCA output that allow you to connect the turntable to any other pre-existing audio system. The other knob on the dashboard allows you to switch between rotation speeds per minute (33 1/3 and 45 rpm) and the Bluetooth mode.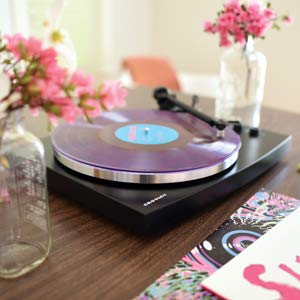 Moving Magnetic Audio Technica Diamond Stylus
The Audio Technica moving magnetic needle is installed and aligned directly at the production place, but uses a standard 1/2 inch connection and allow future replacements. Do not be fooled by the minimalist silhouette and clean lines of this turntable: the Crosley T150 is equipped with all the features you might want in a turntable.
Distinguish Yourself
Powell Crosley, a rather radical boy of the 1920s, already knew that music was made by people for the people and decided to create a radio for everyone, the first quality radio, made with standard components but at the cost of a few dollars. In accordance to this tradition and with this entrepreneurial spirit, Crosley decided that even the vinyl listening experience should have been for everyone. The first record player from the new Crosley was born in 1992 when the CDs were king and queen of the music distribution market. At the time everyone thought that Crosley had been refounded on a bankruptcy business model: now, after more than 30 years Crosley is one of the largest producers of turntables in the world and the main proponent of the rebirth of vinyl in the new millennium.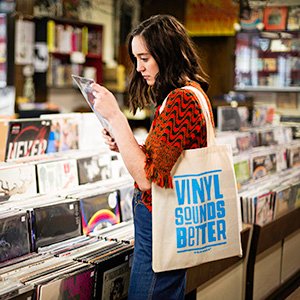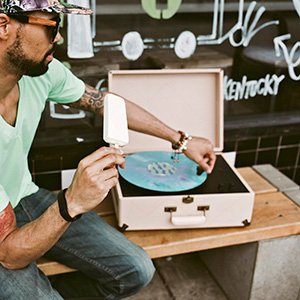 Amplify your Style.
This is the Crosley mantra. Expressions (of one's style) are an important part of everything we do, unlinked to time and age. From art to clothing, to spaces, even the contents we share on the web are all part of our vision of the world. Why should music be different? Colorful and fun, elegant and modern, funky and eclectic: there's a Crosley turntable for everyone.
Be Seen visti. Be Heard.
Crosley is elevating its production to a new level. Inspired by music lovers, the new models face the future with the desire for a high-fidelity adventure at heart.