announcement punto vendita e spedizioni operativi ed efficienti headset_mic ordini telefonici e servizio clienti tel./whp. al +39 349 56 31 907 local_shipping spedizione gratuita a partire da 49€ e consegna in 1 giorno storenegozio fisico con vetrine a Forlì announcement punto vendita e spedizioni operativi ed efficienti headset_mic ordini telefonici e servizio clienti tel./whp. al +39 349 56 31 907 local_shipping spedizione gratuita a partire da 49€ e consegna in 1 giorno storenegozio fisico con vetrine a Forlì announcement punto vendita e spedizioni operativi ed efficienti headset_mic ordini telefonici e servizio clienti tel./whp. al +39 349 56 31 907 local_shipping spedizione gratuita a partire da 49€ e consegna in 1 giorno storenegozio fisico con vetrine a Forlì announcement punto vendita e spedizioni operativi ed efficienti headset_mic ordini telefonici e servizio clienti tel./whp. al +39 349 56 31 907 local_shipping spedizione gratuita a partire da 49€ e consegna in 1 giorno storenegozio fisico con vetrine a Forlì announcement punto vendita e spedizioni operativi ed efficienti headset_mic ordini telefonici e servizio clienti tel./whp. al +39 349 56 31 907 local_shipping spedizione gratuita a partire da 49€ e consegna in 1 giorno storenegozio fisico con vetrine a Forlì
Crosley Portfolio Cream by Crosley
 
Crosley Portfolio Cream by Crosley
or in 3 installments from 39.59€ with
Crosley Portfolio Cream
is the best USB home & portable turntable on the market. Crosley created its Crosley Portfolio collection by combining a top-quality turntables plate derived from models such as the bermuda, which includes asynchronous belt-driven drive and an Audio-Techinca diamond cartridge (in the version distributed by Nicole design store), and most popular turntable-style design of turntables in vintage style and phonovalige. Quality finishes, faithful reproduction and powerful speakers reach the perfect mix in Crosley Portfolio Cream.
By purchasing your Crosley Portfolio Cream at our store or on this portal, you will get, exclusively:
- Audio-Technica diamond pin (in place of the Crosley pin);
- Universal adapter for European plugs and voltages;
EU and UK psu and plug
manufactured by Crosley following our production specification for full compatibility
advantageous price on spare parts and consumables
pins, belts and spare parts, at cost price
ready to use
plug-and-play: listen to your favourite tune right out the box
phone and whatsapp
we prefer a personal contact and a sartorial experience at +393495631907
fast and tracked shipments
for smooth fully traced 24 / 72 h deliveries (EU)
flexible return policy
possibility of return with quick refund, goods exchange or replacement
privacy, SSL and encryption
personal data and transaction security with state of the art standards
local shop in Forlì (Italy)
the guarantee of a physical store and the convenience of home delivery
Original and Official
we are official resellers of each brand offered with only original products

Crosley Portfolio collects the best of Crosley know-how when it comes to portable turntable. In Crosley Portfolio we see the quality of the turntables developed for Crosley Nomad and Crosley Bermuda combined with the most popular and recognizable Crosley Cruiser design.
Made for the European market
All the Crosley brand products distributed by Nicole design store, including the new Crosley Portfolio Cream, have a power supply and plug made specifically for both Italian and European market, without any need for adapters or other modifications as well as being covered by the 12 month Crosley International Guarantee from the Official Warranty for the Italian 24-month market issued by us at the source of any purchase made at our store or this portal.

Thanks to a complete experience in hi-tech products, from photography to audio video, we guarantee a quality service and an infallible availability via email, WhatsApp, Telegram, Facebook Messenger and Phone.
The functionalities
Among its features, each Crosley Portfolio case-turntable includes Bluetooth, Pitch Control, USB, 3.5mm Aux-In input, RCA output and 3.5mm Aux-Out output.

The above means that you can conveniently use your Crosley Portfolio to listen to your vinyl records 33, 45 and 78 laps from the integrated speakers, but also to import tracks from them on the PC or to listen to the music of your smartphone / MP3 player or, again, use your Crosley Portfolio Cream as a simple turntable deck as a source for your stereo / hifi system.
Finishing
Made entirely of wood, in this "Cream" edition, your Crosley Portfolio boasts chrome metal details and an exclusive faux leather finish that covers all exterior surfaces and the handle. Inside you will find the base on which the turntable plate painted in opaque Cream stands and the cover lined with cream-colored velvet effect fabric.
Ready to use and complete
Included in the package you will find the power cord, an additional RCA connector, the Audio-Techinca diamond needle and the adapter for the 45 rpm: just open the package and you will be enveloped by the warm sound of your favorite vinyl.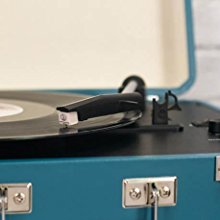 High Fidelity
Thanks to the magnetic diamond needle included and pre-installed by Nicole design store, Crosley Portfolio gives you one more reason to be your next turntable.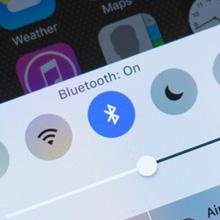 Bluetooth Connectivity

You can connect you iPod or Smartphone vi aBluetooth to use Crosley portfolio's own speaker for listening you favourite music.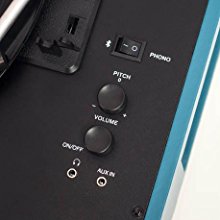 Full Control
Crosley Portfolio includes Bluetooth / Turntable Selector, Volume controller, Pitch Controller, Aux-IN Aux-Out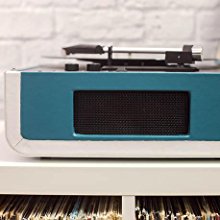 Speaker Stereo
Crosley Portfolio com with two dynamic full range stereo speakers.
Fast Teechincal Facts:
Rotation guaranteed by belt drive
Audio-Technica pin
Automatic locking arm and manual return with lever
3-speed playback: 33 1/3, 45 and 78 RPM
Dynamic Full Range Stereo Speaker
3.5mm Aux-In
Aux-Out
Dimensions: 39 cm wide, 17 cm tall, 31 cm deep, 4.5 kg
AC Power Adapter (included) + International Kit (Free)
Pitch Control
Bluetooth

Pin and Strap are also available as an official spare part.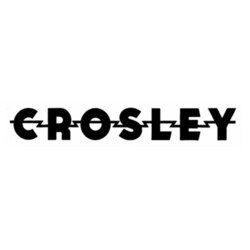 Data sheet
Guarantee

24 Month - Italy & EU

Plug

EU & UK

Needle

Professional (Diamond - Audio Technica NP5)

Audio

Stereo 2.0

Amplifier

12W

Weight

4,5 Kg

Weight (boxed)

5,4 Kg

Sizes

39 x 31 x 17 cm

Sizes (boxed)

42 x 44 x 21 cm

Audio In

Turntable, Mini Jack (3.5mm - 1/8 inch), Bluetooth

Audio Out

aux-out mini jack (3.5mm - 1/8 inch), RCA line (pre-amplified)

USB Digital Output

YES

Transmission

Belt-Driven

RPM

33 1/3, 45, 78 RPM (electronic selector)

Pitch-Control

YES

Auto Stop

YES
Customers who bought this product also bought:
16 other products in the same category: