headset_mic ordini telefonici e servizio clienti tel./whp. al +39 349 56 31 907 local_shipping spedizione gratuita a partire da 49€ e consegna in 1 giorno storenegozio fisico con vetrine a Forlì headset_mic ordini telefonici e servizio clienti tel./whp. al +39 349 56 31 907 local_shipping spedizione gratuita a partire da 49€ e consegna in 1 giorno storenegozio fisico con vetrine a Forlì headset_mic ordini telefonici e servizio clienti tel./whp. al +39 349 56 31 907 local_shipping spedizione gratuita a partire da 49€ e consegna in 1 giorno storenegozio fisico con vetrine a Forlì headset_mic ordini telefonici e servizio clienti tel./whp. al +39 349 56 31 907 local_shipping spedizione gratuita a partire da 49€ e consegna in 1 giorno storenegozio fisico con vetrine a Forlì headset_mic ordini telefonici e servizio clienti tel./whp. al +39 349 56 31 907 local_shipping spedizione gratuita a partire da 49€ e consegna in 1 giorno storenegozio fisico con vetrine a Forlì
Large tin gift box 120 years - Boîte métal coffret or "Collector 120 ans" - Marius Fabre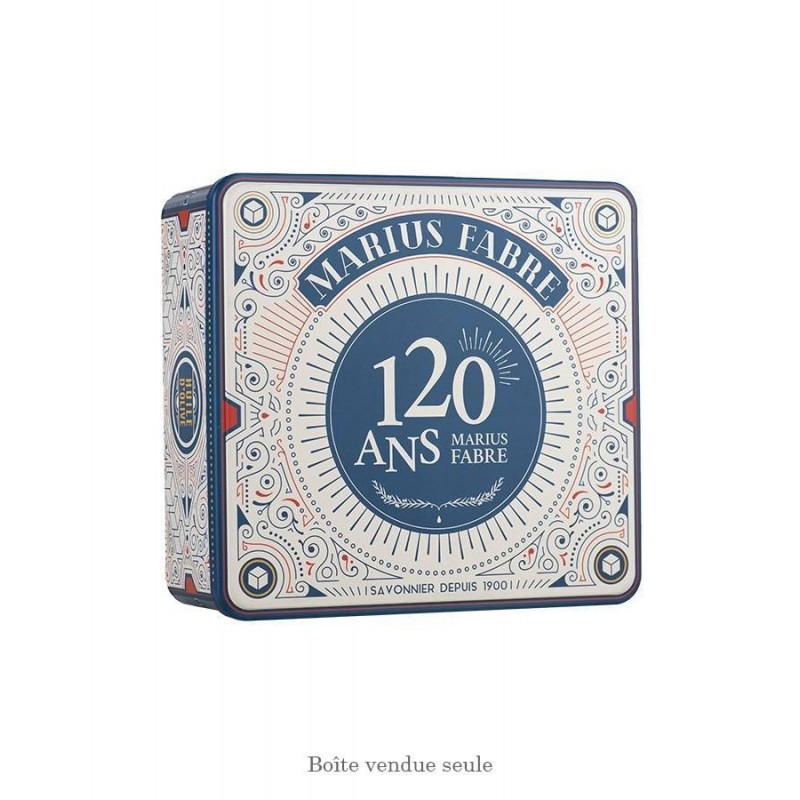  
Large tin gift box 120 years - Boîte métal coffret or "Collector 120 ans" - Marius Fabre
Gift box in tin - biscuit box in metal - blue, red, ivory - Marius Fabre.
With the generous dimensions of a biscuit box, the limited edition tin gift box from the Collector 120 ans by Marius Fabre is a refined metal container finished with a refined graphic design that greets the 120 years of activity of the Marius Fabre soap factory with decorative elements of party. With a matte finish in three red-white-blue colors, it refers to the traditional liveries of the French Republic with clear references to the symbolism of the union of Marseille soap professionals.
It can contain a wide selection of Marius Fabre articles.
To compose your personalized box, contact +39 349 56 31 907 by phone or whatsapp. English language is spoken
If you want to proceed autonomously, simply add the box to the cart, which can also be purchased regardless of the composition of a gift box, in addition to the other products you wish to purchase and indicate in the order notes field, available in the selection section of the courier, which to pack inside.
The displayed price refers to the empty product. Examples of composition are offered in the various photos.
Dimensions: 23cm x 21.5cm H 9.10cm
Made in France
Marius Fabre Christmas collection gift box
phone and whatsapp
we prefer a personal contact and a sartorial experience at +393495631907
fast and tracked shipments
for smooth fully traced 24 / 72 h deliveries (EU)
flexible return policy
possibility of return with quick refund, goods exchange or replacement
privacy, SSL and encryption
personal data and transaction security with state of the art standards
local shop in Forlì (Italy)
the guarantee of a physical store and the convenience of home delivery
Original and Official
we are official resellers of each brand offered with only original products
Marius Fabre Christmas collection gift box
Compose a themed or personalized gift box enriching it with quality packaging.


Customers who bought this product also bought:
4 other products in the same category: