Crosley C6
With elegant and minimal finishes, Crosley C6 easily integrates into any environment and any pre-existing system.

Made of audio grade mdf and walnut, Crosley C6 develops from 4 vibro-insulating pods, and integrates a synchronous motor, an azimuth aluminum arm, a centering pin isolated, a metal plate, a counterweight adjustment, the grounding, an RCA Line & Phono output (with an integrated pre-amplifier that can be excluded), and is elegantly enclosed and protected by a two-position transparent cover.

The full size plate can be adjusted at two speeds, 45 and 33 rpm and 1/3 per minute, and also includes the single disc adapter (45 rpm).
A premium moving magnet needle from Audio Technica i pre installed and pre-balanced in each Crosley C6
A well priced turntable with the credentials for high fidelity.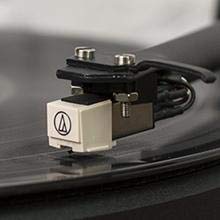 Moving Magnetic Audio Technica Diamond Needle
A Magnetic movement Audio Technica Diamond Needle is installed and balanced directly at the production facility, it uses a standard 1/2 inch plug to allow any future replacements. Do not be fooled by the minimalist silhouette and clean lines of this turntable: the Crosley T150 is equipped with all the features you might want in a turntable.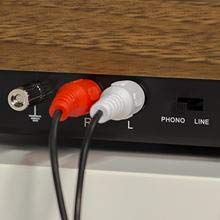 Integrated Switchable Pre-Amplifier
Simply connect one or more amplified / powered speakers and you'll be ready to play. Thanks to the phono-line switch you can decide at any time to exclude the integrated pre-amp and use an external one. In addition to the RCA connection, you will also find the grounding terminal on the back of your C6 by Crosley.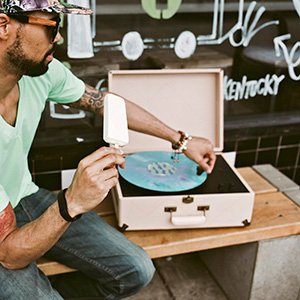 Amplify your Style.
This is the Crosley mantra. Expressions (of one's style) are an important part of everything we do, unlinked to time and age. From art to clothing, to spaces, even the contents we share on the web are all part of our vision of the world. Why should music be different? Colorful and fun, elegant and modern, funky and eclectic: there's a Crosley turntable for everyone.
Be Seen visti. Be Heard.
Crosley is elevating its production to a new level. Inspired by music lovers, the new models face the future with the desire for a high-fidelity adventure at heart.