headset_mic ordini telefonici e servizio clienti tel./whp. al +39 349 56 31 907 local_shipping spedizione gratuita a partire da 49€ e consegna in 1 giorno storenegozio fisico con vetrine a Forlì headset_mic ordini telefonici e servizio clienti tel./whp. al +39 349 56 31 907 local_shipping spedizione gratuita a partire da 49€ e consegna in 1 giorno storenegozio fisico con vetrine a Forlì headset_mic ordini telefonici e servizio clienti tel./whp. al +39 349 56 31 907 local_shipping spedizione gratuita a partire da 49€ e consegna in 1 giorno storenegozio fisico con vetrine a Forlì headset_mic ordini telefonici e servizio clienti tel./whp. al +39 349 56 31 907 local_shipping spedizione gratuita a partire da 49€ e consegna in 1 giorno storenegozio fisico con vetrine a Forlì headset_mic ordini telefonici e servizio clienti tel./whp. al +39 349 56 31 907 local_shipping spedizione gratuita a partire da 49€ e consegna in 1 giorno storenegozio fisico con vetrine a Forlì
Liquid Marseille Dishwashing Soap 1L Nature by Marius Fabre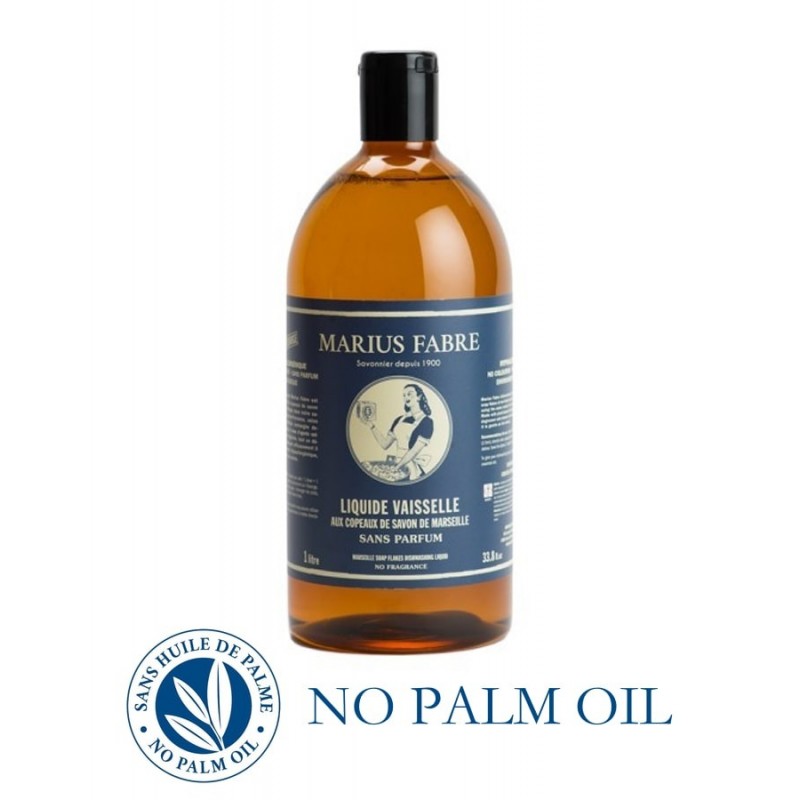  
Liquid Marseille Dishwashing Soap 1L Nature by Marius Fabre
Marius Fabre pure Marseille soap flake dishwashing liquid soap for is the perfume free reference hypoallergenic dishwashing detergent for ecological and zero-impact dishwashing, both by hand and dishwasher.
Manufactured with only ingredients and detergent components of vegetable origin, this liquid Marseille soap for dishes is an efficient degreaser easy to rinse, ideal also for washing in cold water.
Naturally WITHOUT DYES, WITHOUT ADDITIVES, WITHOUT PERFUMES.

New 2020 recipe: Marius Fabre Marseille dishwasing soaps are now WITHOUT PALM OIL, replaced by an equally effective Oleic Sunflower Oil with a high oleic acid content, which, similarly to Olive Oil, favors a lower tendency to oxidation, a lower environmental impact in the soap cooking phases and a longer duration of the product qualities over time but, at the same time, maintaining the particular cleaning qualities, especially on white garments, of palm oil based soap.
Ingredients (INCI): 5% to 15% of anionic surfactants (non-polluting, 100% biodegradable and hypoallergenic), less than 5% of amphoteric surfactants (non-polluting, 100% biodegradable and hypoallergenic), biodegradable vegetable preservatives.
CONTENT: 1L e
phone and whatsapp
we prefer a personal contact and a sartorial experience at +393495631907
fast and tracked shipments
for smooth fully traced 24 / 72 h deliveries (EU)
flexible return policy
possibility of return with quick refund, goods exchange or replacement
privacy, SSL and encryption
personal data and transaction security with state of the art standards
local shop in Forlì (Italy)
the guarantee of a physical store and the convenience of home delivery
Original and Official
we are official resellers of each brand offered with only original products
   

MANUAL ALWAYS INCLUDED:
For each order, Nicole design store includes printed guides with application suggestions and dosages related to the product purchased.
| | | |
| --- | --- | --- |
|  100% Made in France | Marseille Soap | Palm Oil FREE |
| | | |
| --- | --- | --- |
| Origin Guaranteed by the seal of quality. | Guaranteed by the Marseille Soap Professionals Union. | New recipe with Oleic sunflower oil |
Dishwashing Liquid Marseille Soap Nature by Marius Fabre - 1 liter bottle
Thanks to a completely vegetable base, the Marius Fabre dish detergent is an ecological, unscented soap, easily reabsorbed in nature and with a very low environmental impact.
Thanks to its hypoallergenic characteristic, instead of attacking, besides the dirt of the dishes, it takes care of your hands, while boasting significant qualities of effective degreaser comparable and superior to chemical and industrial counterparts.
Also ideal for use in dishwashers and professional environments.
Content: 1L e. 
USER GUIDE AND DOSAGES LIQUID MARSEILLE DISHWASHING SOAP
Dishes washed by hand
Dose about 2/3 ml of product (coffee spoon) on a sponge. Soap and rinse. For difficult and / or particularly greasy dirt, fill the sink or a tub and add, before immersing the dishes, two doses of 2/3 ml every 5L of hot water. Leave to rest until the water has cooled down, pass the sponge and rinse.
Dishes in the dishwasher
Dose 3ml of soap every 4/6 covered in the detergent compartment, possibly by combining Marius Fabre acid vinegar as a rinse aid, and start the washing cycle.
Dishes soap based on Marseille soap flakes with 100% vegetable oils;
Without Palm Oil;
Not tested on animals;
Hypoallergenic;
Without dyes, without perfume, without preservatives;
100% recyclable packaging;
Quality Guaranteed by a certified know-how handed down from 4 generations;
Formulation free of chemical, synthetic and non-biodegradable additives;
Ecological and Biodegradable, respects the environment,
Produced from 100% vegetable oils obtained responsibly: Linoic Sunflower Oil and
Coconut Oil (Sodium Cocoate) are obtained only from plantations and crops and not
from deforestation in endangered ecosystems.

Ingredients (INCI): from 5% to 15% of anionic surfactants (non-polluting, 100% biodegradable and hypoallergenic), less than 5% of amphoteric surfactants (non-polluting, 100% biodegradable and hypoallergenic), vegetable preservatives.
Customers who bought this product also bought:
16 other products in the same category: