headset_mic ordini telefonici e servizio clienti tel./whp. al +39 349 56 31 907 local_shipping spedizione gratuita a partire da 49€ e consegna in 1 giorno storenegozio fisico con vetrine a Forlì headset_mic ordini telefonici e servizio clienti tel./whp. al +39 349 56 31 907 local_shipping spedizione gratuita a partire da 49€ e consegna in 1 giorno storenegozio fisico con vetrine a Forlì headset_mic ordini telefonici e servizio clienti tel./whp. al +39 349 56 31 907 local_shipping spedizione gratuita a partire da 49€ e consegna in 1 giorno storenegozio fisico con vetrine a Forlì headset_mic ordini telefonici e servizio clienti tel./whp. al +39 349 56 31 907 local_shipping spedizione gratuita a partire da 49€ e consegna in 1 giorno storenegozio fisico con vetrine a Forlì headset_mic ordini telefonici e servizio clienti tel./whp. al +39 349 56 31 907 local_shipping spedizione gratuita a partire da 49€ e consegna in 1 giorno storenegozio fisico con vetrine a Forlì
Moisturizing Body Milk 100% certified organic flavored with tangerine - OLIVIA - by Marius Fabre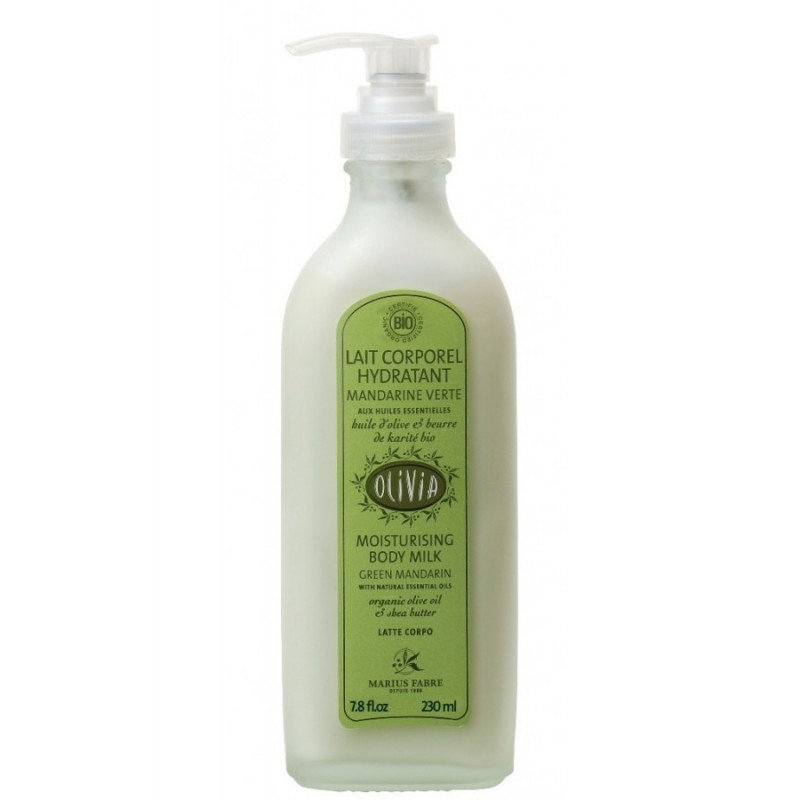  
Moisturizing Body Milk 100% certified organic flavored with tangerine - OLIVIA - by Marius Fabre
The Moisturizing Body Milk * Olive Oil "Olivia" is formulated with organic ingredients and an emulsion of natural origin.
It also consists of shea butter, known for its nourishing and its protective effects. Delicately scented with essential oils of green mandarin, lemon and lavender will leave your skin fresh in summer and winter.
* Moisturizes the upper layers of the epidermis.
phone and whatsapp
we prefer a personal contact and a sartorial experience at +393495631907
fast and tracked shipments
for smooth fully traced 24 / 72 h deliveries (EU)
flexible return policy
possibility of return with quick refund, goods exchange or replacement
privacy, SSL and encryption
personal data and transaction security with state of the art standards
local shop in Forlì (Italy)
the guarantee of a physical store and the convenience of home delivery
Original and Official
we are official resellers of each brand offered with only original products
At the heart of the valley of Les Baux-de-Provence, in the Alpilles, the best olives of Provence are gently matured in the sun. And 'here comes the brand' Olivia 'with an exceptional oil, natural and delicate which is the base for an equally qualitatevole line of cosmetics.
"Olivia" is a range of certified organic cosmetics based on olive oil, designed and made in Provence.
Olive oil, whose virtues have been known since ancient times, has exceptional moisturizing properties due to its content of essential fatty acids, antioxidants and vitamins. And there is more natural ally for skin and hair, both in summer and in winter.
Symbol of Provence and the Mediterranean culture, the olive oil is known for its many benefits.

CERTIFICATION
The products "Olivia" are certified by Ecocert, which guarantees authenticity and quality as organic. This certification ensures that at least 10% of the total composition of the product must come from organic farming, and at least 95% of the ingredients are of natural origin.
The line Marius Fabre "Olivia" and their products are involved in the conservation of animals, plants and the environment.
The packaging is completely recyclable.
- Water Bio orange flower
- Olive oil and organic shea butter
- Essential oils of green mandarin, lemon, geranium and lavender.
Ingredients (INCI): Aqua (water), caprylic capric triglyceride, aqua * Citrus aurantium (bitter orange flowers), * Olea europaea oil (olive oil), Cetearyl alcohol, Cetearyl glucoside, hydrogenated caprylyl foreign oil, glycerin, * Butyrospermum parkii (shea Butter), Citrus nobilis (mandarin) oil, Citrus limonum oil (lemon oil), Pelagonium gravaolens oil, Lavandula officinalis oil, Xanthan Gum, sodium benzoate, potassium sorbate, tocopherol, D-limonene.
* Ingredients from organic farming
98.40% of the total ingredients are of natural origin
10.00% of the total ingredients are from organic farming
Translations provided by Google Translate - please advise us for any mistake.
Customers who bought this product also bought:
16 other products in the same category: