headset_mic ordini telefonici e servizio clienti tel./whp. al +39 349 56 31 907 local_shipping spedizione gratuita a partire da 49€ e consegna in 1 giorno storenegozio fisico con vetrine a Forlì headset_mic ordini telefonici e servizio clienti tel./whp. al +39 349 56 31 907 local_shipping spedizione gratuita a partire da 49€ e consegna in 1 giorno storenegozio fisico con vetrine a Forlì headset_mic ordini telefonici e servizio clienti tel./whp. al +39 349 56 31 907 local_shipping spedizione gratuita a partire da 49€ e consegna in 1 giorno storenegozio fisico con vetrine a Forlì headset_mic ordini telefonici e servizio clienti tel./whp. al +39 349 56 31 907 local_shipping spedizione gratuita a partire da 49€ e consegna in 1 giorno storenegozio fisico con vetrine a Forlì headset_mic ordini telefonici e servizio clienti tel./whp. al +39 349 56 31 907 local_shipping spedizione gratuita a partire da 49€ e consegna in 1 giorno storenegozio fisico con vetrine a Forlì
Organic body milk with Tiare flower 200 ml - Lait corps à la fleur de Tiaré - Najel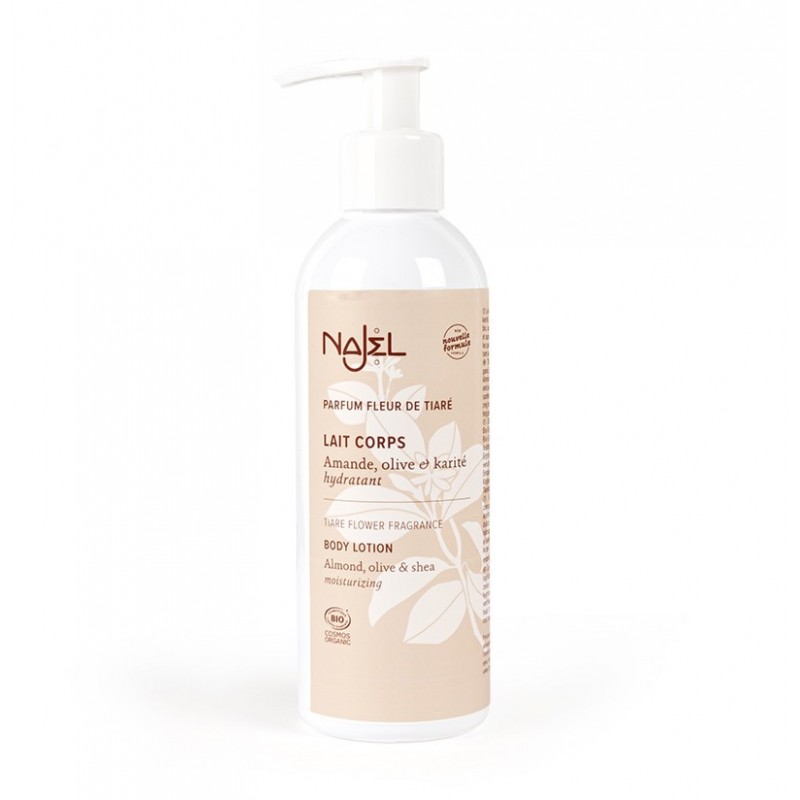  
Organic body milk with Tiare flower 200 ml - Lait corps à la fleur de Tiaré - Najel
Latte corpo vegetale con burro di karité e olio di mandorla dolce certificati Naturale Biologico "Cosmos Organic Ecocert"

For the beauty of the skin

.
Corpo mani e piedi.
Najel Beauty Body Milk is the result of the combination of olive oil, appreciated for its high content of vitamin E, an antioxidant that fights skin aging, and sweet almond oil, known for its soothing properties. and emollients, delicately nourishing, then enriched with shea butter and essence of tiare flowers.
Content: 200 ml e
Made in France
phone and whatsapp
we prefer a personal contact and a sartorial experience at +393495631907
fast and tracked shipments
for smooth fully traced 24 / 72 h deliveries (EU)
flexible return policy
possibility of return with quick refund, goods exchange or replacement
privacy, SSL and encryption
personal data and transaction security with state of the art standards
local shop in Forlì (Italy)
the guarantee of a physical store and the convenience of home delivery
Original and Official
we are official resellers of each brand offered with only original products
Body milk with olive oil, shea butter and organic almond oil scented with Tiare flower - Lait corps à la Rose - Najel SAS NAJJAR
Moisturizing milk for face, hands and feet, Tiaré flower scented, certified organic natural "Cosmos Organic Ecocert".
Najel body milk, with its major nourishing and soothing properties, embellishes and soothes even delicate skin on a daily basis.
By applying it every day on all parts of the body, you will get a sublimated, protected and delicately perfumed skin.
Applied in the massage, this body milk with a fluid texture penetrates very easily, leaving the skin soft and enveloped in a bewitching emanation of Tiare fragrance.
Good to know: Tiare flower or Tiare Tahiti, whose scientific name is Gardenia tahitensis, is a flowering shrub native to the Pacific Island. Its annual flowering guarantees its constant availability. Its powerful fragrance has made it popular in the formulation of cosmetics. It is the essential ingredient, together with coconut, in the production of the precious Monoï de Tahiti®.
Informazioni, consigli d'uso e applicazione del Latte corpo con con olio d'oliva, burro di karité e olio di mandorle biologici profumato al fiore di Tiaré Najel
Developed in the Najjar laboratory, this organic and Made in France treatment contains organic virgin olive oils and bay leaves, leading ingredients of the Najel brand, with antioxidant and soothing properties, associated with organic chamomile floral water, with soothing properties, giving rise to a body milk capable of significantly reducing the sensation of skin irritation.
Delicately scented with tiare flower extracts, this body lotion provides softness and healing benefits essential to maintaining hydrated skin. Thanks to its fluid texture, it penetrates easily offering complete hydration and protection.
Packaged in an opaque white PET bottle, closed with a white lotion dosing pump.
Information, advice on use and application of Body Milk with with olive oil, shea butter and organic almond oil scented with Tiare Najel flower
Recommended for daily use, this milk can be used as a body care product and is suitable for all skin types.
Applied by massaging it on all parts of the body, elbows, feet and hands, on clean and dry skin, it penetrates very easily thanks to a fluid texture.
The skin will be nourished and protected for both day and night.
Do not apply to children under the age of 3 (some floral extracts may have an alcoholic connotation).
Keep in a fresh and dry place.
The skin is both a very sensitive part of the human body and the most exposed, and is often subject, in winter as in summer, to variations in heat and cold, which can cause numerous skin reactions. A moderately rich and daily hydration is essential to keep it healthy and protect it from the cold, a hydration that can be guaranteed by the Najel beauty lotion, a hydrating body milk elegantly scented with tiare flowers.
Ingredients and composition of Body milk with with olive oil, shea butter and organic almond oil scented with Najel Tiare flower
INCI: AQUA (WATER), CHAMOMILLA RECUTITA (MATRICARIA) FLOWER WATER*, OLEA EUROPAEA (OLIVE) FRUIT OIL*, PRUNUS AMYGDALUS (SWEET ALMOND) DULCIS OIL*, CAPRYLIC/CAPRIC TRIGLYCERIDE, OCTYLDODECANOL, GLYCERIN**, GLYCERYL STEARATE CITRATE, PARFUM (FRAGRANCE), BUTYROSPERMUM PARKII (SHEA) BUTTER*, HYDROLYZED SUNFLOWER SEED WAX, SORBITAN CAPRYLATE, CETYL ALCOHOL, GLYCERYL BEHENATE, LAURUS NOBILIS (LAUREL) FRUIT OIL*, XANTHAN GUM, BENTONITE, POTASSIUM SORBATE, CAPRYLOYL/CAPROYL METHYL GLUCAMIDE, PROPANEDIOL, CITRIC ACID, BENZOIC ACID, SODIUM BENZOATE, TOCOPHEROL, BETA-SITOSTEROL, SQUALENE, HELIANTHUS ANNUUS (SUNFLOWER) SEED OIL, CINNAMAL, EUGENOL, GERANIOL, LIMONENE, LINALOOL.
*ingredients from organic farming
**ingredients processed from raw materials from organic farming
99% of the total ingredients come from responsible agriculture and exclusively mechanical processing. Cosmos Organic certified by Ecocert Greenlife.
20% of the total ingredients come from organic farming. Cosmos Organic certified by Ecocert Greenlife.
Natural fragrance, 100% vegetable.
Made in France
History of the development of Body milk with with olive oil, shea butter and organic almond oil scented with Tiare Najel flower
Produced in France in the NAJJAR Laboratory, the Najel Tiare flower body lotion combines the virtues of organic olive and sweet almond oils with the delicate scent of Tiare flower.
This milk, formulated with natural ingredients, is enriched with natural active ingredients with nourishing, soothing and regenerating properties, necessary for daily skin care. This very delicate treatment is suitable for all skin types, even the most fragile ones.
Customers who bought this product also bought:
16 other products in the same category: