headset_mic ordini telefonici e servizio clienti tel./whp. al +39 349 56 31 907 local_shipping spedizione gratuita a partire da 49€ e consegna in 1 giorno storenegozio fisico con vetrine a Forlì headset_mic ordini telefonici e servizio clienti tel./whp. al +39 349 56 31 907 local_shipping spedizione gratuita a partire da 49€ e consegna in 1 giorno storenegozio fisico con vetrine a Forlì headset_mic ordini telefonici e servizio clienti tel./whp. al +39 349 56 31 907 local_shipping spedizione gratuita a partire da 49€ e consegna in 1 giorno storenegozio fisico con vetrine a Forlì headset_mic ordini telefonici e servizio clienti tel./whp. al +39 349 56 31 907 local_shipping spedizione gratuita a partire da 49€ e consegna in 1 giorno storenegozio fisico con vetrine a Forlì headset_mic ordini telefonici e servizio clienti tel./whp. al +39 349 56 31 907 local_shipping spedizione gratuita a partire da 49€ e consegna in 1 giorno storenegozio fisico con vetrine a Forlì
Organic Apricot oil 80 ml - Huile d'Abricot - Najel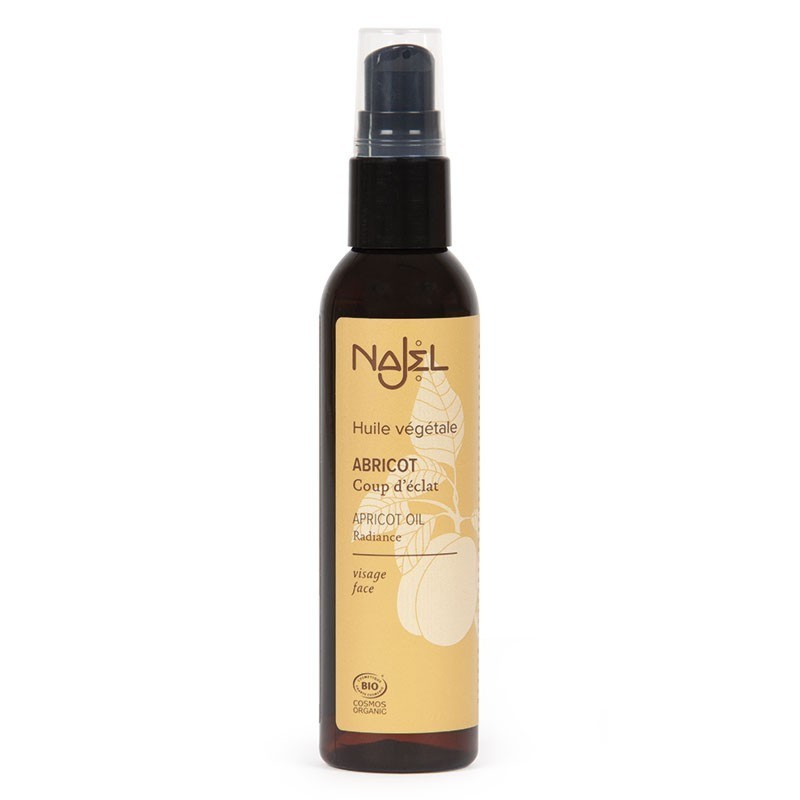  
Organic Apricot oil 80 ml - Huile d'Abricot - Najel
"Cosmos Organic Ecocert" certified organic natural vegetable oil.
Illuminating.
Face.
Apricot oil - Organic PRUNUS ARMENIACA seed extract.
Extracted from the first cold pressing, Najel Apricot certified organic vegetable oil is an emollient and regenerating illuminating treatment for the skin of the face. Ideal on all skin types, but especially on dull complexion tones, it restores vividness, hydration and elasticity.
Amber package with dispenser for better product conservation and economical dosage.
Content: 80 ml e
Made in Turkey
phone and whatsapp
we prefer a personal contact and a sartorial experience at +393495631907
fast and tracked shipments
for smooth fully traced 24 / 72 h deliveries (EU)
flexible return policy
possibility of return with quick refund, goods exchange or replacement
privacy, SSL and encryption
personal data and transaction security with state of the art standards
local shop in Forlì (Italy)
the guarantee of a physical store and the convenience of home delivery
Original and Official
we are official resellers of each brand offered with only original products
Apricot seed oil - Huile d'Abricot - Najel SAS NAJJAR
"Cosmos Organic Ecocert" certified natural organic vegetable oil
Information, advice on use and application of Sweet Almond Oil
Organic apricot oil is an illuminating oil to improve the complexion with a daily action.
Softening and regenerating, it restores radiance and tone to the skin.
Thanks to its emollient properties, it provides hydration and elasticity.
In addition to reviving dull and tired complexions, Apricot oil is an effective anti-aging treatment thanks to its high content of vitamins A and E. It has a regenerating action to combat skin aging.
Use of Najel Apricot Oil
- Orange-yellow oil with a greasy touch, has a fluid and creamy consistency. It is perfect to use as a base before applying the day cream.
- For the skin: dry, combination, mature, sensitive, irritated, dull
- For hair: against loss and dryness An ideal facial treatment for daily use on all skin types.
It can be used pure or with a walnut of jojoba oil for better penetration. Apply directly to the face, gently massaging the skin to facilitate its absorption.
With a satin effect, it can also be used as an after-sun to enhance the tan or as a massage oil.
Known for its anti hair loss properties, it is recommended to use it as a mask before shampooing.
Ingredients and composition of Najel Seed Apricot Oil
INCI: PRUNUS ARMENIACA (APRICOT) KERNEL OIL.
100% of the total ingredients come from responsible agriculture and exclusively mechanical processing. Cosmos Organic certified by Ecocert Greenlife
100% of the total ingredients come from organic farming. Cosmos Organic certified by Ecocert Greenlife.
Made in Turkey
History of Jojoba Oil
Originally from China, apricot has been cultivated for its fruit, apricot, for over 2000 years.
Nowadays it is cultivated in many countries of the Mediterranean basin, such as Armenia; hence its scientific name Prunus Armeniaca: Armenian plum.
Belonging to the Rosaceae family such as peach, cherry and almond.
From a practice of ethical trade and organic farming, Najel Apricot Oil is a virgin oil, extracted by first cold pressing of apricot seeds by small independent producers in Turkey.
Customers who bought this product also bought:
16 other products in the same category: