headset_mic ordini telefonici e servizio clienti tel./whp. al +39 349 56 31 907 local_shipping spedizione gratuita a partire da 49€ e consegna in 1 giorno storenegozio fisico con vetrine a Forlì headset_mic ordini telefonici e servizio clienti tel./whp. al +39 349 56 31 907 local_shipping spedizione gratuita a partire da 49€ e consegna in 1 giorno storenegozio fisico con vetrine a Forlì headset_mic ordini telefonici e servizio clienti tel./whp. al +39 349 56 31 907 local_shipping spedizione gratuita a partire da 49€ e consegna in 1 giorno storenegozio fisico con vetrine a Forlì headset_mic ordini telefonici e servizio clienti tel./whp. al +39 349 56 31 907 local_shipping spedizione gratuita a partire da 49€ e consegna in 1 giorno storenegozio fisico con vetrine a Forlì headset_mic ordini telefonici e servizio clienti tel./whp. al +39 349 56 31 907 local_shipping spedizione gratuita a partire da 49€ e consegna in 1 giorno storenegozio fisico con vetrine a Forlì
Monoï de Tahiti® 125 ml Najel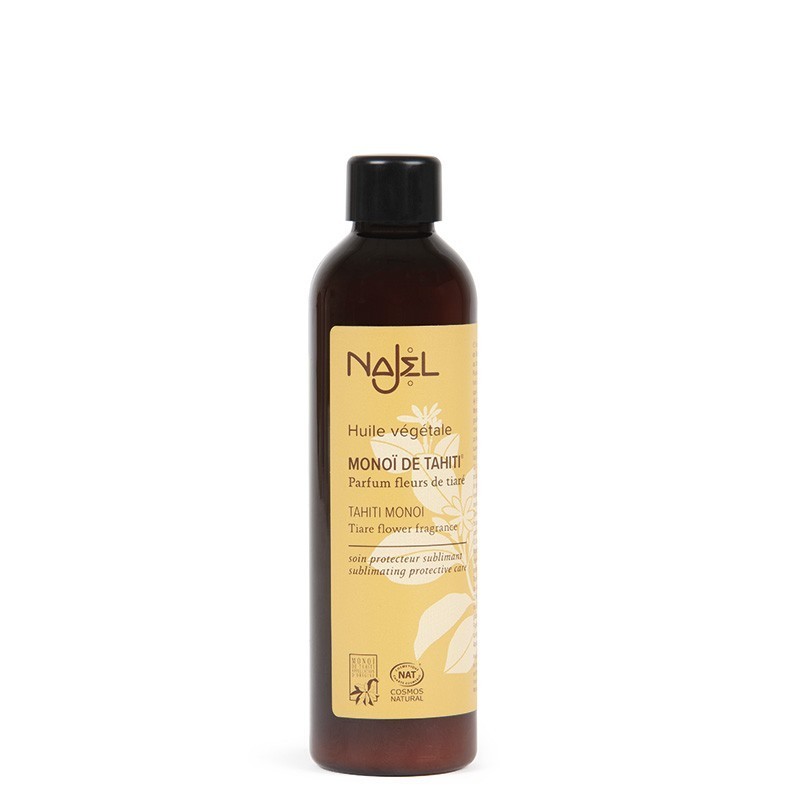  
Monoï de Tahiti® 125 ml Najel
Certified vegetable oil "Cosmos Natural Ecocert" and "Monoï de Tahiti Appelation d'Origine".

Protection and hydration for skin and hair.

Monoï de Tahiti oil perfumed with original Tiare flowers with "Made in Tahiti" stamp.
Prepared according to ancient traditions, Tahiti Monoï® is a natural treasure, full of pleasant sensations for the body and healing qualities for skin and hair.
Monoï de Tahiti® Najel is the ideal cosmeticoil to treat skin and hair dried by the hot summer sun or as an after-sun after a day at the beach.
Un olio dalle incredibili qualità, consacrato dalla tradizione polinesiana, è adatto a tutte le stagioni anche per pelli secche e screpolate.. 
Content: 125 ml e
Made in Tahiti
phone and whatsapp
we prefer a personal contact and a sartorial experience at +393495631907
fast and tracked shipments
for smooth fully traced 24 / 72 h deliveries (EU)
flexible return policy
possibility of return with quick refund, goods exchange or replacement
privacy, SSL and encryption
personal data and transaction security with state of the art standards
local shop in Forlì (Italy)
the guarantee of a physical store and the convenience of home delivery
Original and Official
we are official resellers of each brand offered with only original products
Monoï de Tahiti Najel SAS NAJJAR
"Cosmos Natural Ecocert" certified natural vegetable oil
Prepared according to ancient traditions, Monoï de Tahiti is a natural treasure, rich in positive nutrients for skin and hair.
Monoï de Tahiti® Najel is prepared by macerating Tiare flowers in coconut oil to become the complete care for face, body and hair.
The Tiare flower or Tahiti Tiare (Gardenia taitensis) is a snow-white flower of great beauty, a symbol of purity. It has emollient, soothing and purifying properties and gives off a delicate and enveloping perfume.
Coconut is the primary nutritious fruit of the populations of Tahiti and the surrounding islands.
Considered the white gold of Tahiti, it provides a wonderfully delicate and limpid oil with a light and silky consistency, highly appreciated for its moisturizing and nourishing properties.
Thanks to a traditional blend of Tiare and coconut flowers, Cosmos Natural certified Monoï de Tahiti® Najel boasts a strong regenerating nourishing power. Quickly penetrates and moisturizes the upper layers of the epidermis.
Monoï de Tahiti for the skin.
Monoï de Tahiti has firming qualities, making the skin smoother, silky and elastic, giving it a delicate perfume and a soft and silky texture.
It has a super tanning function on tanned skin type 4 and offers regenerating protection as after sun.
Monoï de Tahiti for the hair.
If applied on the hair, it is a protective during sun exposure or during a bath in the sea or in the pool. It can be applied as a nourishing treatment before shampooing.
Curiosity: the flower of Tiare Tahiti, or flower of Tiare, whose scientific name is Gardenia tahitensis, is a flowering shrub native to the Pacific islands. Its flowering throughout the year guarantees permanent availability. Its distinct fragrance has earned it fame in the world of beauty and is a fundamental ingredient, together with coconut, in the creation of the precious Tahiti Monoï®.

Our tip: Tahiti Monoï® does not contain sunscreen and does not offer protection from the harmful effects of the sun. Keep away from the sun in the hottest hours of the day or use a suitable sunscreen.
Its amber bottle effectively protects Monoï from light. It is sealed with a white cap to prevent leakage.
Warning: Tahiti Monoï® does not actively protect from the sun exposure. Avoid contact with eyes. Tahiti Monoï® melts at temperatures above 24 ° C. Store in a cool, dry place, away from light.
Ingredients and composition of Monoï de Tahiti Najel Oil
INCI: COCOS NUCIFERA (COCONUT) OIL, GARDENIA TAHITENSIS FLOWER, PARFUM (FRAGRANCE), TOCOPHEROL, BENZYL BENZOATE, BENZYL SALICYLATE, FARNESOL, LIMONENE, LINALOOL
100% of the total ingredients are of natural origin, not synthetic. Cosmos Natural certified by Ecocert Greenlife.
Recommendations for use and application of Monoï de Tahiti Najel Oil
Apply Monoï de Tahiti® Najel daily on face, body and hair for the best moisturizing experience, it is an ideal after sun oil.
On hair, it is perfect as a regenerating treatment mask:
- on dry hair, massage a few drops on the tips to nourish them and not rinse.
- on wet hair, apply over the entire length and massage, leave for 15 minutes, then wash with a mild shampoo
Note for easier use: Monoï oil solidifies below 24 °, for easier dosage during use, we recommend keeping it below this temperature. Higher environmental temperatures do not however compromise their conservation.
This product does not offer a sunscreen.
Customers who bought this product also bought:
16 other products in the same category: