headset_mic ordini telefonici e servizio clienti tel./whp. al +39 349 56 31 907 local_shipping spedizione gratuita a partire da 49€ e consegna in 1 giorno storenegozio fisico con vetrine a Forlì headset_mic ordini telefonici e servizio clienti tel./whp. al +39 349 56 31 907 local_shipping spedizione gratuita a partire da 49€ e consegna in 1 giorno storenegozio fisico con vetrine a Forlì headset_mic ordini telefonici e servizio clienti tel./whp. al +39 349 56 31 907 local_shipping spedizione gratuita a partire da 49€ e consegna in 1 giorno storenegozio fisico con vetrine a Forlì headset_mic ordini telefonici e servizio clienti tel./whp. al +39 349 56 31 907 local_shipping spedizione gratuita a partire da 49€ e consegna in 1 giorno storenegozio fisico con vetrine a Forlì headset_mic ordini telefonici e servizio clienti tel./whp. al +39 349 56 31 907 local_shipping spedizione gratuita a partire da 49€ e consegna in 1 giorno storenegozio fisico con vetrine a Forlì
Prickly Pear Seed Oil 80 ml - Huile de graines de figue de Barbarie - Najel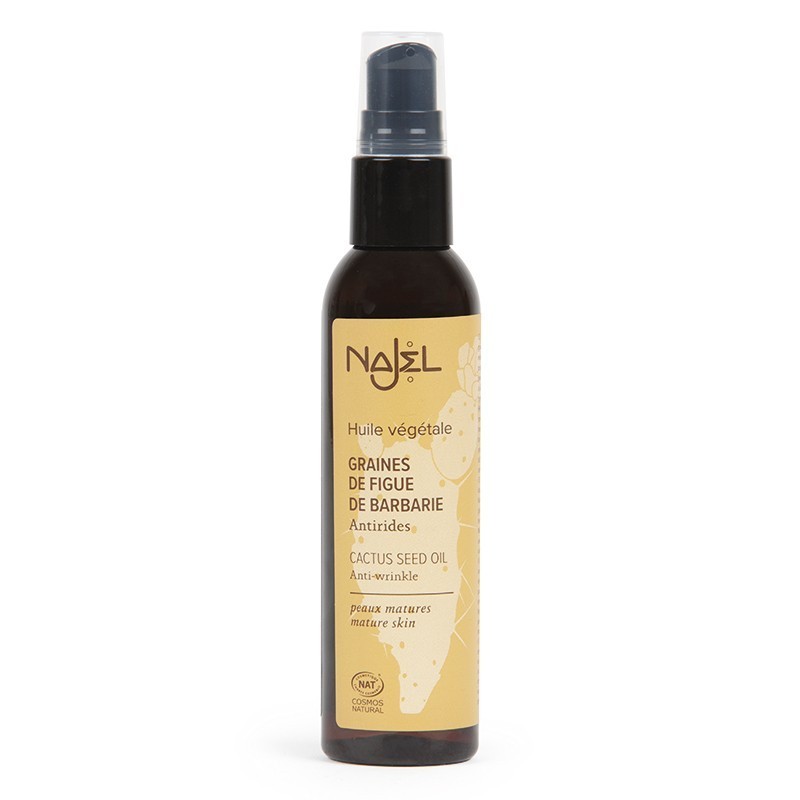  
Prickly Pear Seed Oil 80 ml - Huile de graines de figue de Barbarie - Najel
"Cosmos Natural Ecocert" certified vegetable oil
Ideal for mature skin - anti-rides.
Face, neck and chest / décolleté.
Cactus seed oil - Prickly pear seed oil - Prickly pear oil
The Prickly Pear seed oil, also improperly known as Prickly Pear Oil, is a traditionally widespread and clinically tested Beauty Elixir with anti-wrinkle and anti-rides properties. Huile de graines de figue de Barbarie Najel is obtained exclusively from the mechanical processing of seeds of natural prickly pear fruits certified by Eco-Cert and Cosmos Natural.
Rich in vitamin E and essential fatty acids, This Pure Prickly Pear Oil offers a precious regenerating action, protects, plumps and elasticizes the skin.
Amber packaging with dispenser for better product conservation and dosage.
Content: 80 ml e
Made in Syria
phone and whatsapp
we prefer a personal contact and a sartorial experience at +393495631907
fast and tracked shipments
for smooth fully traced 24 / 72 h deliveries (EU)
flexible return policy
possibility of return with quick refund, goods exchange or replacement
privacy, SSL and encryption
personal data and transaction security with state of the art standards
local shop in Forlì (Italy)
the guarantee of a physical store and the convenience of home delivery
Original and Official
we are official resellers of each brand offered with only original products
Cactus Seed Oil - Prickly Pear Seed Oil - Huile de graines de figue de Barbarie - Najel SAS NAJJAR
"Cosmos Natural Ecocert" certified vegetable oil
The certified natural Najel Prickly Pear seed oil is the most suitable cosmetic vegetable oil for the daily care of the face, neck and décolleté with anti -wrinkle /anti - rides qualities for dry and / or old age skin. 
Najel prickly pear seed oil is a true beauty elixir. It is commonly and traditionally used for its anti-wrinkle properties, which are now clinically and scientifically proven. 
Rich in vitamin E and essential fatty acids, this precious oil has a regenerating action, protecting the skin, giving it elasticity and plumping it up.
It is particularly reknown for its anti-aging effect. Thanks to its nourishing and skin firming properties, prickly pear seed oil combats dryness and aging of the skin. Its many virtues make it an ally of Berber women who use it to hydrate and protect their skin in the desert. This traditional oil combines naturalness, efficacy and rediscovered beauty.
It is suitable for dry and mature skin, in daily use on the face, neck and chest.
It is packaged in an amber-colored bottle, to preserve its qualities longer over time, with a drop-counter pump, for a thrifty dosage.
Ingredients and composition of Najel Prickly Pear Seed Oil
INCI: OPUNTIA FICUS INDICA SEED OIL, LIMONENE.
Limonene is naturally present in the extract of prickly pear seed oil.
100% of the total ingredients come from susteinable agriculture. Cosmos Natural certified by Ecocert Greenlife.
Directions for use and application of Prickly Pear Seed Oil
The prickly pear cactus seed oil is used pure for the care of the face and neck, day and night.
When applied in the evening, before bedtime, its anti-aging effect is naturally invigorated by the regenerative activity of the cells during sleep cycles.
It can also be applied as an anti-aging serum on the face or around the eyes.
Prickly pear seed oil is also a restorative care for body and hair and a serum for nails.

It is suitable for all skin types, even the most sensitive.
History of Prickly Pear Seed Oil
NOT to be confused with the oily macerate of prickly pear, the prickly pear seed oil is extracted from a first cold pressing of the seeds of the prickly pear fruit, originating in Mexico, now widespread in other continents , especially in the Mediterranean area.
The prickly pears of Najel vegetable oil come from figs grown in Syria by a small Syrian producer, which makes this precious oil doubly linked to the traditional of the Al Najjar family.
Customers who bought this product also bought:
16 other products in the same category: