headset_mic ordini telefonici e servizio clienti tel./whp. al +39 349 56 31 907 local_shipping spedizione gratuita a partire da 49€ e consegna in 1 giorno storenegozio fisico con vetrine a Forlì headset_mic ordini telefonici e servizio clienti tel./whp. al +39 349 56 31 907 local_shipping spedizione gratuita a partire da 49€ e consegna in 1 giorno storenegozio fisico con vetrine a Forlì headset_mic ordini telefonici e servizio clienti tel./whp. al +39 349 56 31 907 local_shipping spedizione gratuita a partire da 49€ e consegna in 1 giorno storenegozio fisico con vetrine a Forlì headset_mic ordini telefonici e servizio clienti tel./whp. al +39 349 56 31 907 local_shipping spedizione gratuita a partire da 49€ e consegna in 1 giorno storenegozio fisico con vetrine a Forlì headset_mic ordini telefonici e servizio clienti tel./whp. al +39 349 56 31 907 local_shipping spedizione gratuita a partire da 49€ e consegna in 1 giorno storenegozio fisico con vetrine a Forlì
White clay 500 g - Argile blanche - Najel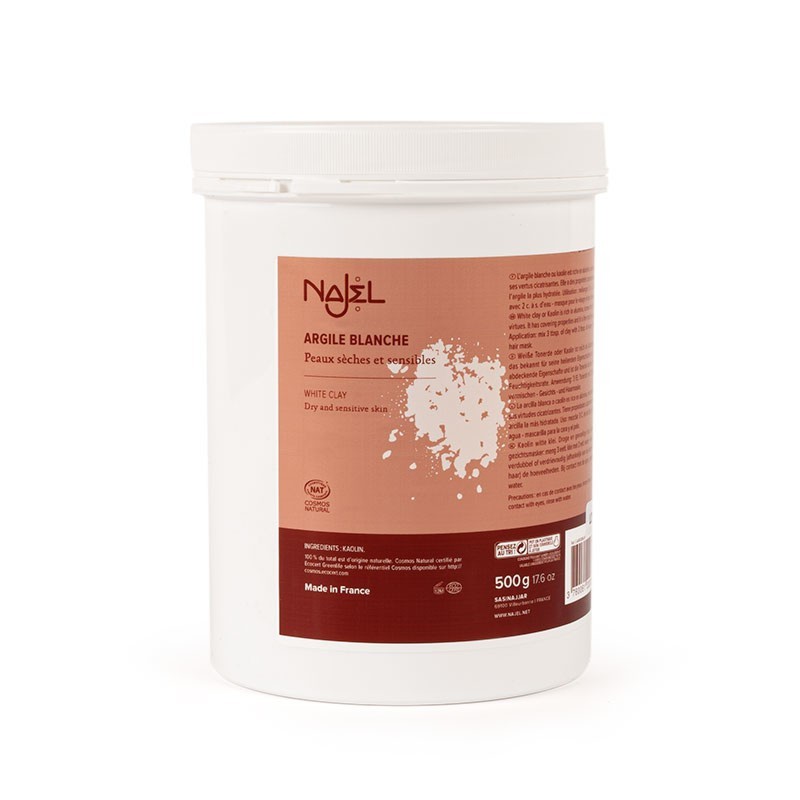  
White clay 500 g - Argile blanche - Najel
Certified Natural clay from responsible extraction "Cosmos Natural Ecocert"
Dry and sensitive skin.
For the face, body and hair.
Responsibly extracted from a quarry located in Auvergne near Puy-en-Velay, Cosmos Natural Najel certified white clay is 100% natural. 
Rich in mineral salts (iron, magnesium, silica), white clay is known for its cleansing, softening and purifying properties.
Weight: 500 g e
Made in France
phone and whatsapp
we prefer a personal contact and a sartorial experience at +393495631907
fast and tracked shipments
for smooth fully traced 24 / 72 h deliveries (EU)
flexible return policy
possibility of return with quick refund, goods exchange or replacement
privacy, SSL and encryption
personal data and transaction security with state of the art standards
local shop in Forlì (Italy)
the guarantee of a physical store and the convenience of home delivery
Original and Official
we are official resellers of each brand offered with only original products
White clay - Argile blanche - Najel SAS NAJJAR
White clay is used as a face and hair beauty mask or as skin remedy for its unique restorative, antiseptic, healing and anti-inflammatory properties. It is particularly suitable for application on delicate, dry and sensitive skin.
Information, advice on use and application of Auvergne white clay -
Najel 

Auvergne argile verte 

White clay is used in the formula of cosmetic products such as masks, toothpastes, make-up but also as an ingredient in the traditional clay stone, a multipurpose cleaner for the home.

To strengthen and combine the purifying effects of white clay, on skin and hair, we recommend its use together with floral water to obtain an easily applicable and rinsable treatment. The virtues of the hydrolates will join the properties of the clay for optimal results and a skin free from impurities.

As a purifying mask, mix with proportions of your choice, but no more than clay: water = 2: 1, apply to the desired area, let it dry and rinse.

To avoid neutralizing some properties of the clay, it is recommended to use ceramic, wooden or plastic tools, rather than metal, to make the masks to be applied.
Ingredients and composition of white clay
INCI: KAOLIN.
100% of the total ingredients are natural comes from responsible extraction and exclusively mechanical processing. Cosmos Organic certified by Ecocert Greenlife.
Made in France
History of Najel white clay
Clay is a natural soil with a very fine consistency that forms in the depths of temperate zones. With inestimable virtues, it has been used since prehistoric times for its recognized therapeutic and cosmetic qualities: it soothes, protects, disinfects, tones and embellishes.

Traditionally all-purpose remedy, clay identifies the origin of impurities, concentrates and absorbs them, taking them with it to rinse.
There are different types of clay depending on the soil: red, green, white. A different clay is suitable for each type of skin and for each type of use.
Customers who bought this product also bought:
8 other products in the same category: