announcement punto vendita e spedizioni sempre operativi tutto agosto headset_mic ordini telefonici e servizio clienti tel./whp. al +39 349 56 31 907 local_shipping spedizione gratuita a partire da 49€ e consegna in 1 giorno storenegozio fisico con vetrine a Forlì announcement punto vendita e spedizioni sempre operativi tutto agosto headset_mic ordini telefonici e servizio clienti tel./whp. al +39 349 56 31 907 local_shipping spedizione gratuita a partire da 49€ e consegna in 1 giorno storenegozio fisico con vetrine a Forlì announcement punto vendita e spedizioni sempre operativi tutto agosto headset_mic ordini telefonici e servizio clienti tel./whp. al +39 349 56 31 907 local_shipping spedizione gratuita a partire da 49€ e consegna in 1 giorno storenegozio fisico con vetrine a Forlì announcement punto vendita e spedizioni sempre operativi tutto agosto headset_mic ordini telefonici e servizio clienti tel./whp. al +39 349 56 31 907 local_shipping spedizione gratuita a partire da 49€ e consegna in 1 giorno storenegozio fisico con vetrine a Forlì announcement punto vendita e spedizioni sempre operativi tutto agosto headset_mic ordini telefonici e servizio clienti tel./whp. al +39 349 56 31 907 local_shipping spedizione gratuita a partire da 49€ e consegna in 1 giorno storenegozio fisico con vetrine a Forlì
Telephone T 3 by Jacob Jensen 12 digit land line telephone with display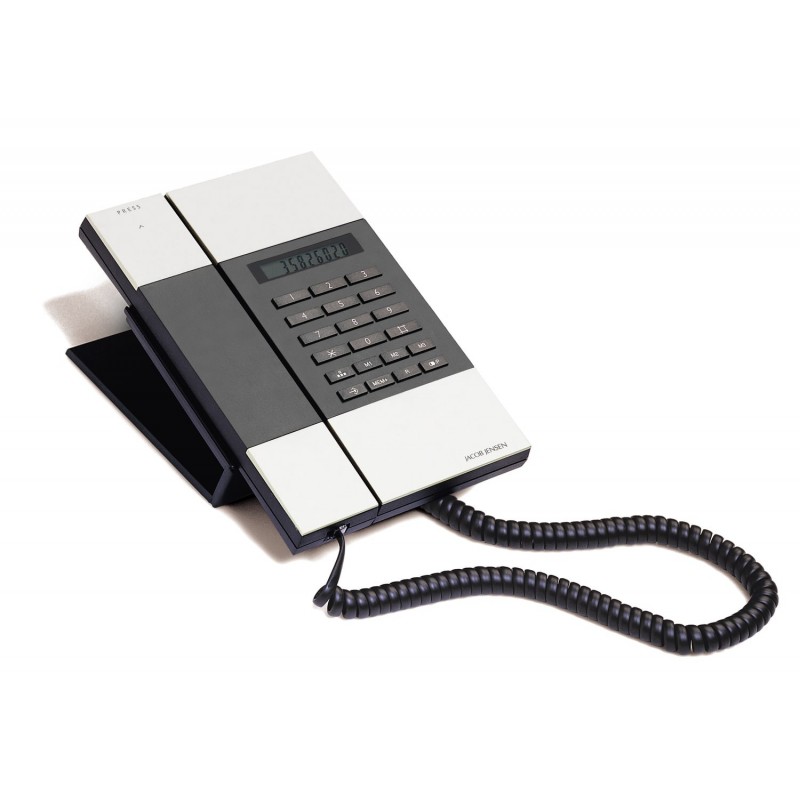  
Telephone T 3 by Jacob Jensen 12 digit land line telephone with display
or in 3 installments from 30.05€ with
Telephone 3 by Jacob Jensen is the first iteration of the iconic headsets developed by the Scandinavian designer. With rigid and square shapes, accentuated by the constant interlacing of matt black and silver finishes in contrast, Telefono 3 or T3 appears as a monolith ergonomically extended to the operator scratched by a 20-button multi-function keypad, a wired handset with mute button, a large display with typing assistance functions and a solid support base with bayonet coupling, useful for facilitating any flush installation on the wall.
Suitable for both professional and private use, it is a simple device to use and integrate even on complex systems. It works both independently and connected to a switchboard.
Key features of Jacob Jensen T3 are:
elegant and durable, made of thick ABS
20 keys with recall function, 1 single press VIP memory, 10 double press memories, pause / wait, switchboard / special services
mute button directly on the handset
bracket for wall mounting or weighted ergonomic support base
RJ-11 and three-pole connection included
compliant with EN 55022, EN 55024 and 1999/5 / EC
sizes: 200x140x45 mm
suitable for professional use
documented hotelier, foundations, museums, cinematografic and tv collaborations
tailor made quotations and discounts
get your special quote for bulk orders, specific and personalized projects
phone and whatsapp
we prefer a personal contact and a sartorial experience at +393495631907
fast and tracked shipments
for smooth fully traced 24 / 72 h deliveries (EU)
flexible return policy
possibility of return with quick refund, goods exchange or replacement
privacy, SSL and encryption
personal data and transaction security with state of the art standards
local shop in Forlì (Italy)
the guarantee of a physical store and the convenience of home delivery
Original and Official
we are official resellers of each brand offered with only original products
Telephone 3 Scandinavian design telephone by Jacob Jensen
Telephone 3 embodies the first iteration of the iconic monolithic canon defined by the two generations of Danish designers Jacob Jensen and his son Jacon Jensen Jr. and applied in creating a long series of communication devices. Made of a thick ABS polymer, it visually and materially communicates a feeling of rigid solidity, like an instrument built to last over time.
Technical characteristics and functionality of T3
Jacob Jensen's Phone 3 is spacious and functional. Thanks to the keyboard positioned next to the receiver, use is very simple and intuitive. The symmetry of the proportions is achieved by an auxiliary display to the composition complete with call timer. The phone is equipped with a memory for 3 single press VIP numbers, for a frequently used single press number and for ten secondary numbers, a dedicated button also allows automatic redialing of the last number dialed. The R key is reserved for access to a switchboard or special network services, with mute function for the receiver and adjustment of the call tone (high / low).
Iconic Scandinavian design and refined finishes by Jacob Jensen in Telephone 3
Quality materials and elegant finishes make Jacob Jensen T3 an object built to last that wraps a set of simple and intuitive features in a timeless original aesthetic.
Large but efficient, thanks to well-rationalized dimensions, the telephone 3 handset and dashboard develop as two functionally separate islands, creating unparalleled visual continuity when stored away.
Suitable for all situations, T3 enriches the desk of an office or a studio, communicating professionalism and sensitivity for good taste even in the smallest details.
Resistant to the wear and tear of everyday use, Jacob Jensen's T3 Nordic-designed landline phone is the distinguished accessory of a well-finished living room with a personal touch, or a minimal addition to a functional sleeping area.
The contrast between the matt black and silver surfaces accentuates the monolithic sobriety of the telephone and allows a clean interaction with any style that characterizes the surrounding environment, be it modern, antique or eclectic.
T 3 by Jacob Jensen telephone for hoteliers, switchboards and communication systems
Thanks to simple standard-compliant electronics, devoid of proprietary hardware and software features, the Jacob Jensen series of telephones has become the protagonist of an unparalleled diffusion in design hotels, museums and foundations all over the world.
With active supply contracts in Italy and Europe, it is possible to rely on our dedicated services in order to obtain the best possible quotation on the market, guaranteed by a priority and direct access to the production we enjoy in the face of over ten years of experience. in the field. Contact us now providing quantities and necessary delivery times in order to obtain a quote.
1 other product in the same category: