announcement punto vendita e spedizioni operativi ed efficienti headset_mic ordini telefonici e servizio clienti tel./whp. al +39 349 56 31 907 local_shipping spedizione gratuita a partire da 49€ e consegna in 1 giorno storenegozio fisico con vetrine a Forlì announcement punto vendita e spedizioni operativi ed efficienti headset_mic ordini telefonici e servizio clienti tel./whp. al +39 349 56 31 907 local_shipping spedizione gratuita a partire da 49€ e consegna in 1 giorno storenegozio fisico con vetrine a Forlì announcement punto vendita e spedizioni operativi ed efficienti headset_mic ordini telefonici e servizio clienti tel./whp. al +39 349 56 31 907 local_shipping spedizione gratuita a partire da 49€ e consegna in 1 giorno storenegozio fisico con vetrine a Forlì announcement punto vendita e spedizioni operativi ed efficienti headset_mic ordini telefonici e servizio clienti tel./whp. al +39 349 56 31 907 local_shipping spedizione gratuita a partire da 49€ e consegna in 1 giorno storenegozio fisico con vetrine a Forlì announcement punto vendita e spedizioni operativi ed efficienti headset_mic ordini telefonici e servizio clienti tel./whp. al +39 349 56 31 907 local_shipping spedizione gratuita a partire da 49€ e consegna in 1 giorno storenegozio fisico con vetrine a Forlì
CNC tote bag yellow - handbag and backpack in recycled technical material - Crash Baggage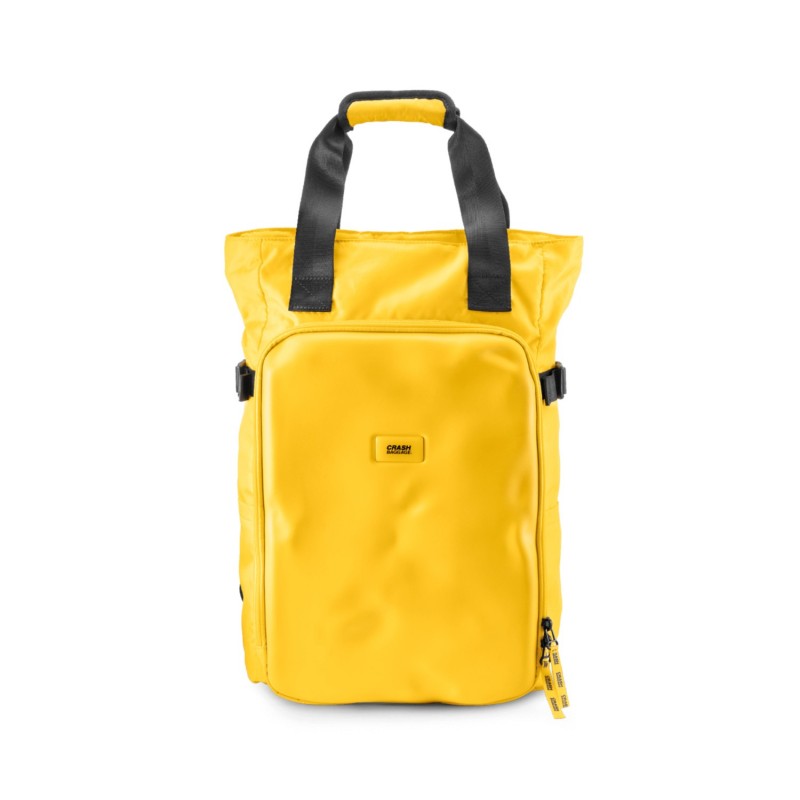  
CNC tote bag yellow - handbag and backpack in recycled technical material - Crash Baggage
or in 3 installments from 32.51€ with
Part of the new CRASH NOT CRASH collection, CNC tote bag yellow is a hybrid handbag and backpack made of recycled technical material, designed in Venice by Crash Baggage.
With EVA features that recall the tradition of Crash Baggage dents, this bag is the perfect container for the everyday life of the digital nomad or for a weekend away.
Mod. : CNC Tote Bag YELLOW
Color: yellow.
Sizes: 62 x 27 x 18 cm / 24,4 x 10,6 x 7.0 inches.
Materials:

recycled technical fabric and flexible design elements in EVA

.
Key Characteristics:

independent compartments for tablet, smartphone, notebook, key holder, bottle holder, compression straps, handle and adjustable and padded shoulder straps

.
Guarantee: 2 years.
phone and whatsapp
we prefer a personal contact and a sartorial experience at +393495631907
fast and tracked shipments
for smooth fully traced 24 / 72 h deliveries (EU)
flexible return policy
possibility of return with quick refund, goods exchange or replacement
privacy, SSL and encryption
personal data and transaction security with state of the art standards
local shop in Forlì (Italy)
the guarantee of a physical store and the convenience of home delivery
Original and Official
we are official resellers of each brand offered with only original products
Handbag and backpack in yellow recycled technical material CNC Tote Bag yellow by Crash Baggage
Practical and comfortable both when carried by hand or on the shoulder, thanks to adjustable and padded straps, CNC Tote Bag includes independent, organized and padded compartments for notebooks, tablets and smartphones, with elements dedicated to storing keys, power supplies, cables, pens, bottles and everything necessary for the daily study, work and weekend out of town.
Ecological backpack yellow in recycled Crash Baggage material
The Crash not Crash CNC collection by Crash Baggage is the definitive adhesion of the Venetian brand of bags and suitcases at the moment that is leading the fashion world to a general reconsideration of the environmental impact of the constant alternation of new editions and new collections.
The handbag and backpack yellow CNC Tote Bag yellow by Crash Baggage is made of fully recycled technical material, with protective elements in EVA.
CRASH BAGGAGE
What is the first thing we think about when we buy a new suitcase ?
We worry that it will ruin.
This simple idea was inspired by Francesco Pavia, a young Venetian designer, who, traveling from airport to airport, noticed how the suitcases were moved and thrown here and there, and how they constantly bruised.
From this impression was born the Venetian brand Crash Baggage, which stands out for a collection of suitcases, accessories and bags in technical, light and ecological materials characterized by "factory dented" aesthetic elements.

*Bottle is not included.
Data sheet
Key features

independent compartments for tablet, smartphone, notebook, key holder, bottle holder, compression straps, handle and adjustable and padded shoulder straps

Sizes

62 x 27 x 18 cm / 24,4 x 10,6 x 7.0 inches

Composition

recycled technical fabric and flexible design elements in EVA
16 other products in the same category: