headset_mic ordini telefonici e servizio clienti tel./whp. al +39 349 56 31 907 local_shipping spedizione gratuita a partire da 49€ e consegna in 1 giorno storenegozio fisico con vetrine a Forlì headset_mic ordini telefonici e servizio clienti tel./whp. al +39 349 56 31 907 local_shipping spedizione gratuita a partire da 49€ e consegna in 1 giorno storenegozio fisico con vetrine a Forlì headset_mic ordini telefonici e servizio clienti tel./whp. al +39 349 56 31 907 local_shipping spedizione gratuita a partire da 49€ e consegna in 1 giorno storenegozio fisico con vetrine a Forlì headset_mic ordini telefonici e servizio clienti tel./whp. al +39 349 56 31 907 local_shipping spedizione gratuita a partire da 49€ e consegna in 1 giorno storenegozio fisico con vetrine a Forlì headset_mic ordini telefonici e servizio clienti tel./whp. al +39 349 56 31 907 local_shipping spedizione gratuita a partire da 49€ e consegna in 1 giorno storenegozio fisico con vetrine a Forlì
Alum stone spray 125 ml - Spray d'alun - Najel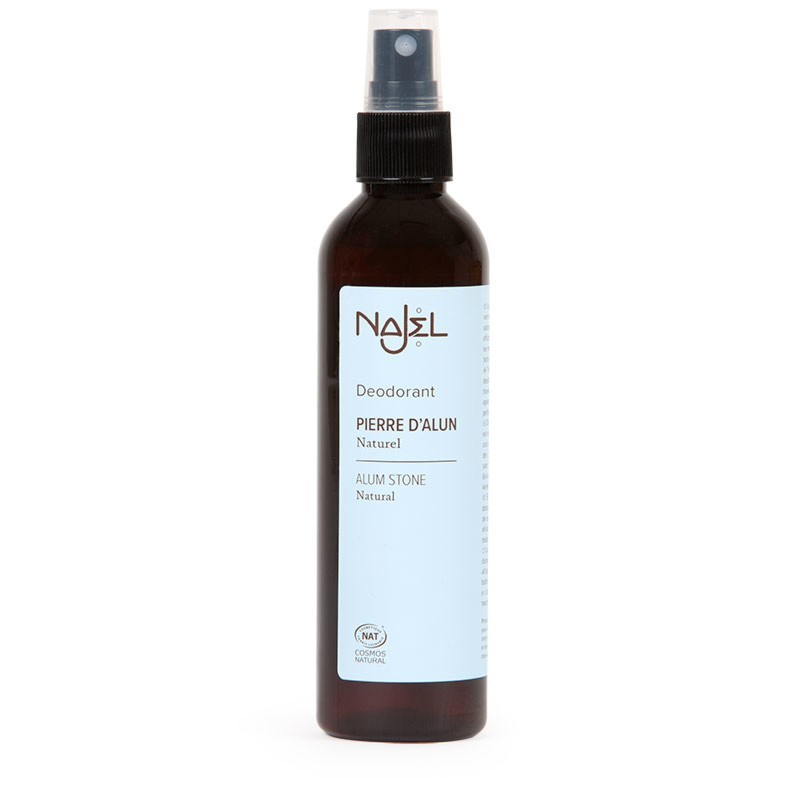  
Alum stone spray 125 ml - Spray d'alun - Najel
Natural deodorant

.
Armpits.
Alum stone is a naturally occurring mineral found in various parts of the world. Raw, it has the shape of a transparent and odorless crystal. 
Presented here ready to use, the spay deodorant with rock alum is made from completely natural rock alum powder.
The Najel rock alum powder is extracted responsibly in France, is of completely natural origin and, for this reason, certified natural "Cosmos Natural" by EcoCert.
Content

: 125 ml e

Origin: France
phone and whatsapp
we prefer a personal contact and a sartorial experience at +393495631907
fast and tracked shipments
for smooth fully traced 24 / 72 h deliveries (EU)
flexible return policy
possibility of return with quick refund, goods exchange or replacement
privacy, SSL and encryption
personal data and transaction security with state of the art standards
local shop in Forlì (Italy)
the guarantee of a physical store and the convenience of home delivery
Original and Official
we are official resellers of each brand offered with only original products
Alum stone 

spray - spray d'alun - Najel SAS NAJJAR
The alum stone has astringent properties, neutralizes perspiration and prevents the development of bacteria responsible for bad odors due to sweating, making it an excellent natural deodorant.
The only contraindications for rock alum are related to its use by individuals with high blood pressure, given the characteristic astringent and hemostatic vessel typical of this natural material.
Hypoallergenic and odorless, it is used daily, slightly moistened, applied directly to the skin.
Information, advice on use and application of alum stone

spray

 -

spray

 d'alun Najel
Recommended for everyday use, the alum stone replaces a traditional deodorant.
After each wash, spray liquid rock alum on dry armpits. Do not use on damaged skin.
Ingredients and composition of the alum stone 

spray
INCI: AQUA (WATER), POTASSIUM ALUM, LEVULINIC ACID, GLYCERIN, SODIUM LEVULINATE, POLYEPSILON-LYSINE, SODIUM CHLORIDE.
100% of the total ingredients are natural and come from responsible extraction and exclusively mechanical processing.
Made in France
History of the alum stone Najel
Alum stone is a naturally occurring mineral found in various parts of the world.
The first traces of its use were discovered in Syria, in the areas around the capital, Damascus.
Composed of mineral salts and used since ancient times, alum stone is extracted from natural alunite mines.
Raw, it comes in the form of a transparent and odorless crystal.
It is also marketed polished, in the form of sticks, liquid spray and powder.
Today the alum stone is commonly used as a natural deodorant or as an aftershave for its astringent and hemostatic qualities.
In ancient times it was also used as a mordant in the dyeing industry.
Customers who bought this product also bought:
5 other products in the same category: