announcement punto vendita e spedizioni sempre operativi tutto agosto headset_mic ordini telefonici e servizio clienti tel./whp. al +39 349 56 31 907 local_shipping spedizione gratuita a partire da 49€ e consegna in 1 giorno storenegozio fisico con vetrine a Forlì announcement punto vendita e spedizioni sempre operativi tutto agosto headset_mic ordini telefonici e servizio clienti tel./whp. al +39 349 56 31 907 local_shipping spedizione gratuita a partire da 49€ e consegna in 1 giorno storenegozio fisico con vetrine a Forlì announcement punto vendita e spedizioni sempre operativi tutto agosto headset_mic ordini telefonici e servizio clienti tel./whp. al +39 349 56 31 907 local_shipping spedizione gratuita a partire da 49€ e consegna in 1 giorno storenegozio fisico con vetrine a Forlì announcement punto vendita e spedizioni sempre operativi tutto agosto headset_mic ordini telefonici e servizio clienti tel./whp. al +39 349 56 31 907 local_shipping spedizione gratuita a partire da 49€ e consegna in 1 giorno storenegozio fisico con vetrine a Forlì announcement punto vendita e spedizioni sempre operativi tutto agosto headset_mic ordini telefonici e servizio clienti tel./whp. al +39 349 56 31 907 local_shipping spedizione gratuita a partire da 49€ e consegna in 1 giorno storenegozio fisico con vetrine a Forlì
Aleppo Black Soap with Eucalyptus 180 gr Najel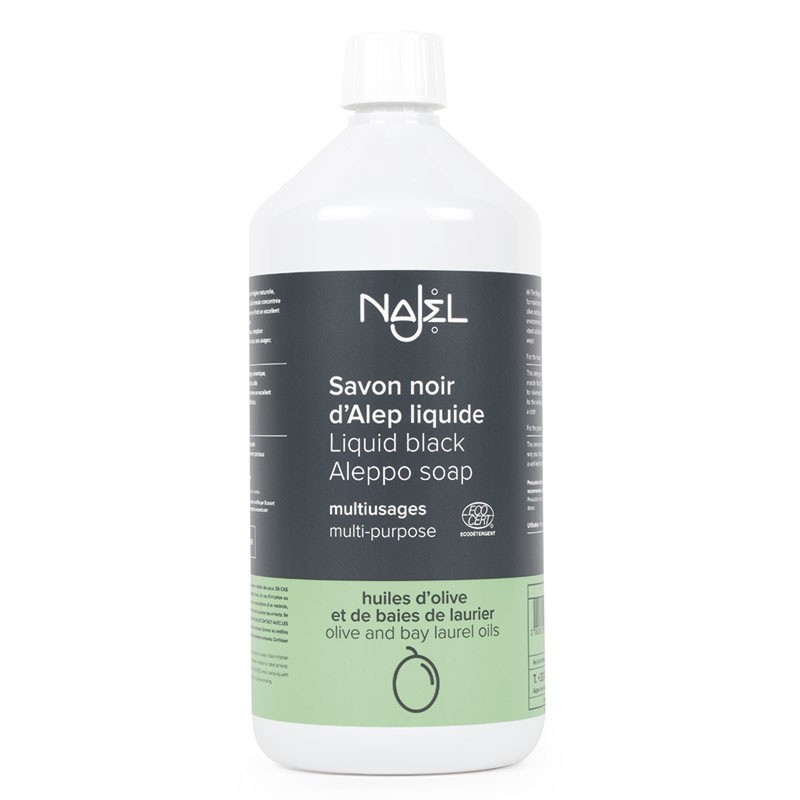  
Aleppo Black Soap with Eucalyptus 180 gr Najel
Sapone nero di aleppo liquido, detergente multi uso multi superficie certificato naturale "Ecodétergent Ecocert"
Multi uso. Casa, lavoro, lavanderia, animali, agricoltura.
All'Olio d'Oliva.
Il sapone nero di Aleppo Najel è completamente naturale, prodotto nel saponificio Najjar da oli nobili di oliva.
E' un detersivo detergente, completamente naturale e biodegradabile, composto da olio di oliva saponificato, riconosciuto per le sue qualità pulenti e sgrassanti, si rende un fondamentale alleato per pulire, disinfettare ed igenizzare in modo sostenibile tutti i materiali.
Contenuto: 1 L
Made in France
phone and whatsapp
we prefer a personal contact and a sartorial experience at +393495631907
fast and tracked shipments
for smooth fully traced 24 / 72 h deliveries (EU)
flexible return policy
possibility of return with quick refund, goods exchange or replacement
privacy, SSL and encryption
personal data and transaction security with state of the art standards
local shop in Forlì (Italy)
the guarantee of a physical store and the convenience of home delivery
Original and Official
we are official resellers of each brand offered with only original products
Sapone nero di Aleppo multi uso all'Olio d'Oliva - Savon noir d'Alep Ecodetergent - Najel SAS NAJJAR
Multiuso, multisuperficie e multimateriale, sostituisce efficaciemente tutti i prodotti domestici convenzionali, spesso aggressivi, con un prodotto concentrato, economico, ecologico ed efficiente, equivalente a tanti e diversi prodotti messi assieme semplicemente variando la diluizione in acqua.
Informazioni, consigli d'uso e applicazione del Sapone Nero di Aleppo detergente ecologico - Savon d'Alep liquide Najel
Il sapone nero di Aleppo liquido all'olio d'oliva è un eco-detergente capace di pulire delicatamente i tuoi interni, è adatto per lavare i tuoi animali domestici e per lavare all'aperto, protegge le tue piante dai parassiti.
Alcune applicazioni d'uso potrebbero essere:
Per la casa, questo detergente naturale pulisce tutte le superfici, piastrelle, ceramica, linoleum e persino pavimenti in marmo.
Igenizza e lucida, ideale per l'argenteria.
Il sapone nero di Aleppo liquido è un ottimo sgrassante antisettico per l'intera cucina, il bagno, i sanitari e i pavimenti.
Per il giardino, il sapone nero di Aleppo liquido protegge naturalmente le tue piante dai parassiti (afidi, ecc.). È un prezioso alleato per un orto biologico ben curato.
È adatto anche per lavare animali domestici. In ambito professionale e sportivo, può essere utilizzato per lavare selle, box, mungitrici, ecc...
Confezionato in una bottiglia bianca opaca chiusa con un tappo a vite bianco antimanomissione.
Ecodetergente certificato da Ecocert Greenlife secondo lo standard Ecocert.
Dosaggi sapone nero d'Aleppo multiuso liquido
Per la casa, il sapone liquido nero di Aleppo può essere utilizzato dal pavimento al soffitto, in tutte le stanze (bagno, cucina, ecc.) e su tutte le superfici: pavimenti, ma anche lavelli, fornelli cucine, forno, mobili sporchi, vetri e inserti per camini.
Diluire 5 cucchiai di sapone nero liquido in 5 L di acqua calda.
Per sgrassare perfettamente, aggiungere a questa preparazione un bicchierino di aceto bianco, possibilmente aceto acido al 14%.
Per la lavanderia, per rimuovere macchie ostinate di grasso dai tessuti, usare del sapone nero liquido puro sul retro del bucato: strofinare la macchia con un po 'di sapone, quindi mettere il bucato nella lavatrice e lavare preferibilmente a freddo. La biancheria risulterà morbida e perfettamente pulita.
Per le piante e il giardino, il sapone nero liquido protegge le piante dai parassiti ed è un fertilizzante naturale per un orto biologico ben curato. In un flacone spray da 1 L riempito con acqua calda, diluire 5 cucchiai da cucina di sapone. Una volta che il composto si sarà raffreddato, spruzzarlo sulle piante.
E' possibile usarlo per a toelettatura del tuo animale domestico.
Attenzione: Rispettare le precauzioni per l'uso. Può provocare irritazione cutanea. Può provocare grave irritazione oculare. 
In caso di contatto con la pelle: lavare abbondantemente con acqua. 
In caso di irritazione o eruzione cutanea: consultare un medico. Se si consulta un medico, tenere a disposizione il contenitore o l'etichetta. 
Tenere fuori dalla portata dei bambini. 
Lavarsi accuratamente le mani dopo la manipolazione. 
In caso di contatto con gli occhi: sciacquare accuratamente per parecchi minuti. Rimuovere le lenti a contatto se la vittima le indossa e possono essere facilmente rimosse. Continua a risciacquare.
Ingredienti e composizione del Sapone di Nero Aleppo all'Oli Essenziale di Eucalipto, con Olio d'Oliva e di Olio di Bacche d'alloro  Najel
INCI: 15-30% di sapone. <5%: sorbato di potassio. Contiene / contiene anche: acqua, idrossido di potassio. Contiene un biocida conservante: sorbato di potassio.
Il 99% del totale degli ingredienti è di origine naturale. Ecodetergente certificato da Ecocert Greenlife secondo lo standard Ecocert
Made in France
Storia del Sapone Nero di Aleppo Najel
Realizzato per la prima volta nel sud-est del Marocco, il sapone nero viene utilizzato da secoli in tutto il Mediterraneo ed è parte integrante della tradizione medio-orientale, in particolare per il rito dell'Hammam.

In forma liquida, Il sapone nero di Aleppo liquido è un ottimo detergente naturale ed è ideale per la manutenzione di tutta la casa e dell'ambiente di lavoro.
Multiuso, sostituisce tutti i tuoi prodotti casalinghi per la casa.
È adatto anche per il mantenimento dell'orto biologico e per la toelettatura degli animali domestici.
A differenza dei detergenti convenzionali che hanno sostituito il sapone di Aleppo e quello di Marsiglia all'inizio del XX secolo introducendo, nella routine quotidiana di igene all'occidentale tensioattivi sintetici derivati ​​da prodotti petrolchimici, il sapone nero liquido Najel, di origine naturale, viene prodotto nel laboratorio NAJJAR, con cura tradizionale, dalla pasta di sapone di Aleppo prodotto nel saponificio di famiglia nella zona nord di Aleppo, in Siria.
Customers who bought this product also bought:
16 other products in the same category: