announcement punto vendita e spedizioni operativi ed efficienti headset_mic ordini telefonici e servizio clienti tel./whp. al +39 349 56 31 907 local_shipping spedizione gratuita a partire da 49€ e consegna in 1 giorno storenegozio fisico con vetrine a Forlì announcement punto vendita e spedizioni operativi ed efficienti headset_mic ordini telefonici e servizio clienti tel./whp. al +39 349 56 31 907 local_shipping spedizione gratuita a partire da 49€ e consegna in 1 giorno storenegozio fisico con vetrine a Forlì announcement punto vendita e spedizioni operativi ed efficienti headset_mic ordini telefonici e servizio clienti tel./whp. al +39 349 56 31 907 local_shipping spedizione gratuita a partire da 49€ e consegna in 1 giorno storenegozio fisico con vetrine a Forlì announcement punto vendita e spedizioni operativi ed efficienti headset_mic ordini telefonici e servizio clienti tel./whp. al +39 349 56 31 907 local_shipping spedizione gratuita a partire da 49€ e consegna in 1 giorno storenegozio fisico con vetrine a Forlì announcement punto vendita e spedizioni operativi ed efficienti headset_mic ordini telefonici e servizio clienti tel./whp. al +39 349 56 31 907 local_shipping spedizione gratuita a partire da 49€ e consegna in 1 giorno storenegozio fisico con vetrine a Forlì
Liquid Aleppo soap laundry detergent 2 L - Lessive liquide au savon d'Alep - Najel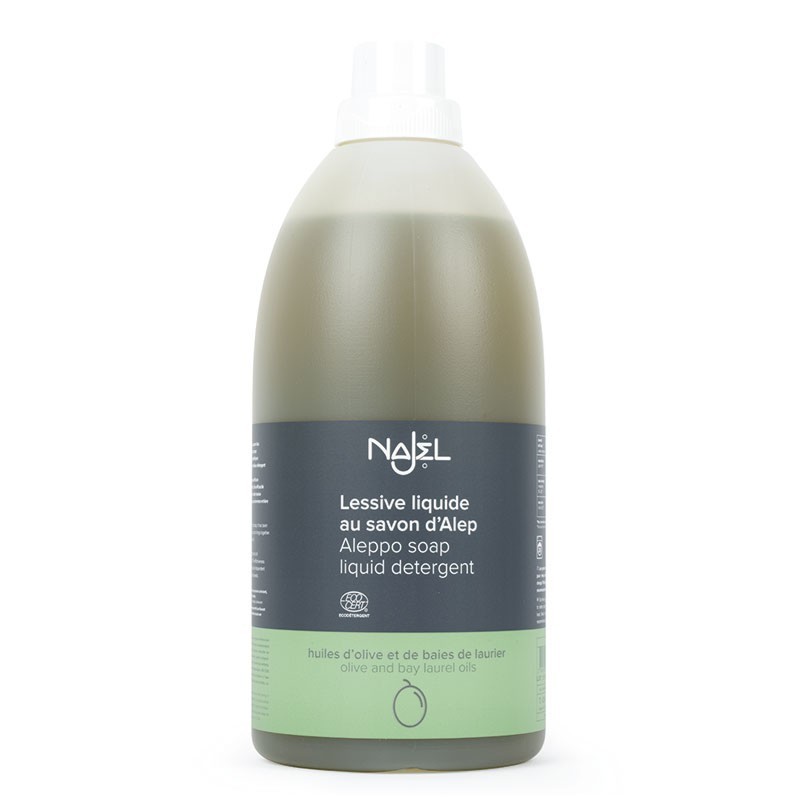  
Liquid Aleppo soap laundry detergent 2 L - Lessive liquide au savon d'Alep - Najel
3 or 4 installment payment available with PayPal, Oney or splittypay
Ecocert Greenlife Eco detergent Liquid Aleppo soap certified by the union of the master soap makers of Aleppo, specifically formulated as hand and washing machine detergent. Produced in France at the laboratory of the "Al Najjar" soap factory active since 1895 in Aleppo.
Fragrance free.
Natural origin.
A naturally environmentally friendly laundry detergent, based on vegetable oils, effective at any temperature and on all type of fabrics.
Content: 2 L e
Made in France
phone and whatsapp
we prefer a personal contact and a sartorial experience at +393495631907
fast and tracked shipments
for smooth fully traced 24 / 72 h deliveries (EU)
flexible return policy
possibility of return with quick refund, goods exchange or replacement
privacy, SSL and encryption
personal data and transaction security with state of the art standards
local shop in Forlì (Italy)
the guarantee of a physical store and the convenience of home delivery
Original and Official
we are official resellers of each brand offered with only original products
Aleppo soap liquid detergent 2 L - Lessive liquide au savon d'Alep - Najel
Aleppo soap is a completely natural soap, the ancestor of all subsequent iterations of hard or stick soap, including Marseille soap. Used since ancient times both for body care and for the care of linen and yarns, it combines the beneficial effects of olive and laurel oils in an unbeatable combination of detergent and antiseptic disinfectant.
Aleppo Najel detergent offers effective laundry at any temperature, combining the most ancient of soap making traditions with the capabilities of a modern formulation.
Its effectiveness, tested by an independent laboratory, makes it ideal for all fabrics, whether they are white or colored, synthetic or natural, resistant or delicate.
Guarantees excellent results on difficult stains even at low temperatures for clean and fresh laundry.
Although free of any scenting agents, Aleppo Najel Liquid Soap Detergent leaves a mild laurel oil smell on the laundry.
Packaged in an opaque transparent bottle in recyclable material closed with a glossy white measuring cap.
Information, advice on use and application of Aleppo soap 2 L Najel liquid detergent
Recommended for all types of laundry, the Aleppo Najel liquid soap detergent can be used both in the washing machine and for hand washing. For recommended dosages, refer to the packaging and materials provided with each purchase.
It is advisable to replace the softener in favor of an economical and ecological product, for example, by adding a glass of white vinegar for each wash cycle. The laundry will be soft and odorless. Additionally, white vinegar helps fight calcium buildup in the washing machine.
If you want to perfume your laundry, you can evaluate one of the scented versions of this product or add a few drops of an essential oil of your choice directly mixed in the white vinegar.
To remove stubborn stains, first rub the laundry with a stick of Aleppo stain remover soap (available here), leave on for about ten minutes and wash in the washing machine according to the usual program and dosages together with the other garments.
Some ecological gestures:
- Divide the laundry according to the degree of soiling, to better dose the detergent.
- Do not overdose the product, read the recommendations carefully.
- Investigate the hardness of the water. The harder it will be, the proportionally greater will be the soap to be used and vice versa.
- Use a smaller quantity of Aleppo soap detergent when there is little laundry or with not particularly intense dirt.
- Avoid pre-washing and do laundry at a low temperature (a wash at 40 ° C consumes 3 times less than a cycle at 90 ° C).
- Prefer a front loading washing machine to a top loading one.
Caution: Observe the following precautions for use.
Formulated as a detergent: despite being 98% natural and biodegradable, so as to obtain independent Eco detergent certifications from EcoCert Greenlife, it can cause skin irritation and serious eye damage.
In case of skin contact: wash with plenty of water. If skin irritation or rash occurs: consult a doctor. In case of contact with eyes: rinse thoroughly for several minutes.
If you need to consult a doctor, keep the container or label at hand. Keep out of reach of children.
Contains: sodium lauryl sulfate, C12-C18 coconut alcohol.
Wash hands thoroughly after handling.
Ingredients and composition of the Aleppo Najel liquid soap detergent EcoCert certified Eco detergent
Composition: 5-15%: soap (soap), <5%: anionic surfactant (anionic surfactant), non-ionic surfactant (non-ionic surfactant), potassium sorbate.
Also contains: water, sodium citrate, alcohol, glycerin, potassium hydroxide, denaturant.
98% of the total ingredients are of natural origin. Eco cleaner certified by Ecocert Greenlife according to the Ecocert standard.
Made in France
History of Aleppo soap

.
Aleppo Soap
The Al Najjar family has been manufacturing the authentic Aleppo soap since 1895 using generational artisanal know-how.
Aleppo soap is the first block type of soap to be recollected in the history of civilization, it is the closest ancestor, by formulation, to the western Marseille soap.
Apleppo Soap know-how is passed down from generation to generation in the Al Najjar family soap factory, located in the city of Aleppo, in northern Syria.
Every year, from the end of November to the end of March, the production is repeated according to an unchanged process in terms of method and composition. The soaps are then dried for a minimum period of nine months, oxidizing on the surface and taking on a yellow / brown color, preserving the green color of the oils that compose them at the core.
This Aleppo Najel degreasing stain remover soap is made exclusively with organic olive oil. Saponified olive oil is a powerful cleanser.
Customers who bought this product also bought:
16 other products in the same category: