announcement punto vendita e spedizioni operativi ed efficienti headset_mic ordini telefonici e servizio clienti tel./whp. al +39 349 56 31 907 local_shipping spedizione gratuita a partire da 49€ e consegna in 1 giorno storenegozio fisico con vetrine a Forlì announcement punto vendita e spedizioni operativi ed efficienti headset_mic ordini telefonici e servizio clienti tel./whp. al +39 349 56 31 907 local_shipping spedizione gratuita a partire da 49€ e consegna in 1 giorno storenegozio fisico con vetrine a Forlì announcement punto vendita e spedizioni operativi ed efficienti headset_mic ordini telefonici e servizio clienti tel./whp. al +39 349 56 31 907 local_shipping spedizione gratuita a partire da 49€ e consegna in 1 giorno storenegozio fisico con vetrine a Forlì announcement punto vendita e spedizioni operativi ed efficienti headset_mic ordini telefonici e servizio clienti tel./whp. al +39 349 56 31 907 local_shipping spedizione gratuita a partire da 49€ e consegna in 1 giorno storenegozio fisico con vetrine a Forlì announcement punto vendita e spedizioni operativi ed efficienti headset_mic ordini telefonici e servizio clienti tel./whp. al +39 349 56 31 907 local_shipping spedizione gratuita a partire da 49€ e consegna in 1 giorno storenegozio fisico con vetrine a Forlì
Aleppo soap with organic Damascus rose 100 g - Savon d'Alep à la rose de Damas bio - Najel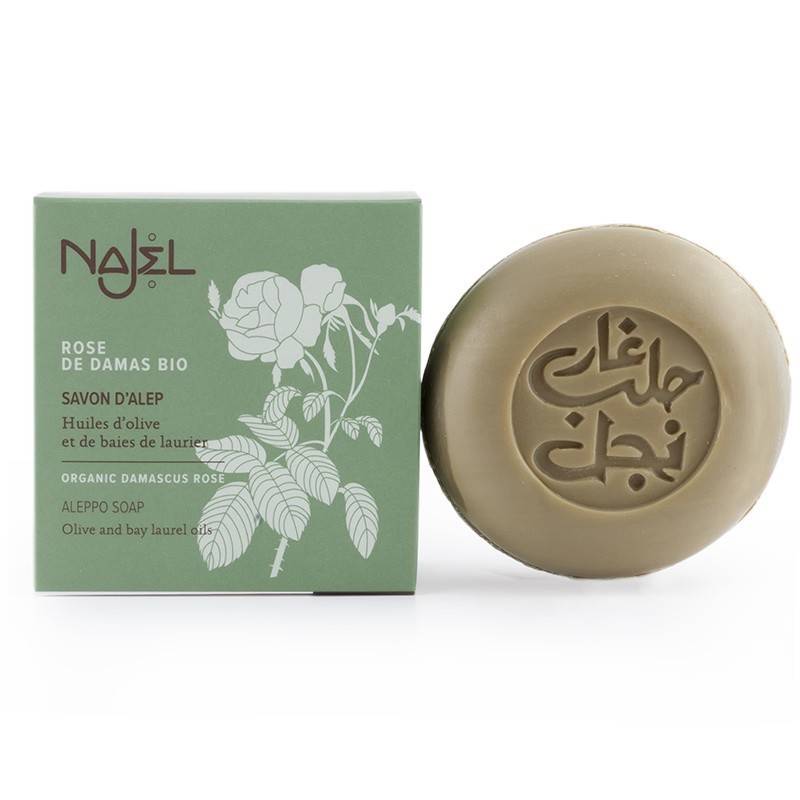  
Aleppo soap with organic Damascus rose 100 g - Savon d'Alep à la rose de Damas bio - Najel
3 or 4 installment payment available with PayPal, Oney or splittypay
Aleppo soap enriched with organic Damascus rose Made in Syria certified by union of producers of Aleppo soap.
Rebalancing soap.
Face, body and hair.
All the unique healing qualities of a soap stick saponified with the traditional Syrian method in an Aleppo soap enriched with organic Damascus rose, obtained by steam distillation of Damascus rose petals.
This Aleppo soap associated with distilled Damascus rose water has exclusive astringent and regenerating properties, takes care of the skin by purifying and giving it the fresh and flowery scent of Damask rose.
Content: 100 g e
Made in Aleppo, Syria
phone and whatsapp
we prefer a personal contact and a sartorial experience at +393495631907
fast and tracked shipments
for smooth fully traced 24 / 72 h deliveries (EU)
flexible return policy
possibility of return with quick refund, goods exchange or replacement
privacy, SSL and encryption
personal data and transaction security with state of the art standards
local shop in Forlì (Italy)
the guarantee of a physical store and the convenience of home delivery
Original and Official
we are official resellers of each brand offered with only original products
Aleppo soap with organic Damascus rose - Savon d'Alep à la rose de Damas organic - Najel SAS NAJJAR
Aleppo soap is the product of the most ancient saponification procedure that has been traced in the history of civilization. It precedes the Marseille soap by centuries and maintains its own uniqueness in the formulation, thanks to the abundant presence of not only olive oil but also bay leaf oil.
Thanks to the late addition process, in which bay berry oil and Damascus rose floral water are added only in the last phase of saponification, they become part of the soap block almost unchanged, preserving the active ingredients and the therapeutic qualities of the pure ingredients. Aleppo soap associated with Damascus rose, with astringent and regenerating properties, takes care of your skin, purifying and perfuming it with the fresh and flowery note typical of the Damask rose.
Information, advice on use and application of 

Najel organic Aleppo soap with Damascus rose



This Aleppo soap is recommended for daily cleansing of the face, body and hair and is suitable for all skin types.
Rub the soap on previously wet or moistened skin, wash then rinse with fresh water.
On the hair, Najel Aleppo soap with Damascus Rose Floral Water oil is a great alternative to liquid shampoo. Economical and easy to use, it deeply cleanses and soothes the scalp.
Ingredients and composition of Aleppo soap with black cumin
INCI: SODIUM OLIVATE, AQUA (WATER), ROSA DAMASCENA (ROSE) FLOWER WATER*, PARFUM (FRAGRANCE), GLYCERIN,SODIUM LAURELATE, SODIUM CHLORIDE, SODIUM HYDROXIDE, POTASSIUM SORBATE, CITRIC ACID, CITRONELLOL, GERANIOL, LIMONENE.
Made in Aleppo, Syria
* from organic farming.
History of Aleppo Soap and Black Cumin Seed Oil
Aleppo Soap
The Al Najjar family has been manufacturing the authentic Aleppo soap since 1895 using generational artisanal know-how.
Aleppo soap is the first block type of soap to be recollected in the history of civilization, it is the closest ancestor, by formulation, to the western Marseille soap.
Apleppo Soap know-how is passed down from generation to generation in the Al Najjar family soap factory, located in the city of Aleppo, in northern Syria.
Every year, from the end of November to the end of March, the production is repeated according to an unchanged process in terms of method and composition. The soaps are then dried for a minimum period of nine months, oxidizing on the surface and taking on a yellow / brown color, preserving the green color of the oils that compose them at the core.
Najel Aleppo soap is composed exclusively of organic olive oil and bay leaf oil, two noble oils that guarantees many virtues.
Saponified olive oil is a powerful cleanser that nourishes, protects and softens the skin.
Bay leaf oil is recognized for its disinfectant and regenerating properties. The higher its concentration, the more soothing the soap is for skin irritated or stressed by the elements, with known curative returns for conditions such as psoriasis, eczema, acne, dermatosis.
The floral water of Damascus Rose
Symbol of regeneration, over the centuries, the Damascus rose floral water has been attributed with invigorating and anti-aging properties, which have contributed to its success.
Flower of love par excellence, the Damascus rose grows mainly in the East. It was brought to Europe in the Middle Ages. Available in different colors, Damascus rose gives off a refined and bewitching fragrance.
Customers who bought this product also bought:
16 other products in the same category: