announcement punto vendita e spedizioni operativi ed efficienti headset_mic ordini telefonici e servizio clienti tel./whp. al +39 349 56 31 907 local_shipping spedizione gratuita a partire da 49€ e consegna in 1 giorno storenegozio fisico con vetrine a Forlì announcement punto vendita e spedizioni operativi ed efficienti headset_mic ordini telefonici e servizio clienti tel./whp. al +39 349 56 31 907 local_shipping spedizione gratuita a partire da 49€ e consegna in 1 giorno storenegozio fisico con vetrine a Forlì announcement punto vendita e spedizioni operativi ed efficienti headset_mic ordini telefonici e servizio clienti tel./whp. al +39 349 56 31 907 local_shipping spedizione gratuita a partire da 49€ e consegna in 1 giorno storenegozio fisico con vetrine a Forlì announcement punto vendita e spedizioni operativi ed efficienti headset_mic ordini telefonici e servizio clienti tel./whp. al +39 349 56 31 907 local_shipping spedizione gratuita a partire da 49€ e consegna in 1 giorno storenegozio fisico con vetrine a Forlì announcement punto vendita e spedizioni operativi ed efficienti headset_mic ordini telefonici e servizio clienti tel./whp. al +39 349 56 31 907 local_shipping spedizione gratuita a partire da 49€ e consegna in 1 giorno storenegozio fisico con vetrine a Forlì
Aleppo soap with organic charcoal 100 g - Savon d'Alep au charbon bio - Najel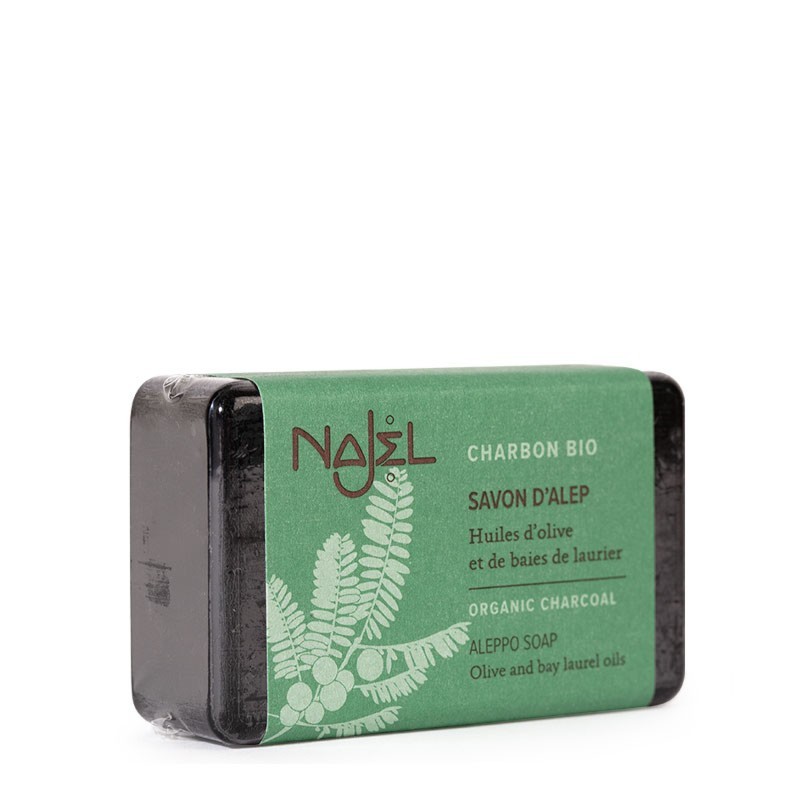  
Aleppo soap with organic charcoal 100 g - Savon d'Alep au charbon bio - Najel
3 or 4 installment payment available with PayPal, Oney or splittypay
Aleppo soap with rhassoul Moroccan Atlas red clay and Argan oil certified by the union of manufacturers of Aleppo soap.
Detoxifying soap.
Face, body and hair.
This soap combines the ancient Syrian know-how of Aleppo soap with the virtues of organic charcoal, derived from Amla, the fruit of the Indian gooseberry.
With its draining, purifying and adsorption qualities, organic vegetable carbon acts like a magnet, retaining, thanks to its very fine grain, all skin impurities (pollution, toxins, sebaceous excesses ...).
Content: 100 g e
Made in Aleppo, Syria
Origin of Aleppo soap ingredients: Syria
Origin of vegetal charcoal: Nepal and Sri Lanka
phone and whatsapp
we prefer a personal contact and a sartorial experience at +393495631907
fast and tracked shipments
for smooth fully traced 24 / 72 h deliveries (EU)
flexible return policy
possibility of return with quick refund, goods exchange or replacement
privacy, SSL and encryption
personal data and transaction security with state of the art standards
local shop in Forlì (Italy)
the guarantee of a physical store and the convenience of home delivery
Original and Official
we are official resellers of each brand offered with only original products
Aleppo soap with organic vegetable charcoal - Savon d'Alep au charbon bio - Najel SAS NAJJAR
Aleppo soap is the product of the most ancient saponification procedure that has been traced in the history of civilization. It precedes the Marseille soap by centuries and maintains its own uniqueness in its formulation, thanks to the abundant presence of not only olive oil but also bay leaf oil.
Vegetal charcoal has great adsorption qualities: the finer the powder it is reduced to and added as an ingredient, the more its adsorption qualities will improve. It acts like a magnet by retaining all skin impurities (pollutants, toxins, excess sebum ...).
GOOD TO KNOW: Adsorption = Property of the surface of a solid substance to fix molecules of a gas or liquid with which it is in contact, due to molecular attractions (a. Physical), or sometimes also to valence forces (a. Chemical) .
Here combined in a single block of Aleppo Soap, a product that is unique in purifying, healing and cosmetic consistency and qualities, cleanses, detoxifies and revitalizes the skin. It is a purifying treatment that will restore youth and brightness to the complexion.
Information, advice on use and application of Aleppo soap with organic vegetable carbon from Nepal and Sri Lanka by Najel
Aleppo black soap with organic vegetable charcoal is suitable for all skin types, especially mixed, oily and blemished skin. It can be used daily to cleanse face, body and hair.
Rub the soap bar on the palms of the moistened hands until it produces a gray color. foamy cream. Apply to wet skin or hair, rub and rinse with fresh water.
Ingredients and composition of Aleppo soap with organic vegelal charcoal
INCI:SODIUM OLIVATE, AQUA (WATER), CHARCOAL POWDER *, SODIUM LAURELATE, GLYCERIN, SODIUM CHLORIDE, SODIUM HYDROXIDE.
Made in Aleppo, Syria
* from Organic Agriculture
History of Aleppo soap and vegetable charcoal

.
Aleppo Soap
The Al Najjar family has been manufacturing the authentic Aleppo soap since 1895 using generational artisanal know-how.
Aleppo soap is the first block type of soap to be recollected in the history of civilization, it is the closest ancestor, by formulation, to the western Marseille soap.
Apleppo Soap know-how is passed down from generation to generation in the Al Najjar family soap factory, located in the city of Aleppo, in northern Syria.
Every year, from the end of November to the end of March, the production is repeated according to an unchanged process in terms of method and composition. The soaps are then dried for a minimum period of nine months, oxidizing on the surface and taking on a yellow / brown color, preserving the green color of the oils that compose them at the core.
Najel Aleppo soap is composed exclusively of organic olive oil and bay leaf oil, two noble oils that guarantees many virtues.
Saponified olive oil is a powerful cleanser that nourishes, protects and softens the skin.
Bay leaf oil is recognized for its disinfectant and regenerating properties. The higher its concentration, the more soothing the soap is for skin irritated or stressed by the elements, with known curative returns for conditions such as psoriasis, eczema, acne, dermatosis.
Organic vegetable charcoal
For thousands of years, charcoal powder has been used in Chinese and Ayurvedic medicine to detoxify and cleanse the body. Today, the use of charcoal is increasingly widespread in cosmetics. Biological charcoal, associated with Aleppo Najel soap, comes from the Indian gooseberry, more commonly called Amla. Amla is the fruit of the Indian gooseberry, which, as the name suggests, finds its origin in the agricultural culture of India, now widespread in Nepal and Sri Lanka.
Customers who bought this product also bought:
16 other products in the same category: