announcement punto vendita e spedizioni operativi ed efficienti headset_mic ordini telefonici e servizio clienti tel./whp. al +39 349 56 31 907 local_shipping spedizione gratuita a partire da 49€ e consegna in 1 giorno storenegozio fisico con vetrine a Forlì announcement punto vendita e spedizioni operativi ed efficienti headset_mic ordini telefonici e servizio clienti tel./whp. al +39 349 56 31 907 local_shipping spedizione gratuita a partire da 49€ e consegna in 1 giorno storenegozio fisico con vetrine a Forlì announcement punto vendita e spedizioni operativi ed efficienti headset_mic ordini telefonici e servizio clienti tel./whp. al +39 349 56 31 907 local_shipping spedizione gratuita a partire da 49€ e consegna in 1 giorno storenegozio fisico con vetrine a Forlì announcement punto vendita e spedizioni operativi ed efficienti headset_mic ordini telefonici e servizio clienti tel./whp. al +39 349 56 31 907 local_shipping spedizione gratuita a partire da 49€ e consegna in 1 giorno storenegozio fisico con vetrine a Forlì announcement punto vendita e spedizioni operativi ed efficienti headset_mic ordini telefonici e servizio clienti tel./whp. al +39 349 56 31 907 local_shipping spedizione gratuita a partire da 49€ e consegna in 1 giorno storenegozio fisico con vetrine a Forlì
Aleppo soap shampoo with chamomile 500 ml for normal hair Najel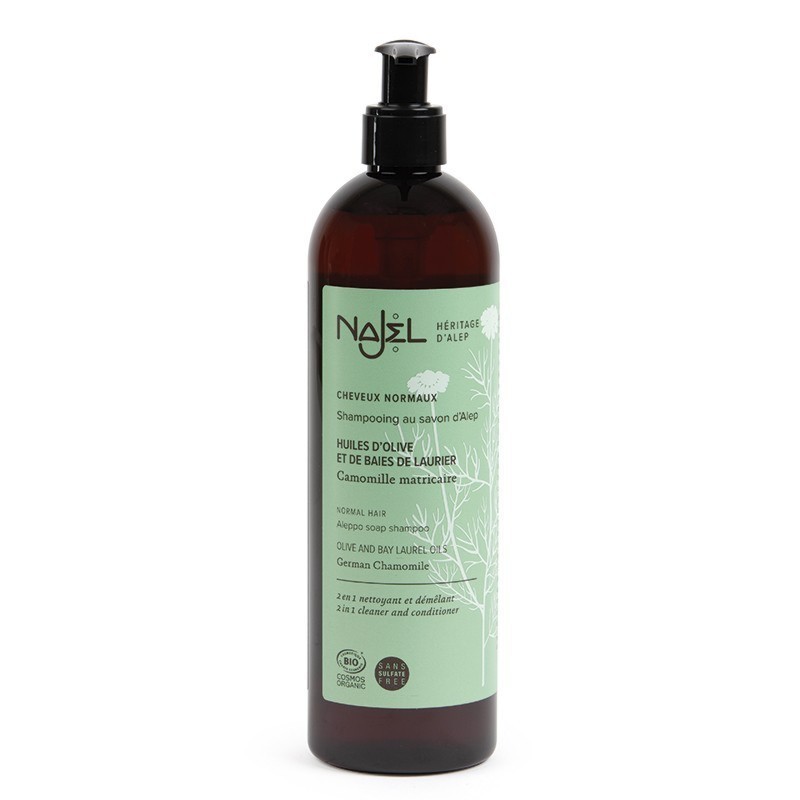  
Aleppo soap shampoo with chamomile 500 ml for normal hair Najel
3 or 4 installment payment available with PayPal, Oney or splittypay
Shampoo based on Organic Aleppo Soap certified "Cosmos Organic Ecocert"
Normal Hair.
Updated formula - now sulfate free.
Shampoo a base di sapone di Aleppo Najel formulato, senza solfati, per la cura di capelli normali. Ideale per tutta la famiglia, ridona morbidezza e vitalità ai tuoi capelli e include, nella propria formulazione l'unico balsamo certificato biologico EcoCert.
Content: 500 ml e
Made in France
phone and whatsapp
we prefer a personal contact and a sartorial experience at +393495631907
fast and tracked shipments
for smooth fully traced 24 / 72 h deliveries (EU)
flexible return policy
possibility of return with quick refund, goods exchange or replacement
privacy, SSL and encryption
personal data and transaction security with state of the art standards
local shop in Forlì (Italy)
the guarantee of a physical store and the convenience of home delivery
Original and Official
we are official resellers of each brand offered with only original products
Aleppo Soap Shampoo - Shampooing au savon d'Alep - Najel SAS NAJJAR
Discover the only real Alleppo based shampoo combined with soothing and calming virtues of organic Chamomile Matricaria hydrosol.
This Aleppo soap shampoo deeply cleanses and, thanks to the  the addition of a detangler (the only conditioner authorized by Ecocert) in its formula,  allows you to shape your hair effortlessly and gives softness and lightness to your hair.
An amber bottle protects against excessive exposure to light. It is equipped with a pump for optimal dosage.
Information, advice on use and application of the 2 in 1 Aleppo soap shampoo - Shampooing au savon d'Alep Najel
Suitable for normal hair. Apply a small amount to wet hair, massage the scalp then rinse thoroughly.
Ingredients and composition of Aleppo soap shampoo with chamomile
INCI: AQUA (WATER), CHAMOMILLA RECUTITA (MATRICARIA) FLOWER WATER*, LAURYL GLUCOSIDE, SODIUM LAUROYL GLUTAMATE, DECYL GLUCOSIDE, POLYGLYCERYL-2 LAURATE, GLYCERIN**, SODIUM CHLORIDE, SORBITAN CAPRYLATE, POTASSIUM OLIVATE**, POTASSIUM LAURELATE**, SODIUM DEHYDROACETATE, CITRIC ACID, GUAR HYDROXYPROPYLTRIMONIUM CHLORIDE, SODIUM CITRATE, PROPANEDIOL, BENZOIC ACID, SODIUM BENZOATE, POTASSIUM SORBATE, POTASSIUM HYDROXIDE.
* ingredients from organic farming. ** made from organic ingredients. 99% of the total is of natural origin. 10% of the total comes from organic farming. Cosmos Organic certified by Ecocert Greenlife according to the Cosmos Eco-Cert standard.
Each Najel Aleppo liquid soap based product is made with organic olive oil and laurel oil in the NAJJAR laboratory in France starting from Aleppo soap sticks handcrafted in Syria at the family soap factory.
Made in France
History of Aleppo Najel Shampoo
Theoriginal Aleppo liquid soap formula was invented in 1964 by the grandfather of the current CEO, Mr. Najjar. Najel Aleppo liquid soap is obtained from the hot saponification of the two vegetable oils that make up the authentic Aleppo soap according to its traditional recipe: olive oil and laurel berry oil. In the Shampoo and in all Najeò liquid soaps all the virtues of the real Aleppo soap in a stick are found.

The Najel shampoo presented here combines the virtues of Aleppo soap with those of organic chamomile floral water for the best daily care of your hair.
Customers who bought this product also bought:
16 other products in the same category: